Bolloré Logistics Singapore handles loadout of 6 crew boats
June 22, 2018: Last month, Bolloré Logistics Singapore was appointed to handle the load-out of six crew boats (22-meter long, less than 6-meter wide and 9-meter high) from Ex Works a shipyard in Singapore. The Singapore Oil & Gas team handled this operation on behalf of Bolloré Logistics Cameroon. The logistics specialist not only received […]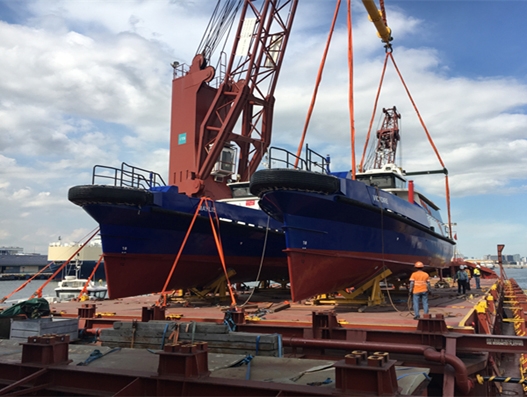 June 22, 2018: Last month, Bolloré Logistics Singapore was appointed to handle the load-out of six crew boats (22-meter long, less than 6-meter wide and 9-meter high) from Ex Works a shipyard in Singapore.
The Singapore Oil & Gas team handled this operation on behalf of Bolloré Logistics Cameroon.
The logistics specialist not only received the crew boats but also brought them tackle a chartered heavy lift vessel. Each crew boat had to be transported on their cradles, with a total weight of 45 tonnes.
"What quickly appeared as a challenge was the time frame provided for operation preparation and coordination between the various stakeholders," says Bolloré Logistics in a press release.
The crew boats could not be "self-sailed" in Singapore waters nor could they be wet-towed by local tugs from the shipyard to the chartered vessel.
Bolloré Logistics Singapore had to mobilise barges which allowed a load out in a very narrow location. Because there were as many cradles as there were crew boats, Bolloré Logistics also had to build a spare cradle at very short notice.
"Smooth communication and coordination between the customer, the shipyard, Bolloré Logistics Singapore and his appointed marine warranty surveyor, along with Bolloré Logistics Cameroon, allowed a seamless execution of this load out in spite of the time constraint," said Elaine Yee, Senior Customer Service manager – Oil & Gas Division – at Bolloré Logistics Singapore.
Despite the preparation had taken place very shortly before the load-out time, Bolloré Logistics Singapore was able to timely mobilise his teams of specialists. They found many different innovative solutions which were proposed to the customer. Once the plans were fixed and agreed upon, the entire operation went extremely smoothly and the crew-boats were loaded out with no delay and no Lost Time Injury (LTI).
Bruce Boudailler, Regional director Oil & Gas at Bolloré Logistics Asia-Pacific – also acting as Global Oil & Gas Leader for the Bolloré Logistics Business Unit said: "I am delighted to see our Singapore teams thriving with such a complex technical operation where so many things can go wrong."