Bolloré Logistics moves electric baggage tractors for TCR Middle East
Bolloré Logistics Abu Dhabi moved 54 electric baggage tractors from Port Khalifa to Logistics Park in Abu Dhabi for TCR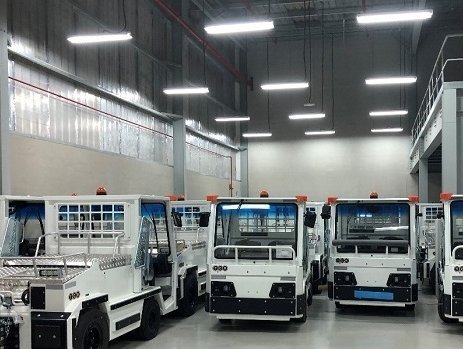 Bolloré Logistics Abu Dhabi successfully delivered 54 Charlatte electric baggage tractors fitted with Colibri Lithium batteries loaded in 18x40ft HC container from the Port Khalifa to the Logistics Park in Abu Dhabi for TCR, a global ground support equipment rental and maintenance company.
Despite the Covid-19 lockdown in the United Arab Emirates (UAE), the ground operations team worked round the clock to ensure that the tractors were delivered well within the customer's timeline. All kinds of unprecedented challenges were overcome with customized solutions which ensured that the entire delivery and set up in the warehouse was successfully completed keeping in mind the health and safety regulations in this time of crisis.
Bruno Vanpoucke, general manager at TCR Middle East LLC said, "It was our first time working with Bolloré Logistics in Abu Dhabi and it will definitely not be the last. The current Covid-19 situation made the delivery challenging and required to overcome some unforeseen obstacles, but the team took their responsibility and successfully completed the job. Moreover, their knowledge of local custom requirements was very helpful."
"Individual commitment to a group effort makes teamwork successful; which is what made this project a success given the unprecedented challenges of the current market. The team based in Abu Dhabi stood up to the occasion and exceeded the expectation levels of the client. Besides the operational excellence, customized solutions regarding the customs process given to the client, was an added value in the offered package," said Leslie Farnworth, branch manager at Abu Dhabi, Bolloré Logistics.