Bolloré Logistics Houston handles an IL-76 air charter for one of its oil customer
November 13, 2017: Bolloré Logistics Houston recently handled an air charter for one of their oil customer from Houston to Malabo, Equatorial Guinea, using an IL-76. The Ilyushin IL-76 Candid is a landmark Soviet-era design. The Il-76 has seen extensive service as a commercial freighter for ramp-delivered cargo, especially for outsized or heavy items unable […]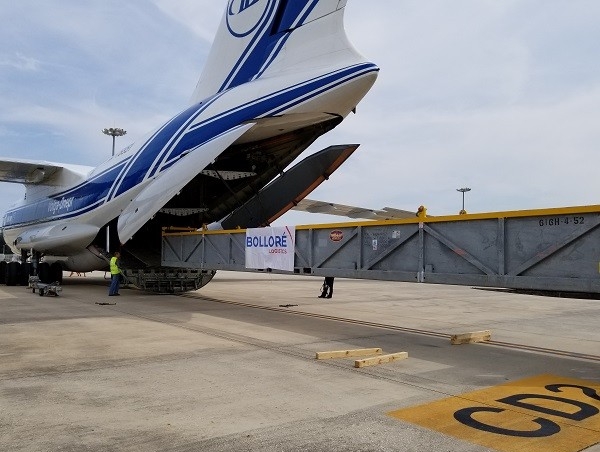 November 13, 2017: Bolloré Logistics Houston recently handled an air charter for one of their oil customer from Houston to Malabo, Equatorial Guinea, using an IL-76.
The Ilyushin IL-76 Candid is a landmark Soviet-era design. The Il-76 has seen extensive service as a commercial freighter for ramp-delivered cargo, especially for outsized or heavy items unable to be otherwise carried. It has also been used as an emergency response transport for civilian evacuations as well as for humanitarian aid and disaster relief around the world.
The shipment consisted of 21 pieces weighing a total of 44 tonnes but the most challenging aspect was to load the 16-metre long offshore basket onto the IL-76 charter aircraft.
The offshore basket, a special container made of steel, was used to transport drill pipes, casing, tools and other essential cargo. The packing teams had to unpack the cargo on-site and repack the basket after it was loaded on the aircraft.
The Bolloré Logistics Houston teams supervised the loading which started at 5:00 am and ended at midnight.
The charter arrived in Malabo two days later and was unloaded by the Bolloré Logistics teams in Equatorial Guinea and successfully delivered to the drilling site.