FROM MAGAZINE: Bold statement and Big opening
Opening of the ACL Airshop's new manufacturing facility in Upstate South Carolina is a bold statement of ACL's commitment to aviation's fastest-growing region in the world and a celebration of aerospace manufacturing capabilities with lean operations, better capital equipment, and more-efficient work flow. Reji John The opening of the new manufacturing facility of ACL Airshop […]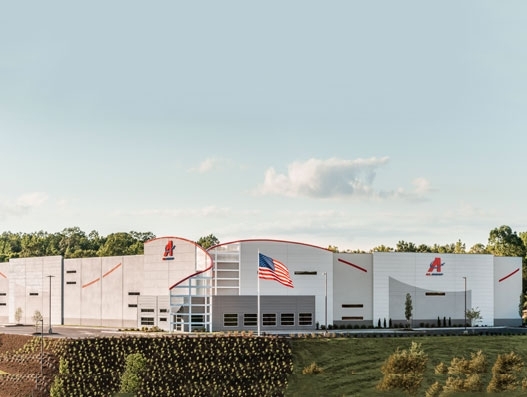 Opening of the ACL Airshop's new manufacturing facility in Upstate South Carolina is a bold statement of ACL's commitment to aviation's fastest-growing region in the world and a celebration of aerospace manufacturing capabilities with lean operations, better capital equipment, and more-efficient work flow.
Reji John
The opening of the new manufacturing facility of ACL Airshop in Greenville, South Carolina last month in the presence Pamela Evette, Lieutenant Governor of South Carolina, top ACL executives from around the world, employees and their families, appeared to be small, but it indeed was the beginning of something big. Thirty-two new jobs and $7.2 million invested in the site.
Photo caption: Pamela Evette, Lieutenant Governor of South Carolina, joins Steve Townes to officially open the new factory
"A lot of jobs are going to come into this facility over a long period of time because the air cargo industry just keeps growing and we're going to grow with it," said Steve Townes, CEO of ACL Airshop and founder of Ranger Aerospace. "I predict that within five years we will be in almost all of the top 100 airports in the world. This place will probably have three shifts going on and we're going to have to blow out the back wall for another 25,000 square feet," he added while addressing the 300-pluss guests at the new facility.
"We could have outsourced this entire expansion to lower cost overseas locations, but instead we made a deliberate decision to build and grow right here at home. All around the world, we are continuously improving ACL Airshop with better capacity, upgraded facilities, new technology and logistics systems offerings, and other enhancements for our many scores of airlines customers," said Townes.
Photo caption: Steve Townes presents a memento to Pamela Evette inside the new factory
About less than a year ago, at the ground-breaking ceremony, Townes had said that ACL was "building a landmark" and that it would "make a statement".
Located at 500 Park Commerce Road in the Park West Commerce Park, ACL is leaders in manufacturing of custom-made unit load devices (ULDs) for the air cargo industry and air cargo pallets, belts and straps. ACL's new factory is the next-door neighbor of Softbox Systems' United States and Canadian headquarters. Softbox makes temperature-controlled containers and boxes for the biotech and pharmaceutical industries.
Photo caption: Employees and their family members at the opening ceremony

According to ACL, with the new factory, productivity is expected to grow to new highs. It will not only increase output but will also add new jobs in Upstate South Carolina, one of the fastest growing states in the USA's aerospace industry. In fact, the Southeast USA is one of the fastest growing regional concentrations of aerospace and aviation-related enterprises in the world.
The company offers short-term leasing solutions when customers need spare unit load devices or when they have unexpected loads. ACL Airshop also offers long-term multiyear unit load device fleet management programmes coupled with its ULD control logistics services and Bluetooth real-time tracking and tracing.
Photo caption: ACL Airshop's top executives from around the world with Steve Townes
ACL Airshop is a wholly-owned subsidiary of Ranger Aerospace and its four large institutional investment partners. Ranger Aerospace, founded in Greenville in early 1997, has a long track record of buying and building-up aviation services companies to considerable scale, in partnership with large institutional co-investors.
At the ribbon-cutting ceremony, Townes was joined by lieutenant governor Evette.