Boeing sets 'Guinness World Records' for producing 10,000 737 jetliners
March 14, 2018: Boeing recently announced to have broken the 'Guinness World Records' title for title producing 10,000 737 commercial jetliners at its Renton, Washington factory. Boeing 737 first held the 'Guinness World Records' title in 2006 for producing 5,000 airplane, a mark that took almost four decades to reach. Due to growing market demand […]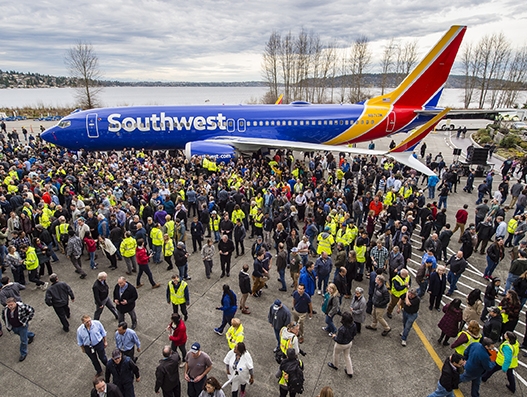 March 14, 2018: Boeing recently announced to have broken the 'Guinness World Records' title for title producing 10,000 737 commercial jetliners at its Renton, Washington factory.
Boeing 737 first held the 'Guinness World Records' title in 2006 for producing 5,000 airplane, a mark that took almost four decades to reach. Due to growing market demand and higher production rates, the 737 program reached the 10,000th airplane milestone after 12 years.
"This incredible milestone is a testament to the work we do every day to build the most reliable and efficient single-aisle airplane in the world," said CEO Kevin McAllister, president, Boeing Commercial Airplanes.
"It represents over 50 years of success and achievement on the part of thousands of past and present Boeing employees, supplier partners, and airline customers around the globe who have put their confidence in the 737," said McAllister.
"The speed at which Boeing achieved this new milestone is very impressive," said Michael Empric, official adjudicator for Guinness World Records.
"We are excited to once again recognise the 737 and the important role it plays in commercial aviation," said Empric.
Meanwhile, Boeing is expected to increase its 737 production, from the current rate of 47 to 52 airplanes per month later this year. The 737 program has more than 4,600 airplanes orders, fueled by sales of the newest version of the 737, the 737 MAX.