Bigger and better: Using larger drones to deliver cargo
Experts at the first ever cargo drone virtual summit shed light on how cargo drones could be in the next big advancement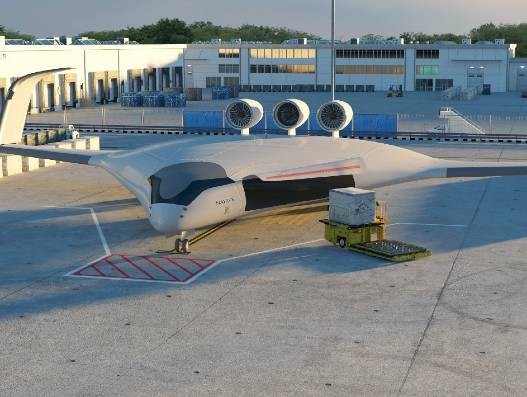 The Covid-19 pandemic may have put the world on pause for this year but it has also managed to propel the world of cargo and logistics to think in a futuristic direction. Exploring this among many other areas, the recently held three-day cargo drone virtual summit by STAT Media Group focused on how drones could be used to deliver all kinds of cargo in larger volumes for longer distances. The 10-hour summit, which had around 35 speakers, discussed the various challenges faced by drone operators and others, who are a part of the supply chain while the authorities spoke about the regulations to be tackled.
Beating the odds
As many manufacturers around the world are currently working on the coronavirus vaccine, delivering the vaccine in the fastest way possible has become the need of the hour. While air cargo is already in the process of trying to build a flawless supply chain, many drone operators are also taking the opportunity to help in the global cause with the help of health professionals. It has also possibly accelerated the process of reimagining the future of drones, especially because there is going to be a large demand for the vaccine from various countries around the world. Anticipating the need for a solid structure, US-based healthcare company Novant Health, which is a part of the regional healthcare system has already contacted the government authorities to plan the best way forward.
With over 700 clinics and 30,000 team members, they are currently in the process of looking at how drones can be used as a distribution modality to help people faster. Angela Yochem, Executive Vice President, says, "We focus on two big things. One of them is enhanced quality of care. So the things that we can do, to get to diagnosis faster, to get to treatments that are better, personalised, and will ultimately achieve a better outcome for the patient." She goes on to add that the other area is enhancing access to the care because it is one of the big issues across communities. Interestingly, while Novant Health provides care in physical locations, they also do it virtually through their digital channels which use advanced sensor capabilities, which take vitals for patients remotely, among other facilities. However, with the increasing need for clinical supplies, Yochem says that the traditional modes of distribution in the supply chain like vans, cars and trucks have significant constraints. It is especially for the south-eastern US because it has coastal hospitals, which could be hard to reach in case of natural calamities like storms. The other problem is also that of storage capability, which can be a problem in traditional settings, as it requires a lot of planning, which generally works but not always in a situation like the pandemic.
Yochem, who is also the Chief Digital and Technology Officer, highlights, "The need for supplies during a pandemic surge is unpredictable, which makes it necessary to have a way to distribute clinical supplies to exactly where they're needed on demand in a very targeted and precise manner and that is not something for which you can plan as part of a broader distribution scheme." This is also the reason why Novant Health joined hands with Zipline, American medical product delivery company that uses drones earlier than they had planned. They also discussed with the North Carolina Department of Transportation to see what a delivery mechanism like this could look like. Yochem said it was due to the current crisis, that the Federal Aviation Administration (FAA), the US regulatory body, granted them an emergency waiver to be able to travel long distances. The pandemic has helped them also get real time data, as it would have only been academic studies otherwise.
"When we respond to a crisis, we end up finding ways to partner with other entities that may be unconventional partners for us. In our case, we ended up partnering with a racing company called Stewart Haas racing in the Charlotte metro area. They design race cars for Formula One and NASCAR or the National Association for Stock Car Auto Racing, and they offered to host our drone nest. So, they on their property actually helped us with all the connectivity and the hosting of the nest, which is very close to our distribution center. So we're able to get supplies to the nest, and then out drop to our remote locations and then back," said Yochem.
Drones as large cargo carriers
While Yochem's Novant Health is looking at using drones to travel longer distances to provide healthcare facilities, it is also being seen as the future of air cargo by many in the industry. It may help reduce the pressure on airlines across the world, especially during a crisis as huge as the pandemic because of the time constraints. Ram Menen, former Head of Cargo at Emirates, having spent 40 years in the industry is positive that drones have a bright future in the cargo industry, simply because he believes that one shouldn't look at them as anything other than an airplane. Interestingly, Menen was also a part of the team that worked on the freighter version of the Boeing 777. Even though the aircraft had its limitations because it didn't have the required engine thrust to take off, every other aspect made it ideal to carry cargo and thus manufacturers had to specially create one for it. However, he thinks that drones will not have an issue and in fact have an advantage.
The Rhaegal, from Sabrewing Aircraft Company, is a new generation of regional cargo UAV
"The kind of airplanes I've been looking at, it will handle and use optimised containers and be able to be handled with the existing down services equipment," he says, while adding that drones also have several benefits. "Our drones are not constrained by crew time limitations, they can operate with longer distances, without any crew changes," says Menen, who is currently working as a consultant with Aleksey Matyushev, co-founder and CEO of US-based Natilus. Apart from not having a crew, it can also become a means of carrying dangerous goods as stated by Frederic Malaud of ICAO, which many airlines may not be comfortable putting on a manned flight. "Although it'll be competing with the existing airplanes, it is not going to compete with the logistics. It's only going to enhance the efficiency that today's logistics and transportation industry demand," he adds.
Aided by Menen's years of experience at Emirates, Matyushev and the other co-founders of Natilus focused on the volume, keeping in mind the future of e-commerce, and at the same time being autonomous, as a lot of their customers felt the need for it to cater to demand. They are currently also in the process of getting certifications by the FAA regulations which do allow certifications of unmanned systems, but are classified as remotely piloted aircrafts (RPAs). He says, "There's still a human in the loop, but the decision making for flights is actually made onboard the aircraft by the autopilot. The remote pilot is then able to direct the vehicle through the mouse and interact with air traffic control, and able to also operate more than one aircraft at a time."
So, it is no doubt that Natilus' flagship product is a 100 tonne freighter that provides 720 cubic metres of cargo volume and its sole aim is to compete and replace the current freighter aircraft in operation today. However, Matyushev says that there is an estimate that by 2030, 63.3 million tons of cargo needs to be transported and that requires about 3000 airplanes, which are simply spread across three segments - regional, domestic and international. As of now, Natilus is already in talks with its customers to be able to move from hybrid to electric propulsion to make it easier and faster. Interestingly, they are already in development and will be able to carry a 60-tonne payload freighter domestically, which will compete with the likes of Airbus and Boeing 767. The drones are also equipped with their proprietary detect and avoid system and also a second autopilot system which is able to trigger an emergency ballistic parachute in case the systems fail.
Keeping the future in mind, Ed De Reyes' Sabrewing Aircraft Company is not far behind and has created an all-weather regional cargo carrier aircraft, which uses a turbo electric motor. It is also capable of flying like a fixed wing airplane. "We don't require any type of cargo handling equipment. Basically we load through the nose, we load containers through the nose," says the co-founder, reinforcing Menen's idea of the advantages of drones as cargo carriers. The aircraft is able to carry as much as 4500 kilos, and is going to be equipped to carry high value items and high security transport, so everything from pharmaceuticals to precious metals or any other type of high value cargo to remote locations.
Regulations, drone safety and innovation
While there are several regulations for drone delivery, the need for safety precautions and rules is a recurring concern, especially with drones being considered for large volumes of cargo. Frederic Malaud, Technical Officer, Remotely Piloted Aircraft Systems, International Civil Aviation Organization, says while Yochem does mention that there are several challenges by road in the traditional modes, there are roads for unmanned aircrafts too and so there is also a need for regulations to function safely. ICAO, the United Nation's specialized agency, is currently trying to create harmonised solutions on the regulation of unmanned aircraft, without hampering innovation.
Cargo and logistics will ideally appear in the regulation for dangerous goods and is also a key component of the aviation regulation. There is an advisory circular which has guidance material available under the IQ portal under ICAO (AC) 102 - 37 and basically provides useful guidance and information on how to approach the requirements for dangerous goods for unmanned aircrafts. When medical samples and clinical substances are concerned, they are considered as dangerous goods in the existing framework, along with lithium batteries and first aid kits. So, these are very important and should be kept in mind when assessing the feasibility of operations.
Emphasizing Malaud's need for regulations because of the policy overlay, Amit Ganjoo, Founder and CEO, ANRA Technologies, reminds that the safety standards in aviation are higher than any other industry. His company provides drone operators and service providers with an operational platform and services for launching and managing commercial operations. Interestingly, they have also recently launched the Smart Space platform, which simply makes it simpler for drone operators to integrate into the national airspace while keeping in mind the policies and regulations, to make the process easier.