Big Bad Wolf Books soars with DHL Global Forwarding logistics support
Nov 19, 2019: DHL Global Forwarding has offered end-to-end logistics services to transport more than one million books to the Big Bad Wolf Book Sale events across Asia. It also provides customs clearance and last-mile trucking for the sales. The Big Bad Wolf Book Sale, which started in 2009 in Malaysia, organises sales with affordable […]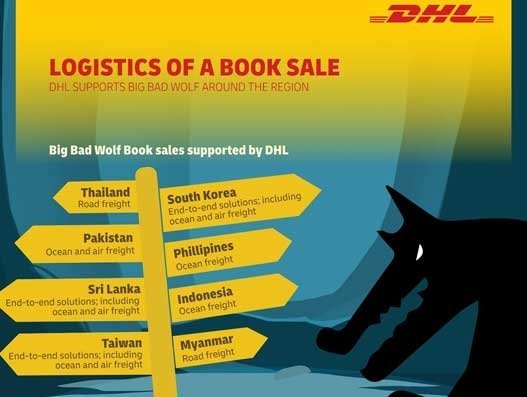 Nov 19, 2019: DHL Global Forwarding has offered end-to-end logistics services to transport more than one million books to the Big Bad Wolf Book Sale events across Asia. It also provides customs clearance and last-mile trucking for the sales.
The Big Bad Wolf Book Sale, which started in 2009 in Malaysia, organises sales with affordable books and large-scale book sale events in countries like Sri Lanka, Pakistan, Thailand, Myanmar, Indonesia, Philippines, South Korea and Taiwan. DHL has so far transported around 70 TEU (twenty foot-equivalent unit) of books to these events.
"The unique nature of book imports requires our customs brokerage team to carry out intensive pre-work documentation and closely coordinate with several parties upon each shipment's arrival at its destination. Our expertise in and history of working with customs regulators around the Asia Pacific region have proved immensely useful in ensuring that the books arrive on time. We count it a privilege to act as Big Bad Wolf Books' logistics provider as they strengthen literacy and a love for reading in communities across Asia," said Kelvin Leung, CEO, DHL Global Forwarding Asia Pacific.
Explaining the intricacies of logistics of book sales, Olivia Cashin, head of value added services, DHL Global Forwarding Asia Pacific says that customs clearance services become crucial for an efficient supply chain. "An exact and detailed description of each book is required for customs clearance purposes due to differing laws and regulations governing the sale of books around the world, while most local authorities stipulate that books can only be delivered to event venues within strict time limits," said Cashin.
The global book printing market is anticipated to reach US$49 billion by 2024, with Asia Pacific contributing the largest market share of any region in 2018. Books sold at the Big Bad Wolf Book Sale come from excess stock of major international distributors, resulting in discounts between 50 percent and 90 percent off recommended retail price.
"When we started in 2009, we couldn't have anticipated the huge demand and positive reactions given that digital e-books were all the rage. Our persistent efforts paid off culminating in more than five million attendees at our events over the past two years alone," said Andrew Yap, co-founder of Big Bad Wolf Books.
"As we expand into more cities, we're honing our logistics capabilities to keep our book sales events aptly stocked, whilst navigating the complexity of customs and regulations in many of the markets that we operate in. DHL Global Forwarding's team of experts have been a valuable help with that," said Yap.