FROM MAGAZINE: Better Technology Infrastructure to improve Africa's perishable export
<p style="text-align: justify; font-weight: bold;">Global CCA Perishable Conference held in Addis Ababa calls for urgent steps to develop cold chain skills and infrastructure within the African continent that will allow African perishable exporters to compete in global markets.</p> <p style="text-align: justify; font-weight: bold;"><em>Twinkle Sahita</em></p> <p style="text-align: justify;">Tracking the journey of perishable products from farm to […]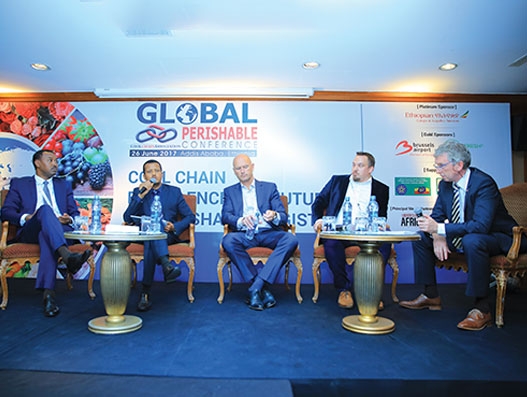 Global CCA Perishable Conference held in Addis Ababa calls for urgent steps to develop cold chain skills and infrastructure within the African continent that will allow African perishable exporters to compete in global markets.
Twinkle Sahita
Tracking the journey of perishable products from farm to fork or from farm to vase is quite a challenging and complicated process. There are high chances of the produce being exposed to temperature excursions which in turn can lead to a number of outcomes far more costly than a damaged reputation. More often than not, the shippers are prone to setbacks when weak points infiltrate the chain of custody. Africa, known for its high quality produce like flowers, vegetable and fruits, has to deal with the severe lack in cold chain infrastructure in getting their products out to the global market.
It is against this backdrop that the Global Cool Chain Association Perishable Conference held in Addis Ababa, Ethiopia, brought in industry stakeholders to deliberate the theme of "Cool chain excellence - the future of perishable logistics."
The conference was aimed to create dialogue and offer a platform for exchange of ideas, knowledge and solutions to improve the perishables supply chain. The one-day event saw participation of perishable logistics and transport professionals from around the world and discussed how to develop sustainable solutions to expand and improve the cold chain. The focus was also on exploring key macro-economic, trade and supply chain trends worldwide, as well as new niche opportunities. Industry leaders, including perishable exporters from Ethiopia and Kenya, called for urgent steps to develop cold chain skills and infrastructure within the African continent. The conference offered a platform for interaction to identify new opportunities that will allow African countries to compete in global markets.
Setting the tone for the conference, Russell Tom, Regional Director, Cargo Marketing, Boeing Commercial Airplanes, made a presentation on air cargo market forecast and perishable market trends. Tom stated that African market holds a lot of potential. He added, "All the commodities exported from Africa – fresh cut flowers, vegetable and fruits – benefit from the cool chain."
"Logistics in Africa, as far as perishables is concerned, there is a long way to go. Technology, information flow, adequate infrastructure are key to proper handling of perishables," said Fitsum Abady, MD of Ethiopian Cargo Services, while joining the panel discussion on the theme of "New generation cold chain management – from building infrastructure to mining data for cargo integrity". Abady highlighted the single window service initiative that will be implemented soon for the benefit of traders.
Johan Leunen, Cargo & Logistics Development Manager, Brussels Airport Company, said that there is "lack of transparency in the process and technology can help us".
The second panel discussion witnessed no-holds-barred discussion on innovative solutions to improve the cold chain value proposition and thus reduce wastage.
Identifying the problem, one of the panellists Frank Van Gelder, consultant supply chain-product design and engineering, Sky Fresh said, "The problem is we don't share data, we don't communicate."
To add to that, Stavros Evangelakakis, Manager Global Products Management, Cargolux and Board Member, CCA, pointed out the fact that it is challenging to create a common platform for data sharing as the industry is quite fragmented.
The speakers were of the view that digitisation is the way forward. "What we need to do is to go disruptive really," commented Van Gelder. "Digitisation is the only way forward," added Evangelakakis Zewdie of EHPEA, was also of the opinion that supply chain should focus on new technologies as we need to understand that the usual way of doing business has no future.
Presenting the shippers' point of view, Elizabeth Kimani, General Manager, Maasai Flowers, said, "The key element is collaboration. We should organise ourselves into groups." Commenting on the current scenario, she said, "I see a lot of improvement, a lot of information sharing; flowers wastage has been reduced."
Participants of the conference agreed that the way forward for the industry is to collaborate much more efficiently and look for more innovative solutions to increase visibility and information sharing using the most modern tool of information technology.
Ethiopian Cargo & Logistics Services, Brussels Airport and SKY FRESH, were the key supporters, while the event was co-organised by the Cool Chain Association and The STAT Trade Times. Ethiopian Horticulture and Agriculture Investment Authority, Royal Flora Holland and Ethiopian Horticulture Producer Exporters Association were industry partners for the event.