FROM MAGAZINE: Benelux building capacity through infrastructure additions
The Benelux (Belgium, Netherlands, Luxembourg) region has witnessed infrastructure growth, adding sheen to its traditional image as the main logistics gateway to Europe. Even as global cues suggest a slowdown, the air cargo community in the region remains optimistic of growth. The gloomy skies for the aviation industry have overstayed their welcome. The falling numbers […]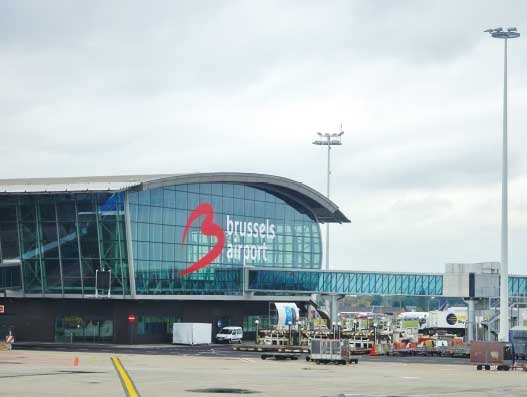 The Benelux (Belgium, Netherlands, Luxembourg) region has witnessed infrastructure growth, adding sheen to its traditional image as the main logistics gateway to Europe. Even as global cues suggest a slowdown, the air cargo community in the region remains optimistic of growth.

The gloomy skies for the aviation industry have overstayed their welcome. The falling numbers have lasted longer than desirable with no cheer in sight.
Global cues, falling numbers
According to the data – worldwide airwaybill inputs – made available to WorldACD from 80 airlines, demand for air freight, measured in Freight Tonne Kilometres (FTKs), recorded a year-on-year (YoY) decrease of 5.4 percent in September. The cargo load factor dropped by 3.6 percentage-points YoY, but it increased by 2.3 percentage-points month-on month (MoM). The last month with positive growth was October 2018, which is more than a whole year ago.
Mainport for the Netherlands, Amsterdam Airport Schiphol (AMS) released mid-year figures in September, announcing that total cargo volume decreased by 9.2 per cent to 767,519 tonnes, compared with 2018, but total belly cargo volume increased by 0.9 per cent.
Bart Pouwels, head of cargo, AMS, expressed concern over the "negative developments within the air cargo market and the consequences it has for the overall network of our airlines at Schiphol."
"With a decrease of full freighters, we may become less attractive for freight forwarders, as the forwarders need a mix of full freight and belly cargo to operate sustainably. This may result in forwarders leaving Schiphol and the airport becoming less attractive for airlines as belly cargo contributes significantly to certain routes. We are keen to maintain our network of destinations for which we need to keep our cargo volumes at a sustainable level," Pouwels said in a statement.
All-cargo airline Cargolux also acknowledged that after two exceptional years for air cargo (2017-2018), the global market is showing signs of slowing down and the industry is cautious about the market situation for 2019. "The shadow of Brexit remains present, and uncertainty prevails as to the outcome of the negotiations. We do remain confident that our flexible approach to business and adaptability will enable us to overcome these challenges," said Chris Nielen, vice-president Europe, Africa, and Middle East, Cargolux Airlines.
The worldwide fall in demand is not true for Liege Airport, though. Steven Verhasselt, commercial director, Liege Airport informed that the airport registered a throughput of 6,47,543 tonnes from January 1 to September 30, a 3 percent growth on top of its all-time record in 2018. "If we go back one more year, compared with the 2017 figures, we grow more than 25 percent," he said. Airports Council International (ACI) World's latest World Airport Traffic Report has revealed that Liege was the third fastest-growing airport in the world in 2018 for airports that handled more than 250,000 metric tonnes of air cargo. Liege's cargo volume grew by 21.6 percent in 2018.
Infrastructure value additions
The current aviation situation notwithstanding, the Benelux region, Europe's traditional logistics gateway, has been doing well as the countries make infrastructural, technological and environmental value additions for the trade in Belgium, Netherlands and Luxembourg.
"In line with the rest of the industry, Cargolux has been impacted by the slump in air cargo. Volumes have declined compared to 2018 but the peak season is ahead of us, so we remain cautiously optimistic for the year-end results," said Nielen.
(L to R) Robert Coyle, SVP, Kuehne + Nagel Pharma & Healthcare; Hansjoerg Rodi, regional manager, Kuehne + Nagel Europe; Detlef Trefzger, CEO, Kuehne + Nagel; Tobias Jerschke, MD, Kuehne + Nagel BeLux; and Gerry Bosmans, director contract logistics, Kuehne + Nagel BeLux at the opening of the Geel pharma hub.

Cargolux, Europe's biggest all-cargo airline with a fleet of modern Boeing 747-8 and 747-400 freighters "expanded and adapted elements of its global network to meet market requirements." In June, Cargolux added two new destinations to its service offering, Santiago de Chile and Jakarta. Santiago Airport is part of a redesigned South American routing that serves a number of other destinations in the area and returns to Luxembourg via Amsterdam. Jakarta is Cargolux's 16th destination in the Asia-Pacific region, the weekly flight from Luxembourg enables Cargolux to strengthen its stronghold in the region and cater for the demand on the far eastern market. The airline has also expanded its frequencies through Budapest, Xiamen, and Incheon to cater accommodate market demand.
In May this year, Belgian private jet company ASL and Liege Airport signed a contract for the Air Service Liege project. It will involve the construction and operation of a hangar and a business aviation terminal, as well as the exclusive provision of ground handling services for all business flights operating at Liege Airport. Luc Partoune, CEO of Liege Airport sees the development as a socio-economic move for business. Partoune said, "Business aviation is a growing niche segment at our airport. Last year, more than 3,000 passengers used private jet services, an increase of 24 percent compared to 2017. The advantages of this new terminal will be speed, discretion and flexibility (open 24 hours a day). The business aviation centre will be directly connected with the motorway and will allow entrepreneurs, executives and investors to move around quickly." Calling Air Service Liege a symbolic project, ASL Group CEO Philippe Bodson said ASL wants to make Liege "a modern and exemplary hub for business aviation in Europe".
For Brussels Airport Company, real estate is one of two main challenges. Steven Polmans, director - cargo & logistics, business development, Brussels Airport Company said, "For the last few years, we lacked warehouse space available on short notice. This has stopped some growth or prevented new business to start. Not that we were taken by surprise, but realising all these projects took some time. In recent years we have developed a brand new first line warehouse for DHL Express of 36,000 square metres, new second line warehouse, a new vault for valuable transport, as well as the refurbishment of some first line buildings for handling. At this moment, a new animal inspection centre is being finalised, as well as the construction of a new 50,000 square metres first line handling building. But also on the second line, several new projects started or are ongoing. At this moment, there are more cranes to be seen at Brucargo than ever before!"
The other area Polmans would like to see improvement is the quality of performance of Brucargo's handling. "We also had only two ramp handlers, although we had three warehouse handlers. Earlier this year, we were able to introduce a third handling agent, both on ramp, as well as in warehousing. So the competitive landscape has changed. At the same time, we are working with our handling agents on several projects to make their life easier, increase standards and align procedures, work more digital so they also can become more performant [sic] and cost efficient. Our community organisation, Air Cargo Belgium, is very active and supportive in this area and has proven it importance and benefits to the community," added Polmans.
More facilities coming up
In close proximity to the Brussels and Liege airports, transport and logistics company Kuehne + Nagel opened its Geel pharma hub recently. The new facility offers multi-modal, temperature-controlled forwarding and warehousing services and is fully good practice compliant and certified.
The enlarged Geel distribution centre is spread over an area of 22,000 square metres (plus another 10,000 square metres of extension space) and has two cold chambers to handle varying temperature requirements. It certainly spells good news and volumes for one of Europe's strongest pharma clusters, Belgium.
Apart from the Geel facility, Kuehne + Nagel is also investing in a 15,000 square metres airside pharma facility at the Brussels cargo airport, due to open in the second half of 2020. In October, Swissport International opened its 3,620-square metre state-of-the-art Pharma Center for temperature-sensitive cargo shipments at Brussels Airport. Upon completion, the cargo complex will boast some 25,000 square metres of warehouse space. These facilities will only cement Belgium's position as a strong pharma gateway.
In 2019, AMS has attempted to strengthen its network to promote cargo trade and investment.
In June during the Air Cargo Europe exhibition in Munich, Germany, AMS signed a memorandum of understanding (MoU) with Hartsfield-Jackson Atlanta International Airport (ATL) for enhancing cargo capacities between Atlanta and the Netherlands. The MoU enables AMS and ATL to exchange data to facilitate end-to-end planning and capacity optimisation, extend the benefits of the AMS Cargo Community system to ATL, and boost trade flows between the respective air cargo gateways.
AMS and ATL will be on the formation of the Atlanta Cargo Network throughout 2020, with an increase exports of agricultural and manufacturing goods produced in Georgia. An economic impact assessment study due in 2021 will measure the impact of this trade lane. The agreement will connect the key cargo operators and logistics providers at both airports to further strengthen the new trade and logistics corridor, and will be supported by Cargonaut, which operates the Cargo Community Information Exchange at AMS.
"At AMS, the collaboration between the logistics partners strengthen Schiphol to improve its global competitiveness, and a combination of public private partnership with digital information exchange enables Schiphol to maintain and improve a fully transparent, safe, and secure air cargo chain. By working together, we create an internationally connected hub, ensuring a fast and efficient flow of goods by sharing data, optimising processes, and collaborating with our partners based upon agreements," said Nanne Onland, chief executive officer, Cargonaut, in a statement.
Schiphol owns and operates Lelystad Airport and Rotterdam The Hague Airport (which caters to both Rotterdam and The Hague), and controls the Netherlands' Eindhoven Airport. Apart from running Amsterdam Airport, Schiphol now owns Australia's Hobart Airport along with Queensland Investment Corporation (QIC).
QIC and Schiphol started preparations for their bid at the end of 2019, in a deal which is expected to close in November. Following the sealing of the deal, the new owners will go ahead to develop the Hobart Airport as quickly as possible.
Impact of Brexit
In the latest development, the European Union (EU) has agreed to the UK's extension request to delay Brexit until January 31, 2020. Britain prime minister Boris Johnson won an approval from the parliament to hold an early ballot aimed at breaking the Brexit deadlock. The election will be held on December 12.
"The Brexit delay has been an opportunity for companies and authorities to delve deeper in the challenges at hand and devise solutions ahead of time. We are in close contact with all our suppliers and business partners and we are assessing the situation in cooperation with all parties involved in order to plan solutions should a hard Brexit be decided. Cargolux has been in contact with the Luxembourg, UK, and EU authorities to ensure a smooth transition and business continuity. The authorities have been very cooperative in the process and we are confident that all parties will work together to avoid major disruptions. All preparations have been made to ensure that Cargolux will hold all permits that will be required in the UK once it has left the EU, should a 'no-deal' departure occur," said Nielen.
For Verhasselt, the impact of Brexit will be negative for all parties involved. "Belgium is an important trading partner of Britain. The logistics industry, the connectivity by air, rail, road and sea will be impacted first and foremost, as new borders don't facilitate our industry. We believe we are flexible enough to deal with the challenges, and grasp some of the opportunities, but we have no clear view so far and what, when and how," he said, commenting on Liege Airport's preparation for the potential challenges or opportunities in the face of Brexit.
Upgrading digitally
Recognising the business opportunity in transporting perishable commodities, Brussels Airport's cargo division recently launched on a pilot basis the 'Perishable Management App' on its open data sharing BRUCloud platform.
The new application will assist the Belgian Federal Agency for the Safety of the Food Chain (FASFC) and forwarders by offering a central, digital platform for all communication and document exchange related to the inspection process of perishables. Accessible through a mobile phone, Perishable Management App will let FASFC and forwarders track inspection status of perishable goods in real time.
In September, Cargolux Airlines embarked on a journey of "profound transformation and digitalisation" with the launch of its online booking tool. The airline's digital selling transformation is powered by PRO's solutions to streamline and accelerate the customer quoting and booking process. "Our missions is to deliver superior digital sales experience for customers with AI-powered price optimisation, quoting, and revenue management solutions. This new tool considers all the customer requirements in a single location to guarantee the right offer is made to every customer, every time," explained Cargolux's Domenico Ceci, executive vice president sales & marketing during the launch.
"As part of its strategy, Cargolux is undergoing a digital overhaul that includes all areas of its operation. In an effort to promote lean and flexible procedures and improve customer and employee experience, many more changes will be implemented. As the project moves forward, Cargolux is increasingly embracing the digital revolution and is committed to make this a successful endeavour," said Nielen.
After an initial deployment in Luxembourg and other selected EU countries, over a year ago, the platform has been extended to cover the airline's European network. The quotation tool integrates all the data required to provide a seamless, accurate quote. All elements required to provide a price offer for a customer, such as origin, destination, Cargolux's product request, services and availability, among other things, are centralised in the tool. "This new system allows for greater transparency and avoids endless to-ing and fro-ing through emails and phone calls to secure a quote or a booking, ultimately saving time and effort. Since the whole process happens online, it also allows for enhanced traceability," said Nielen.
The Liege Cargo Community is engaged in a cloud project that will lead to faster movement in the cargo. "The cloud includes the digitisation of customs declarations, as well as other government as well as other services involved in the airfreight chain. We invest in this project as we believe digital infrastructure is as much part of airport infrastructure, as is a runway or a warehouse. While the LGG Cloud is already nearing completion, we are also embarking on an integrated Cloud to connect with partner airports. The goal there is to come to a proactive approach to allocate resources, airports and their service providers, rather than reactive," said Verhasselt. The airport will throw more light on the project at the upcoming WeCargo Innovation Lab on November 14 in Liege.
Environmental responsibility
Sustainability has moved beyond a PR exercise that needed to be undertaken more for maintaining an image, rather than real concern for the environment.
In this direction, Liege Airport has set an ambitious target of becoming a zero emission facility by 2030. With concrete measures like formation of a task force and a multitude of investment projects toward an integrated approach towards the goal, the commitment to the environment is as real as it gets. "Investment include solar panels, a hydrogen station, electrical vehicles on the tarmac, as well as initiatives to bring down the impact of employees transportation to and from the airport with public transportation, electrical and other bicycles," elaborated Verhasselt.
For Cargolux, environmental awareness, climate action, and conservation remain central to the airline's philosophy. "Our business model is articulated around these pillars. Cargolux has 15 different fuel saving programmes in place to optimise its operation and reduce its carbon footprint and the airline has also adopted IATA's short and long-term goals to reduce CO2 with the aim to eventually achieve carbon-neutral growth. When it comes to conservation, Cargolux has strict policies in place when it comes to live animal transportation and has a pro-active approach in the fight to curb illegal wildlife trafficking," informed Nielen.
This feature was originally published in STAT Trade Times' November 2019 issue.