Beluga whales land in Iceland safely
June 26, 2019: Yesterday SEA LIFE TRUST confirmed that the two whales, Little Grey and Little White, transported recently by Cargolux Airlines, have reached their final destination, the world's first open water sanctuary for beluga whales, and are doing well. On June 19, the whales touched down Iceland safely aboard Luxembourg-based airline's 747-400ERF freighter plane. […]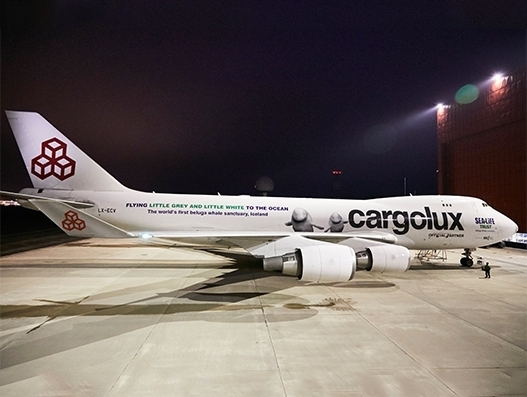 June 26, 2019: Yesterday SEA LIFE TRUST confirmed that the two whales, Little Grey and Little White, transported recently by Cargolux Airlines, have reached their final destination, the world's first open water sanctuary for beluga whales, and are doing well.
On June 19, the whales touched down Iceland safely aboard Luxembourg-based airline's 747-400ERF freighter plane. After their arrival in Iceland, Little Grey and Little White were transferred on board two lorries from Keflavik Airport before catching a ferry to Heimaey – off the south coast of Iceland.
The whales travelled a distance of 6,000 miles from China to the international airport of Iceland, Keflavik Airport and then were delivered to their final destination.
The two belugas were transported in custom-made slings designed to their exact physical requirements, and were then placed in tailored containers.
The company in its official release said: "Our vets and care team are happy with their progress and they are settling in nicely to their temporary care pool home.
"Little Grey and Little White will need to stay in the care pool for a 40 day quarantine period. The timing of their release in to the bay will be based on this, their acclimatisation to the new surroundings and their welfare."
The role of the airline didn't just end at the whales' arrival in Iceland. Further, the pilots visited the SEA LIFE TRUST Beluga Whale Sanctuary to ensure their VIP passengers were doing well.
The re-location, initially scheduled for April, took place this month, following severe weather conditions in April.
Created in partnership with global marine wildlife charity, Whale and Dolphin Conservation (WDC), the SEA LIFE TRUST Beluga Whale Sanctuary is one of the biggest developments in captive whale and dolphin care and protection in decades and the first of its kind to be created for cetaceans.
Cathy Williamson, Whale and Dolphin Conservation's End Captivity Programme Policy manager concluded: "Having been originally involved in discussions about a sanctuary with SEA LIFE 20 years ago, and having helped with this beluga whale project from the beginning, WDC is naturally very excited to be part of the welcoming committee for Little White and Little Grey as they touch down in Iceland."
The sheltered bay will be the world's first open water sanctuary for beluga whales in what is a ground-breaking global marine welfare project. The bay, which measures approximately 32,000 square metres with a depth of up to 10 metres has been chosen to provide a more natural sub-Arctic environment and wilder habitat for these amazing whales to call home.
UPDATE ????
Over the weekend Little White and Little Grey
have been eating well and have settled into their care pool nicely.
They'll stay in their temporary home under quarantine for 40+ days, until they
are ready to be moved to their permanent open water home! pic.twitter.com/HIZ3HL5U9m

— Beluga Sanctuary (@BelugaSanctuary) June 25, 2019