FROM MAGAZINE : Balancing the dwindling flight of Middle East
It is only due to the ambitious efforts of Middle East aviation industry that the region today stands as the new crossroad for international travel and cargo shipping. However, few political, economic and business crises for past few years are taking a toll on the sector. It is crucial for the region to come out of the complexity.
Shreya Bhattacharya
At a recent conference of the European Parliament's Committee on Transport and Tourism (TRAN) at Brussels, Qatar Airways group chief executive Akbar Al Baker strongly condemned the air and sea embargo against the State of Qatar that is now approaching the end of an year. Al Baker also expressed his disappointment on ICAO (International Civil Aviation Organization)- a UN body, for not taking fitting measures against the unprecedented blockade that has affected the economy of the country colossally.
While the tiny oil- and gas-rich Gulf state of Qatar had been cut off by some of its powerful Arab neighbours over its alleged support for terrorism, affecting its air cargo trade massively, things were not smooth for other Gulf carriers either in wake of economic, political and business crisis. The economic slowdown triggered by the oil price collapse two years ago and the political tensions over security in the US have hit the business in the region.
For almost two decades, the region's major air cargo operators like Emirates, Etihad and Qatar Airways had maintained steady growth until 2017 when the region saw its share of global air cargo demand drop for the first time in 18 years. "Having not seen the strong upward demand of other regions in the first half of 2017, Middle Eastern carries' share of global demand dropped for the first time in 18 years," said IATA.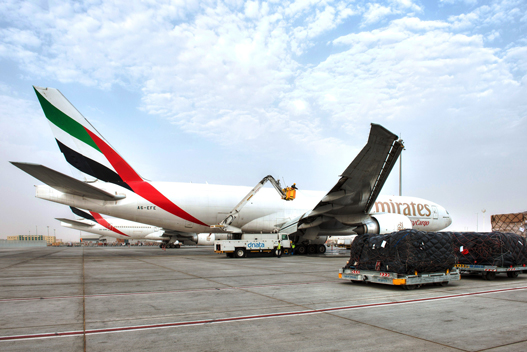 However, despite the drop, the regional carriers' freight volumes increased 6.3 percent year-on-year in December and capacity increased 4.7 percent. This contributed to an annual increase in demand of 8.1 percent in 2017 – which is the third fastest growth rate of all the regions. Capacity increased 2.6 percent.
Giving an account of its air cargo business in 2017 Dennis Lister, Emirates vice president, cargo commercial development, shares, "We saw a good increase in volumes of some of the specialised cargo, such as pharma. We expect to see strong demand continuing into 2018, although demand may be more stabilised. We also feel that customers will continue to be more demanding in their specific requirements and have geared up for this by restructuring our team to be more customer centric and focused on developing new innovative solutions. E-commerce is another big focus area and Emirates SkyCargo is actively exploring opportunities that combine our strengths of network with over 155 destinations and high frequency flights on an all-widebody aircraft fleet."
While Emirates managed to pull a decent show, Etihad had to struggle hard to keep its dwindling flight balanced. This year, the Abu Dhabi-based airline is adopting a far more cautious strategic approach, after coming through a period of heavy losses and strategic setbacks. Etihad had previously reported a loss of $1.9 billion in 2016, which prompted a restructuring exercise and thereafter a reshuffle of its management team. The airline had put the onus on the "slowdown in the cargo market" which put "increased pressure on cargo revenues and yields". Apart from this, the legacy fuel hedging contracts also had a negative bearing on its performance. The carrier since then has been cutting its fleet, trimming its route network and staff. The number of planes in operation has been reduced, from 121 at the end of 2015 to 115 by December 2017.
Between 28 December and 11 January, the airline has put its five Airbus 330-200F cargo aircraft into storage. "It is normal airline industry business practice to continuously review aircraft requirements and to make modifications to the fleet when and where necessary," the airline said in justification. The A330s make up half of Etihad Cargo's fleet with the airline continuing to operate five Boeing 777Fs.
All this is however no close to the difficulties being faced by the state-owned flag carrier of Qatar which has lost access to 18 cities in Saudi Arabia, the United Arab Emirates (UAE), Egypt, and Bahrain last June. The restrictions on using airspace over the four countries have compelled the airline to fly longer routes which requires more fuel and increases costs. Earlier, Saudi Arabia and the UAE were popular routes for Qatar Airways. Owing to this political squabble, Qatar Airways CEO Akbar al-Baker recently said his airline will report "a very large loss" during the financial year which ended on 31 March.
While the regional crisis caused a downfall for Qatari trade, it has unexpectedly propelled Oman's economy. As Qatar's usual trading partners banned its entry on their soil, Oman eventually became the boycotted country's prime trading partner. Oman saw its trade with Qatar skyrocket by 2,000 percent during the initial months of the event. The country has maintained a neutral stance on the regional crises and has opened its ports to Qatari ships. Today, many Qatar-based shipping and logistics companies have relocated their regional trans-shipment hub from Dubai to Oman's Sohar port.
Similarly, in the case of air cargo, Oman Air has been happily filling the gaps created by the airspace crisis in the region. Due to its neutral stance, the Oman Air, which is a second-tier carrier in the region, can freely fly wherever it wants, unlike many of its rivals.
Meanwhile, as Qatar Airways struggles, the brunt has equally been faced by Doha's huge Hamad International airport, which opened in 2014 to much acclaim. It is one of only eight airports in the world to be given a five-star rating by Skytrax. However, at least half a dozen airlines from Bahrain, Saudi Arabia, the UAE and Egypt have reportedly ceased flying to Doha. CAPA (Centre for Aviation) in a report said that the severing of air links, in wake of the blockade, caused cancellation of over 130,000 aircraft seats per week. Imaginably, the loss is humongous.
In the meantime, as the regional countries continue to be at loggerheads, an additional screening on US bound cargo flights from five Middle Eastern countries citing terrorism threats, have added to the commotion. The countries falling under this order are Egypt, Jordan, Saudi Arabia, Qatar and UAE. The countries were chosen because of "demonstrated intent by terrorists groups to attack aviation from them," the Transportation Security Administration (TSA) stated.
The US authority, however, added that few airlines are already abiding by the requirements of the emergency order, but didn't identify the countries. Airlines that TSA said are affected by the order are EgyptAir, operating out of Cairo International Airport; Royal Jordanian, operating out of Queen Alia International Airport; Saudia, operating out of King Abdul-Aziz International Airport and King Khalid International Airport; Qatar Airways, operating out of Doha International Airport; and Emirates and Etihad, operating out of Dubai International Airport and Abu Dhabi International Airport.
A foiled plot last summer to smuggle a bomb aboard an Etihad plane bound from Australia to UAE is "an ominous reminder" that "we need to continue our efforts to keep our skies secure," the agency said.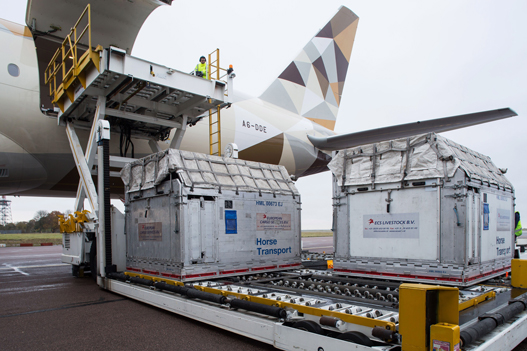 When asked about the impact of this move, Faisal Al Mulla, director, cargo business management at Dubai Airports said, "The impact from additional screening requirements for cargo bound for US has been minimal beyond the initial period of the new regulations, thanks largely to adjustments we made in terms of enhancing processes and increased collaboration with and support from local security agencies. We also now have a dedicated facility and staff for handling US shipments and it has ensured smoother operations."
"The Known Shipper/regulated agent concept under which entities undergo an approval process mandated by the TSA, has the potential to give a big boost to the air cargo industry in the Middle East," Al Mulla added further.
However, despite the political upheavals, the airlines and airports in the region are continuing to invest in specialised services, network and infrastructure expansion to remain vital players in the global economy. Speaking about the measures the airport has taken to attract more cargo airlines, Al Mulla said, "We offer a range of incentives to airlines that operate out of Dubai World Central (DWC) including competitive handling rates for new airlines. The main attraction for cargo carriers remains Dubai's position as a global hub connected to over 240 destinations, the quality of our infrastructure and service and convenient connectivity between sea, air and land."
Similarly, the regional airlines are introducing specialised services to attract more clients. Emirates SkyCargo, for instance, recently launched its new airfreight product Emirates AOG- its 'must fly' rapid transport offering to help airlines transport aircraft parts quickly to repair grounded aircraft. This adds to its recently enhanced product portfolio, which includes dedicated solutions like Emirates Pharma, Emirates Fresh and Emirates Wheels. The airline says that it will continue to develop and launch new specialised solutions throughout this year based on customer requirements.
Earlier, the airline had announced that it has transported close to 400,000 tonnes of perishables in 12 months, under the three different fresh service categories since the launch of Emirates Fresh in April 2017. The UAE sees almost half of all the perishable cargo being shipped from around the world.
On the other hand, despite the regional crisis, Qatar Cargo also continued to invest in its fleet expansion. Its confidence was all the more highlighted when it ordered two Boeing 747-8 freighters within three months of the blockade. This was followed by the signing of a letter of intent to purchase five Boeing 777 freighters, valued at $1.7bn at list prices, this year. The airline has also acquired a 49 percent stake in the Italian airline Meridiana and plans to deploy 20 of its new Boeing 737 MAXs to Meridiana in 2018.
Among other unique services, Saudia Cargo recently transported equipments for the much awaited WWE "Greatest Royal Rumble" in Kingdom of Saudi Arabia. At the request of the Saudi General Sports Authority, Saudia Cargo provided the transportation solution from New York to Jeddah. The carrier deployed its wide-body cargo aircraft Boeing 747 to transport tonnes of production equipment, including the wrestling ring to help create the spectacular wrestling show.
Meanwhile, for its highly temperature-sensitive air cargo shipments, Etihad Cargo recently collaborated with DoKaSch Temperature Solutions and has opted for its Opticooler. The pact will allow the carrier to expand its TempCheck cool chain service offering, as its customers will be able to lease the Opticooler, also known as the flying warehouse, from Etihad Cargo. The Opticooler, a German made, electric airconditioned container, can keep pharmaceuticals exactly within their temperature range, regardless of a tropical summer or arctic winter and is considered to be the most reliable among other products.
"Our focus in 2018 is closer customer engagement and, by adding additional solutions for the most critical, time and temperature-sensitive shipments, we are moving in the right direction to cater to our customers' needs, hand in hand with DoKaSch Temperature Solutions," said Justin Carr, vice president Etihad Cargo.
The airline also recently transported 51 elite show jumping horses using Boeing 777 freighters from Belgium to Hong Kong for the annual Hong Kong Longines Masters event. This was followed by a shipment of more than 100 vulnerable Houbara bustards for release into their natural habitats in various countries across the world.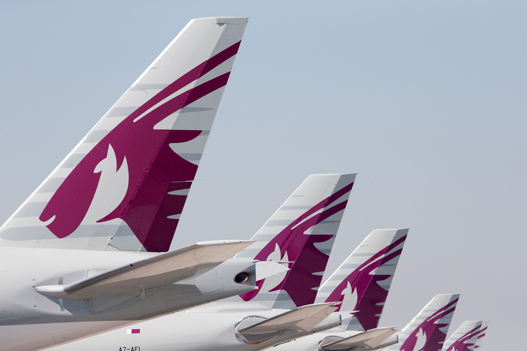 Among others, the national air carrier of Lebanon – the Middle East Airlines (MEA), has signed an agreement with the ECS Group which will provide sales and operations services at MEA's European hub, Paris Charles de Gaulle. From the Paris hub, the airline provides cargo business from France, the Netherlands, Italy, Spain, Belgium and USA to stations such as Beirut (BEY), Abidjan (ABJ), Doha (DOH), Dubai (DXB), Jeddah (JED), Larnaca (LCA), and Riyadh (RUH) with Airbus A330-200 passenger aircraft offering a total monthly cargo capacity of 1,200 tonnes, plus narrow body capacity out of Italy and Belgium (A320) on daily basis.
It is important to note that the hubs of these rapidly expanding and specialised service providers have a very favourable aspect on their side i.e. their prime location on the world map. The hubs in Qatar and the United Arab Emirates are an eight-hour flight away from two-thirds of the world's population, including a growing middle class in India, China and Southeast Asia that is eager to travel.
Opportunities therefore lay in abundance. If the regional differences are put aside, the 2022 Fifa World Cup in Qatar could uncover numerous opportunities for the aviation sector. From delivering sports equipments to welcoming 86,000 passengers per day at the peak of the game, it would not be less than an adrenaline rush to the region's aviation sector.