Balancing act with changing regulations for pharma logistics
Pharmaceuticals makes for the most lucrative and niche product that the air cargo players transport today. Indisputably valuable, the product however demands strict adherence to changing regulations that comes along. The air cargo industry will have to continuously adapt to these requirements for better business returns and to make it a win-win situation for both the sectors.
Shreya Bhattacharya
Billions of dollars are being spent each year on research and development of new drugs that help people battle serious diseases surfacing every other day. Considering the criticality of these lifesaving products, the sheer wastage that could reach around $35 billion in a year due to temperature excursions during transport is worrisome, feels the International Air Transport Association (IATA). It's not just about the loss of the physical product but also the associated costs in terms of root cause analysis, replacement expenditures, direct/indirect labor lost and wasted logistics costs.

According to industry statistics, the total spending on medicines is forecast to reach $1.5 trillion by 2021. In this, however, the rise in spending on biologics and specialty drugs would especially be substantial, believe market experts. However, it is also to be noted that in this thumping and profiting market, the amount of losses incurred will also continue to rise unless better preventative measures are put in place. There is a pressing need to bring change, especially in the way the logistics industry functions and manages the pharmaceutical supply chain as it can shrink this wastage to a significant level. Moreover, with companies like Amazon increasing their focus in the logistics space and now eyeing the pharma market too, it becomes all the more important for the logistics players to buck up.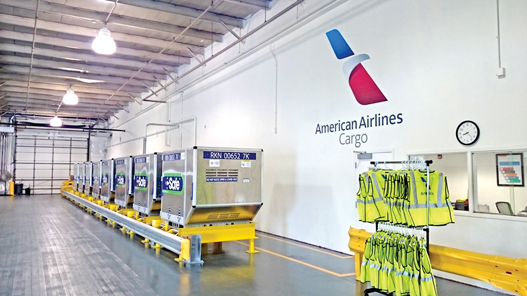 Keeping pace with stricter regulations
The pharmaceutical goods shipped by air are indisputably valuable and, in most cases, require very specific handling and storage conditions. Customers are increasingly demanding risk lane assessments and categorizing carriers' services with standard criteria. Tracking devices and real time information is mostly a prerequisite, driven by harsher regulations.

In the US, The Drug Quality and Security Act (DQSA), was enacted by Congress in 2013, whose implementation is underway as FDA begins its work under Title II of DQSA, known as the Drug Supply Chain Security Act (DSCSA). DSCSA outlines critical steps to build an electronic, interoperable system to identify and trace prescription drugs as they are distributed in the US. DSCSA, which has staged implementation over a 10-year period, is designed to create a system that will facilitate the exchange of information (i.e., transaction information, transaction history, and transaction statement) at the individual package level about where a drug has been in the supply chain.

Although the idea has its own share of challenges that are keeping the IT managers, packaging engineers and logistics specialists up at night, but blockchain is fairly advancing and is being seen as a way out to streamline the entire data. Today North America and Europe consume more than 60 percent of the total pharmaceutical products and with such kind of regulations being envisaged, it becomes pertinent for the air cargo stakeholders to stay competitive.

However, meeting each customer's requirements and providing facilities for the entire range of pharmaceuticals is quite a daunting task.

"It is challenging especially when it comes to having different facilities for different temperature ranges. However, these steps and investments are required in order to be a world class pharma logistics service provider," believes Kristin Colville, Delta Cargo's managing director of revenue management, alliances and marketing. Colville adds that the airline strives to meet customer demands as long as they do not compromise the integrity of its cool chain programme and the safety of its employees, customers and the goods being transported.

Another airline LATAM Cargo expresses similar views. "Providing facilities for all ranges is considerably challenging given the investment required, which varies depending on the temperature range, the strict segregation requirements and the projected volume for each temperature range, that continuously evolves, as packaging solutions and different types of pharmaceuticals get to the market and substitute the previous ones," shares Cristina Onate, VP marketing & product development, LATAM Cargo.

"We combine our high standard pharma products with our flexibility of delivering ad hoc services such as charters, in case there are very specific needs to meet and add-on services to specific hubs if there is a demand for a particular service." LATAM Cargo has recently introduced a Cool Dolly (KTT) service offering in Frankfurt to facilitate pharma logistics. The airline has also been awarded IATA CEIV Pharma certification at Miami International Airport (MIA).

Staying close to shippers
Pharmaceutical products are made keeping specific conditions and ingredients in mind, balancing with stringent regulations and quality controls. Therefore, the manufacturers' high concern during their transportation is understandable. Maintaining the supply chain integrity is only possible by understanding their requirements.
While aviation industry is taking note of this, many airports, handlers, airlines are yet to enter the compliance loop. For instance, Stanley Fernandes, head of export logistics, Bharat Serums and Vaccines Limited points out that many a times, due to issues like system breakdown, shipments get delayed, creating a huge backlog at the cold storage facilities of the ground handlers, thus impeding the flow of exports.

"For pharmaceutical logistics, integrity of the quality of the products manufactured needs to be maintained throughout the supply chain and the ability to provide evidence for compliance with respect to temperature requirements during transportation from origin to destination is paramount. This includes ground transportation prior to and after air freight, the storage at origin, transit and destination airports, on board the aircrafts as well as the transfer to/from the aircraft from/to the storage areas," explains Ryan Viegas, head of logistics, APAC, TEVA.

"As far as the shippers are concerned, aviation sector includes from the time the products are received at the origin airport up to the time the products exit the airport, however this understanding may not be the same for the aviation sector as there are several agencies involved."

Collaboration matters
Taking clue from similar views coming from the shippers, IATA created the Center of Excellence for Independent Validators in Pharmaceutical Logistics (CEIV Pharma) certification programme, in its bid to bring standardisation across the entire pharma supply chain where GDP remains the baseline for all programmes.

"Patient safety is a shared objective of all stakeholders across the air cargo supply chain. Providing quality services in a harmonized and globally consistent manner is essential. CEIV Pharma aims to certify compliance to globally agreed standards through a process of independent validation.  Entities that undergo the CEIV certification process invest a lot of time and resources to upgrade their procedures, processes, risk assessment methodology and infrastructure," explains Ricardo Aitken, project manager of Airport Passenger Cargo Services Consulting at IATA.

Aitken opines that there is growing enthusiasm, industry support and recognition of the benefits of CEIV Pharma certification. "The combination of extensive training and a comprehensive 290+ point checklist covering everything from Quality Management System (QMS) documentation to on-ramp handling activities supporting certification, elevates staff levels of competency and improves overall pharmaceutical handling and compliance which in turn helps to ensure the integrity of pharmaceutical shipments."

With such initiatives being taken, the industry is waking up to all the challenges and even making collaborative efforts to strengthen pharma supply chain integrity.

Amid the first few to adopt a community approach is MIA, which facilitated in the area by raising the pharma handling capabilities of its tenants and local cargo community as a whole. "We've done this by advocating, encouraging, and supporting our partners to build their capacity for properly handling pharma by going through the IATA CEIV Pharma Certification Programme – a certification that is looked upon very favorably by shippers (manufacturers) who want to entrust their air shipments of pharma with the highest care and standards.  Since we began this initiative a couple of years ago, we were able to get the commitment of five tenants at our airport to go through the certification programme.  Three members of this first wave have completed their certifications, and two more have also become certified for a total of five.  In addition, we are expecting another three companies to work towards this certification," shares Jimmy Nares, section chief of MIA marketing.

The airport's effort in building a local airport community with airline carriers, ground handling companies and a freight forwarder, who are CEIV pharma certified, resulted in it being designated as the first pharma hub airport in North America by IATA. One such partner of MIA is ground handling company, Swissport International. Explaining the efforts put by the ground handler, Anna Renedo, VP Global Operations – Cargo, Swissport International says, "The stations assign an accountable GDP/CEIV manager and perform regular self-audits, which contains a separate section that covers GDP/CEIV compliance to ensure they are in line with the requirements. These audits are on a regular basis, so once a station has been CEIV certified they are monitoring their compliance on a regular basis." Swissport is currently GDP validated in 10 stations with plans for 7 more in process.

She further adds, "Part of a station's validation is to risk assess every step of the process within the cargo handling environment. Risks are then mitigated and very detailed documented processes are implemented. In addition, all staff handling pharmaceuticals will be given specialist training and above this, there is a more detailed training for a specified manager grade. The documentation includes continuous performance management and monitoring processes coupled with, in the event of issues occurring a CAPA (Corrective and Preventive Action) process."

Creating a local pharma community is, however, not enough. Connecting such communities is essential. "Establishing reliable and transparent start-to-end pharma lanes are a natural next step in linking pharma certified airport communities.  Pharmaceutical shippers tell us that they expect all air cargo players to collaborate - not only at an airport level, but throughout the entire lane – in order to increase reliability and transparency of the air cargo transport.  This collaboration is much needed in order to bring down the number of temperature excursions of a typical air transport shipment," says Nathan De Valck, cargo & logistics product development manager, strategic development, Brussels Airport Company.

Brussels Airport Company and MIA co-founded Pharma.Aero- a cross industry collaboration for pharma shippers, CEIV certified cargo communities, airport operators and other air cargo industry stakeholders, has been a subject of much enthusiasm since its inception in 2016. "The members of Pharma.Aero share the same vision and enthusiasm to increase efficiency and create start-to-end pharma lanes.  This does not only involve the alignment of existing processes.  Instead new concepts have to be developed to implement temperature controlled airside transport at every touch point on the tarmac and to share data transparently throughout the entire lane," adds De Valck.
Changi Airport, another strategic member informs that Pharma.Aero has launched initiatives like the Shippers Advisory Group, which gathers inputs from the pharmaceutical shippers to guide the air cargo industry towards improving the transport of pharmaceutical shipments by air, identifies key issues that shippers encounter and comes up with possible solutions to address these issues.

Last year, Changi Airport became the first airport in Asia to join Pharma.Aero as a strategic member, alongside partner Singapore Airlines Cargo which came on board as a full member. Asia is expected to account for the largest regional share growth with more than $1.2 billion of cold-chain growth between 2015 -2019. Changi informed that till date, a total of 10 companies in Singapore have attained certification that includes SIA Cargo, dnata Singapore, SATS, Global Airfreight International, Expeditors Singapore, CEVA Logistics Singapore, Schenker Singapore, Kuehne + Nagel Singapore, Bollore Logistics Singapore and DHL Global Forwarding.

The airport and its partners have been investing resources and refining their work processes to serve the increasing needs of pharmaceutical shippers. "The establishment of temperature controlled facilities by our ground handlers (SATS and dnata), which can collectively handle more than 300,000 tonnes of temperature sensitive cargo annually, is a testament of their commitment to serving the pharmaceutical industry," says LIM Ching Kiat, managing director, air hub development, Changi Airport.

Meanwhile, Turkish Cargo recently received QEP Accreditation from Envirotainer at its hub – Istanbul Atatürk Airport, as well as five other stations across its network, Mumbai, Hyderabad, Frankfurt, Tel Aviv and Seoul.

So how exactly does the aviation industry make strides to technologically upgrade their services that can woo the highly-regulated demands of the pharmaceutical market? Janne Tarvainen, managing director, Finnair Cargo says that continuous process development, investments in modern facilities and new technology to improve monitoring and reporting capabilities is a must. "Back in December 2016 we implemented a new cargo management system, SkyChain, to improve shipment related data quality. Once our new terminal, the COOL Nordic Cargo Hub at Helsinki Airport opens, SkyChain will be connected to the warehouse automation systems of the new terminal. The integration of these systems will provide us with a whole new ecosystem that will enable proactive planning and steering of cargo flows and our resources. It will also enable active monitoring and immediate actions, if needed e.g. in the terminal's dedicated temperature controlled areas featuring ambient monitoring sensors connected to SkyChain to prevent any deviations from shipper's instructions. In addition, the new warehouse automation and the cargo management system will provide improved reporting capabilities in response to customers' expectations of supply chain transparency," informed Tarvainen.

Tarvainen terms the airlines' brand-new COOL air cargo terminal as the most modern in Europe with a separate dedicated 3000 square metre area for pharmaceutical cargo and perishables.

Meanwhile, Mark Whitehead, Chief Executive of Hong Kong Air Cargo Terminals Limited (Hactl) says, "WHO GDP and IATA CEIV Pharma provide a convenient and uniform indication that Hactl is compliant with all the requirements of pharma shippers. We actually exceed these standards, having invested heavily in equipment (such as thermal dollies for the ramp, and modifications to our terminal and refrigerated facilities), training procedures - and so have not yet been asked to provide any additional safeguards. If shippers require delivery to or collection from mainland China or any location in Hong Kong, this can be provided by our value-added logistics arm, Hacis, which is also fully-compliant and operates TC vehicles."

Whitehead, however, mentions that there are still airports, handlers, airlines and others who are not in the compliance loop so cannot guarantee to maintain the required conditions. "The biggest challenge is to persuade the entire industry to adopt and comply with the recognized standards. Until that happens, some airports and carriers – and even countries - will have an advantage," he says.

The foundational premise therefore is clear. The pharmaceutical industry is becoming more innovative and more accessible than ever before. Also, more commercial and clinical trial drugs are being shipped to more patients across the world. The air cargo industry will have to continuously adapt to the unique requirements for the transportation and come up with the most tailored solutions to make it a win-win situation for both the industries.