Back to the main deck
Ulrich Ogiermann has a quarter of a century of experience in the air cargo industry. He (known as Uli in the industry) is a known and well-respected air cargo industry executive. From 2003 to 2011 he was the President & CEO of Europe's biggest all-cargo airline Cargolux, which he had joined in 1998. Ogiermann led the transformation of the cargo division of Qatar Airways from 2012 to 2017 as its Chief Cargo Officer taking the Doha-based QR Cargo to the top five cargo carriers in the world. Ogiermann has been a member of IATA Cargo Committee for many years and served as Chairman of The International Air Cargo Association (TIACA).
In July this year, Ulrich Ogiermann joined Volga-Dnepr Group (VDG) as Senior Vice President for Operations and Deputy General Director for CargoLogicManagement, with a mandate to implement Volga-Dnepr's international cargo airlines group strategy. CargoLogicManagement (CLM), a part of Volga-Dnepr Group, headquartered next to London Heathrow Airport, the world's most connected aviation hub, was founded to help drive the growth of ambitious international cargo airlines by providing management consultancy services with long-established and proven expertise in the aviation and air logistics industries.
Volga-Dnepr Group operates across four AOCs including Volga-Dnepr Airlines, AirBridgeCargo (ABC), and Atran in Russia as well as CargoLogicAir (CLA), part of CargoLogicHolding, in the United Kingdom. CargoLogicHolding, the private holding company, is a unique platform that unites under its umbrella the international group of the cargo airlines, with CargoLogicAir, being its main member. CargoLogicHolding, is also in the process of establishing a German subsidiary to ensure European Union-based operations beyond Brexit. 
At the Farnborough International Airshow this year, Volga-Dnepr Group and CargoLogicHolding signed a package of agreements with Boeing that include a letter of intent to acquire 29 Boeing 777 freighters, confirmation of an order for five Boeing 747-8 freighters, the purchase of a crew pairing solution, and an agreement to work together on future freighter projects that include exploring B767 and B737 production line/P2F converted freighters as well.
Speaking to Reji John, Ogiermann lays the growth roadmap for the Volga-Dnepr Group airlines. Edited excerpts:
The official confirmation of your appointment at VDG as SVP for Operations came in early July (July 9 to be precise), what does your current role entail?
My current role will entail control of the Volga-Dnepr Group airlines' annual operational results and operational standards compliance, together with alignment of network synergy among airlines of the Group, as well as under our strategic partnerships. My responsibility covers implementation of Volga-Dnepr's international cargo airlines group strategy, which is aimed at realising the synergistic effects of strategic partnerships between airlines to guarantee high-end and cost-efficient solutions for the group's global customers. On top of this, I took over development and reinforcement of VDG's international team to further boost VDG services in the most effective and productive way, making sure that the right people are in the right places and doing the right jobs.
What does 'reinforcing the strategy of building an international cargo airlines group' mean? Can you be more specific?
Customers all over the world are becoming more demanding in terms of services and the level of quality they expect, with speed and transparency being key crucial factors in the air cargo sector. Reinforcement of strategy for the airlines group, first of all, will entail the creation of favourable customer experience conditions for the group's customers worldwide. We will create one-stop shop features, where customers will be able to send their requests through one e-mail or telephone and get trustworthy and reliable expertise in terms of transportation, with access to the best minds of the group, a unique fleet of various freighter aircraft types, supported by high-end services, experience, and skilled personnel for various types of cargoes and different industries. All the above, together with the development of tailor-made customer links, are of crucial importance for us going forward.
Does your current role at VDG and CargoLogicManagement involve launching a new all-cargo airline?
At the moment I will concentrate my efforts on our existing business, realigning all the processes and guaranteeing that we are doing the best possible job. Volga-Dnepr Group has always set ambitious plans in terms of its development in various regions of the world, with our top management being actively involved in these projects. I will be no exception and will contribute all my efforts to all the projects. We are, nevertheless, looking at expanding our services for our worldwide customers with evaluating new Air Operator Certificate (AOCs) in different parts of the world.
A someone with more than 25 years of experience in air cargo industry, most of it in leadership positions, what's your assessment of the current status of the industry and where do you see its future? How hopeful are you about the future outlook for air cargo demand, given the current industry exuberance we see, including huge spike in orders for production freighters?
The air cargo industry is seeing a tremendous upsurge at the moment with high demand for transportation services of special cargoes: pharma, dangerous goods, oversize and heavy, valuables and especially e-commerce-driven shipments. 
I believe that the air cargo sector will continue its growth based on the main advantage it has always been known for, notably, speed of delivery. With so many tech-savvy customers around the globe wanting their products to be delivered 'here and now' via various high-tech devices and solutions, speed is everything and peoples' mindsets are changing. I would expect the air cargo sector to continue to be in great demand, based on: 
strong global demand for end products which are manufactured in one region to be further shipped to final consumers in other parts of the globe;
rising incomes among middle-class consumers in Asia, especially in China, and their emerging demands for a higher quality lifestyle as well as China's transition towards an economic model based on services and consumption; this will drive traffic to Asia; 
ever-increasing growth in demand to meet the requirements of the e-commerce products segment, which has been developing at a fast pace for the last couple of years. From one side, the e-commerce bonanza in the world drives demand for exports from China to all parts of the world. On the other side, the explosion of e-commerce activity in China, with netizens becoming more tech-savvy, fosters air freight imports to China;
high level of urbanisation, where people are moving from rural areas to cities to change and improve their quality of life;
stabilisation of the certain world's economies and growth of emerging economies (China, India, Vietnam, Brazil, etc) which will further boost trade turnover of commodities.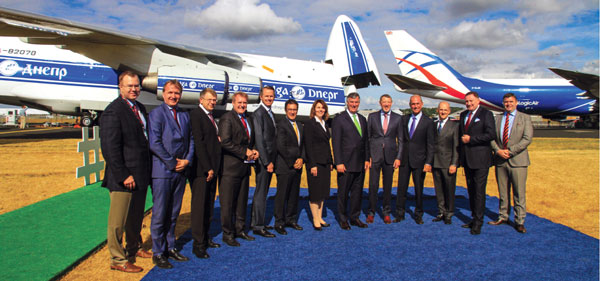 Volga-Dnepr Group's key officials at the the Farnborough International Airshow

Of course, the risk of trade wars between different countries impacting demand for air cargo services exists, but, in my opinion, the air cargo industry will be less impacted than other modes of transportation because air transport is majorly used for the delivery of final products and can react to changes in the geography of production that might happen as a result of tariff issues.  
What are your priorities for the next year or so?
For the next year, I will concentrate on maintaining and increasing the quality and development of the group's airlines. I will  focus on the strategy for network expansion in line with our customers' demands and market expectations, alignment of network synergy for the benefit of customers, enlargement of our fleet with the deployment of state-of-art freighters, reinforcement of dedicated services for special cargoes and various industries, as well as the adoption of the latest IT solutions to enhance customer experience.