Oman Air receives new Boeing 737- 800
Nov 22, 2016: Oman Air has received a new Boeing 737- 800 on the occasion of the Sultanate's 46th National Day, on November 18. This was the sixth brand new Boeing 737-800 joining the young Oman Air fleet this year as part of the airline's expansion plan. Oman Air has operated B737s for many years […]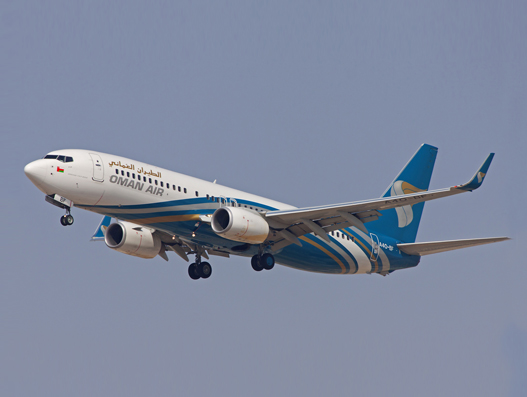 Nov 22, 2016: Oman Air has received a new Boeing 737- 800 on the occasion of the Sultanate's 46th National Day, on November 18.
This was the sixth brand new Boeing 737-800 joining the young Oman Air fleet this year as part of the airline's expansion plan. Oman Air has operated B737s for many years and the aircraft provide the backbone of the airline's long and medium haul fleet.
The new aircraft was deployed to Bahrain on November 19 for its first commercial flight, which exemplifies Oman Air's experience in swiftly introducing new aircraft into operations as soon as they join the fleet.
With the addition of the new Boeing 737 – 800, Oman Air's fleet stands at 46. Currently Oman Air's fleet consists of four Boeing 787 Dreamliners, six Airbus 330-300s, four Airbus 330-200s, five Boeing 737- 900s, 22 Boeing 737-800, one Boeing 737-700 and four Embraer 175s. Three more Boeing 737 – 800s are scheduled to join the fleet next year.
Oman Air's contribution to the national economy stands at OMR 415 million that is achieved by creating employment opportunities to Omani nationals, bringing tourists to the Sultanate, building global connections, and last but not the least, through supporting small and medium enterprises. It is also pertinent to note that the financial support, that Oman Air was receiving from the Government has been reduced over the last 2 years from over OMR 100 million to just OMR 34 million in 2016.