Hainan Airlines welcomed as new BARIG member
Nov 15, 2016: Hainan Airlines, that currently operates a fleet of 260 aircraft, including Boeing 787 and Airbus A330 long-haul jets, is a new member of the Board of Airlines Representatives in Germany (BARIG). The corporation has around 13,000 employees and belongs to the HNA Group which is engaged in aviation, tourism and the hotel […]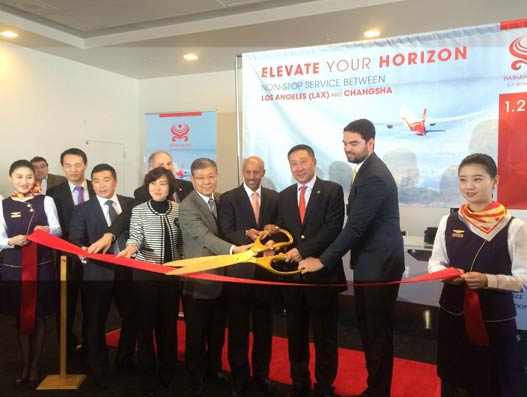 Nov 15, 2016: Hainan Airlines, that currently operates a fleet of 260 aircraft, including Boeing 787 and Airbus A330 long-haul jets, is a new member of the Board of Airlines Representatives in Germany (BARIG).
The corporation has around 13,000 employees and belongs to the HNA Group which is engaged in aviation, tourism and the hotel business. The group has 18 further airlines at command that are mainly serving destinations in China.
Furthermore, Hainan Airlines holds shares in prominent hotel chains such as Hilton Hotels & Resorts, NH Hotels, Carlson Rezidor and the service company SWISSPORT. Regarding European air traffic the HNA Group holds a participating interest in the Portuguese TAP, among others.
The flight destinations of Hainan Airlines are predominantly located in China but international destinations in Europe, North America and Australia are also served.
The largest private Chinese airline with hubs in Beijing and Haikou on the southern Chinese island Hainan is thereby the only provider of a direct connection between Berlin-Tegel and the Chinese capital city Beijing.
Yulong Yang, general manager of Hainan Airlines for Central Europe, explains, "Hainan airlines, as Chinese airline belonging to a highly branched corporation of the travel industry, has great interest in cooperating with BARIG in Germany and Europe. We wish to contribute our prospects beneficially to the association, the air traffic community and of course our passengers."
Michael Hoppe, general secretary, BARIG, states, "Hainan Airlines is an expanding and well-placed player of the globally operating HNA Group. The airline – together with our other airlines from all over the world – strengthens the base of our association counting around 100 members as of today."