AutoSCM Summit 2019 brings up trust deficit, visibility, emissions norms, future of EVs in India
Dec 6, 2019: The AutoSCM Summit 2019 concluded in Pune on Wednesday by putting a dream future in front where the whole industry stakeholders could collaborate with trust enabled by technology. The stakeholders in the automotive supply chain expressed great optimism about the unfolding demand and on how the Indian automobile industry would grow in […]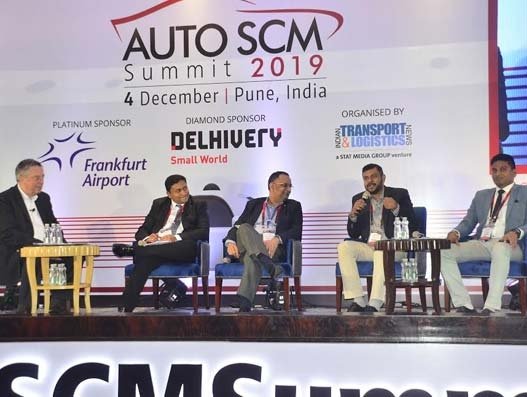 Dec 6, 2019: The AutoSCM Summit 2019 concluded in Pune on Wednesday by putting a dream future in front where the whole industry stakeholders could collaborate with trust enabled by technology.
The stakeholders in the automotive supply chain expressed great optimism about the unfolding demand and on how the Indian automobile industry would grow in the near future. The event was organised by Indian Transport & Logistics News (ITLN), a venture of STAT Media Group publication which maintains the www.stattimes.com website .
The fourth edition of the one-day conference for Indian automotive industry logistics also discussed challenges from hindrances for smooth cargo movement to effects of the slowdown, from trust deficit to lack of forecasting, from the gap in supply chain visibility to the pressure of emission norms, from deteriorating nature of lithium batteries to the inefficiencies of supply chain finance and the distress between service providers and Original Equipment Manufacturers (OEMs) to data-design privacy.
Indian Transport & Logistics News thanks all for a yet another successful #AutoSCMSummit

See you all at #AutoSCMSummit2020@ITLNLive @AutoSCMSummit #AutoSCMSummit2019 #Logisitics #Automobie #Pune@Delhivery @Airport_FRA pic.twitter.com/88fG4CEytv

— Auto SCM Summit 2019 (@AutoSCMSummit) December 4, 2019
"Jawaharlal Nehru Customs House is committed to improving the cargo movement through Nhava Sheva through smooth custom clearance. In 2019, JNCH has substantially decreased the cargo dwell time by 52 percent of cargo moved by 'Direct Port Delivery' system compared to 32 percent last year," said Rupak Kumar, deputy commissioner, customs, Jawaharlal Nehru Customs House, JNPT.
Roland Weil, VP Sales Cargo, Frankfurt Airport said, "Frankfurt Airport has a long term focus and investment in the cargo business as we could see the significant increase in the cargoes moving from India too. The airport is right at the centre of the intermodal hub which provides unmatched connectivity to all European destinations. Thus we will be spending a million euros a day for the next five years in expanding Frankfurt Airport which includes the cargo facilities too."
Rupak Kumar, deputy customs commissioner, JNCH, JNPT, delivering the keynote address
Keku Bomi Gazder, CEO, AAI Cargo Logistics & Allied Services Company said, "The current slowdown is a great opportunity to reboot the automobile industry and find new methods to move products and ways to do business with optimisation. When the shipper communicates about his needs regarding when and where he wants the products to be, the whole logistics industry will be working with new ideas for this end. The information on forecasting is also important as building capacity takes time. The faster it comes to us the faster we can handle it."