ATSG revenues increase $77 million; to deploy 20th B767 freighter for Amazon
<p style="text-align: justify;">August 08, 2017: <a title="Air Transport Services Group" href="http://www.atsginc.com/" target="_blank">Air Transport Services Group</a>, the leading provider of medium wide-body aircraft leasing, air cargo transportation and related services, today reported consolidated financial results for the quarter ended June 30, 2017.</p> <p style="text-align: justify;">Revenues increased $77 million, or 43 percent, to $253.2 million. Excluding revenues […]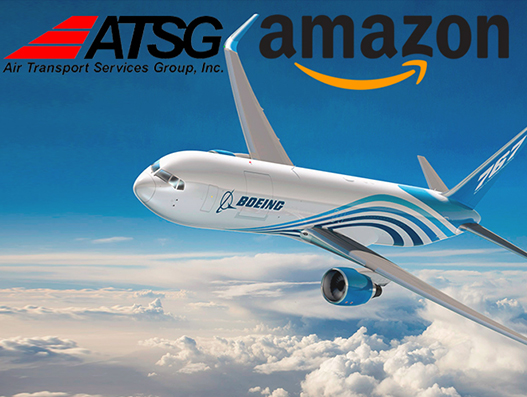 August 08, 2017: Air Transport Services Group, the leading provider of medium wide-body aircraft leasing, air cargo transportation and related services, today reported consolidated financial results for the quarter ended June 30, 2017.
Revenues increased $77 million, or 43 percent, to $253.2 million. Excluding revenues from reimbursable airline expenses, revenues increased $60 million, or 37 percent. ATSG's airline services operations, and maintenance and logistics businesses, recorded double-digit revenue increases.
GAAP Earnings from continuing operations were a loss of $53.9 million or $0.91 per share diluted and included charges totaling $67.8 million for the warrants granted last year in connection with operating and lease agreements with Amazon Fulfillment Services. The value of the warrants increased sharply during the quarter in conjunction with a 36 percent increase in the traded price of ATSG stock since March 31, 2017, resulting in a significant mark-to-market loss for the quarter. Earnings from Continuing Operations were a positive $11.5 million, or $0.12 per share diluted a year earlier.
Adjusted earnings from continuing operations, which exclude non-cash warrant-related items, were $13.9 million, up 64 percent. Adjusted Earnings Per Share from Continuing Operations were $0.21, up eight cents per share.
GAAP Pre-tax Earnings from Continuing Operations were a negative $48.4 million, versus a positive $18.8 million a year ago. Adjusted Pre-tax Earnings, which exclude warrant effects along with additional non-cash items, increased 39 percent to $22.7 million.
Adjusted EBITDA (Earnings Before Interest, Taxes, Depreciation and Amortization, as defined and adjusted in a table later in this release) increased 23 percent to $64.2 million.
Capital expenditures in the first half of 2017 were $144.3 million, versus $125.1 million in the first half of 2016.
Share repurchases were $11.2 million for the first half. This includes 380,637 shares ATSG repurchased in June as part of an underwritten secondary offering by an affiliate of Red Mountain Capital Partners.
Joe Hete, President and Chief Executive Officer of ATSG, said, "In addition to the outstanding financial results we are reporting today, I'm pleased to say that we are scheduled to deliver the twentieth leased Boeing 767 freighter to Amazon later this week, 17 months after we formalized our relationship in March 2016. Our total leased-aircraft portfolio has grown by eight 767s as of June 30, compared to the same date a year ago. Excluding the two 767-300s required to complete Amazon's twenty-aircraft order, our current purchase and conversion commitments will yield twelve additional 767-300s extending through the first half of next year. We currently have signed leases or are finalizing others for nine of the twelve aircraft. The remaining three aircraft are under discussion with multiple parties."
ATSG's results for the first half of 2017 included a revenue increase of 39 percent to $491.1 million, and GAAP Earnings from Continuing Operations of negative $44.1 million, or a $0.75 loss per share. First-half Adjusted Earnings From Continuing Operations were $25.1 million, up 48 percent from a year ago. On a per-share adjusted basis, ATSG earned $0.38 per share, up from $0.26 in the first half of 2016.