ATRAN Airlines expands fleet to support emerging cargo volumes from China to Russia
Oct 9, 2019: ATRAN Airlines (ATRAN), the Russian air express carrier within Volga-Dnepr Group, has expanded its fleet to six freighters with the deployment of the second Boeing 737-800BCF.On the back of the operations of its first B737-800BCF which was delivered earlier this year, ATRAN Airlines will beef up its service quality and will facilitate […]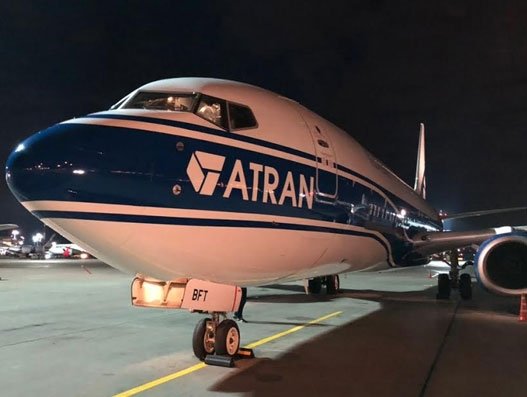 Oct 9, 2019: ATRAN Airlines (ATRAN), the Russian air express carrier within Volga-Dnepr Group, has expanded its fleet to six freighters with the deployment of the second Boeing 737-800BCF.On the back of the operations of its first B737-800BCF which was delivered earlier this year, ATRAN Airlines will beef up its service quality and will facilitate further network expansion.
The additional freighter will be the facilitator to leverage the burgeoning traffic of e-commerce shipments, including mail consignments, between China, Russia, CIS, and beyond on the backdrop of the growing demand for cross-border purchases.
"With the new aircraft in our fleet not only will we be able to expand our current Hangzhou and Xi'an routes and meet the demand of our customers, but also utilize our fleet more efficiently as Boeing737- 400SF is not the best freighter to operate these middle-haul flights. We have been focused on the expansion of our services and quality enhancement, at the same time offering our customers a wider choice of logistics solutions and e-commerce experience. The growing fleet with better capabilities is one of the growth drivers of our volumes, which demonstrated more than 40% uptick for the first 8 months of 2019. As e-commerce bonanza will only deepen, we feel that our services will be of high demand among our customers," highlighted Dmitry Obsharov, general director, ATRAN Airlines.
Step-by-step expansion of ATRAN's fleet with the gradual launch of new destinations allowed the carrier to achieve more than 15-fold volume upsurge from China to Russia, 8-fold increase of domestic traffic, and more than 6-fold uptick from Europe to Russia. The company also benefits from being part of Volga- Dnepr Group, with access to AirBridgeCargo's fleet of Boeing 747-8F and Boeing 747-400F and a combination of air freight solutions for its customers from various regions. With the latest addition, ATRAN's fleet consists of four Boeing 737-400SF and two Boeing 737-800BCF.