Atlanta Airport, Kale Logistics develop North America's first-ever air cargo community platform
Dec 19, 2019: Hartsfield–Jackson Atlanta International Airport along with the airfreight community in Atlanta had embarked on the journey of creating North America's first new generation Air Cargo Community System (ACS) in partnership with Kale Logistics Solutions, an IT solution provider. STAT Trade Times has reported about this development in November. Kale's Airport Cargo Community […]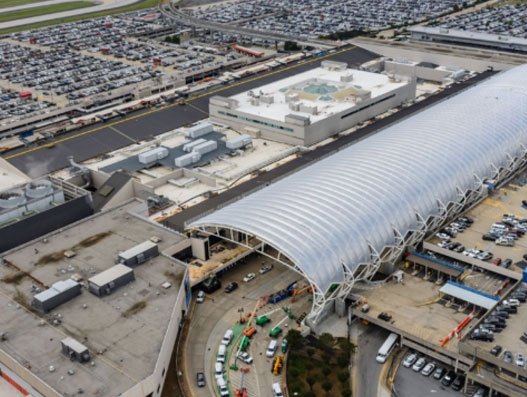 Dec 19, 2019: Hartsfield–Jackson Atlanta International Airport along with the airfreight community in Atlanta had embarked on the journey of creating North America's first new generation Air Cargo Community System (ACS) in partnership with Kale Logistics Solutions, an IT solution provider. STAT Trade Times has reported about this development in November.
Kale's Airport Cargo Community System is a digital collaborative platform to help all stakeholders to electronically communicate within themselves and with other stakeholders like customs, shippers, airlines, trucking companies, customs brokers, freight forwarders and cargo handlers. It facilitates the movement of goods and information at the airport and aids in digital interactions, in conformance to initiatives around e-freight, e-AWB, PLACI and e-CSD.
Roy Copening, general manager – Swissport Atlanta, who was a key member of the steering group said, "It's a matter of pride for Swissport-ATL for being part of this pioneering effort at ATL wherein the community got together to address the issues through next-generation technology for the first time in North America. Getting shipment information in advance through the system is going to help cargo handling companies like us in improving planning and efficiency of operations ensuring faster turnarounds of trucks at the cargo terminals. We are also pleased that this system will now allow all stakeholders to interact and be on the same platform and will allow us all to better communicate more efficiently to add in planning and better service to our customers".
During Air Cargo Europe held at Munich in June, Atlanta Airport announced the ACS project along with a trade corridor between Atlanta and Schiphol airports. ACS aims at establishing not just a simple data sharing platform but a fully functional digital system that provides several features and benefits to each stakeholder in cargo like the shipper, consignee, forwarder, customs broker, ground handling agents, trucking companies, GSAs, security agencies, regulatory agencies, airlines, bonded truckers, etc.
Speaking on the occasion, Elliott Paige, airport director, air service development at Atlanta Airport, said, "We are excited by the possibilities that lie in store for us with Atlanta Airport's Cargo Community System, especially the reduction in truck dwell time. The scope of availability of accurate and complete information before the truck arrival has been leading to clarity, cooperation, and understanding amongst the stakeholders. This initiative demonstrates the airport's commitment to be the bell-weather in creating the new generation digital infrastructure at the airport. It is also the keystone for facilitating the digital trade corridor between Atlanta and Schiphol airport."
Kale completed the proof of concept in August 2019 and the parallel-run was initiated in November 2019. The platform went live on 14 November 2019, making Atlanta the first airport in North America to launch such a system. The platform has been eliminating duplicate data entry work, excessive documentation addresses the truck congestion and wait-time issues and brings in the requisite transparency to reduce overall logistics costs along with enabling better supply chain planning.
Emphasising on the collaboration, Amar More, director & CEO, Kale Logistics Solutions, said, "We are delighted to partner with Atlanta Airport & the air freight community in Atlanta, in this unique initiative on their path towards digitalization. As a leading community system provider, Kale Logistics Solutions is uniquely positioned to enable digitalisation of the air cargo community of Atlanta airport. We are very proud to be part of being North America's first new generation air cargo community platform and promise our full support in creating world-class digital infrastructure at ATL. I salute the enthusiasm and commitment of ATL and the airfreight community in ATL. No wonder Atlanta has a special place in history. After receiving recognition for creating digital communities around airports and ports from United Nations and several neutral trade bodies, we are proud to be part of this path-breaking initiative in North America. We are committed to creating such digital logistics communities at other ports and airports in North America and across the globe. These communities are sure to change the way air cargo business has been happening thus far."
With air cargo operations being dynamic and complex, Kale is working closely with Microsoft to implement artificial intelligence & machine learning into the ACS system to address any exceptional scenarios. The system can then intelligently predict, assign and if required to prioritise the allocation of docks for trucks waiting at the marshalling yard.
Senator Dale Rutledge, VP J&P Hall Express mentioned, "We truly believe the ACS platform will be a game-changer in the Atlanta air cargo handling process, just like the internet changed our business world 30 years ago. All the stakeholders: airlines, ground handlers, freight forwarders, and truckers who do not get onboard the ACS platform will be left behind. They might as well dust off using fax machines. ACS is a proven system in other major international airports overseas, and Hartsfield Atlanta is the first in the United States to have the luxury of getting onboard. We would like to thank the Hartsfield cargo operations team and Kale Logistics Solutions for allowing J&P Hall Express to be a part of the successful implementation process."
Brooke Fleming, Branch Manager – Atlanta, Agility, mentioned, "As someone who has been a part of the air freight industry in Atlanta for more than 20 years, I am honored to be part of the team shaping this innovative initiative. The ability to communicate electronically with our stakeholders like trucking companies and cargo terminal operators to obtain shipment status online is definitely going to help us in planning our operations better and deliver better services to our customers."
Ben Harris, director - supply chain ecosystem expansion, Metro Atlanta Chamber, speaking at the occasion said, "It is indeed great to see this pioneering effort taking place in Atlanta. This will surely help us attract more cargo business to the Atlanta metro, thereby creating new jobs and helping the economic growth of the region. This will also reduce the overall supply chain costs making the products manufactured in Georgia even more competitive."
Sonny Trawick, international quality assurance manager R&L Global Logistics, said, "As consumer buying and shipping trends continue to grow and evolve worldwide, so do our services and technology to meet those demands. I am proud to present Atlanta's Air Cargo Community System, first of its kind in North America. The ATL ACS provides enhanced visibility of orders moving throughout the supply chain while providing more streamlined data exchange, thus moving your cargo more seamlessly from point A to point Z. Gone are the days of contacting multiple agencies to locate a status update on your shipment, as the ATL ACS is your new single resource for all progress reports on your moving products."
Air cargo is a critical economic generator at Hartsfield-Jackson, creating more than 27,000 jobs in Georgia and triggering more than $6.7 million in revenue for metro Atlanta. In addition, with its capital improvement plan ATLNext, a 20-year blueprint for growth, the Airport is poised to modernise its terminal, expand its cargo operations and add up to 1 million square feet of warehouse space. Whilst the airport is developing the physical infrastructure, ATL is now focusing on creating the new generation digital infrastructure as well.