Astral Aviation takes off inaugural flight from India to Yemen
Today at 04.50 a.m. GMT, Astral Aviation took off its inaugural flight from Chhatrapati Shivaji Maharaj International Airport Mumbai, India to Sanaa International Airport, Yemen with three different vaccine shipments. The aircraft loaded with19.5 tonnes of vaccines were from Serum Institute of India.
The Nairobi-based airline's B727-200F received clearance from India's Directorate General of Civil Aviation (DGCA) to carry vaccines for UNICEF (around 4 tonnes) and Expanded Program On Immunization (EPI) MOPH (over 15 tonnes) in collaboration with Kuehne+Nagel. The ground handling was done by Celebi Aviation. 
On March 31, Astral carried 360,000 doses of vaccines to Aden via Nairobi. The shipment was handled by Air India from Mumbai to Nairobi.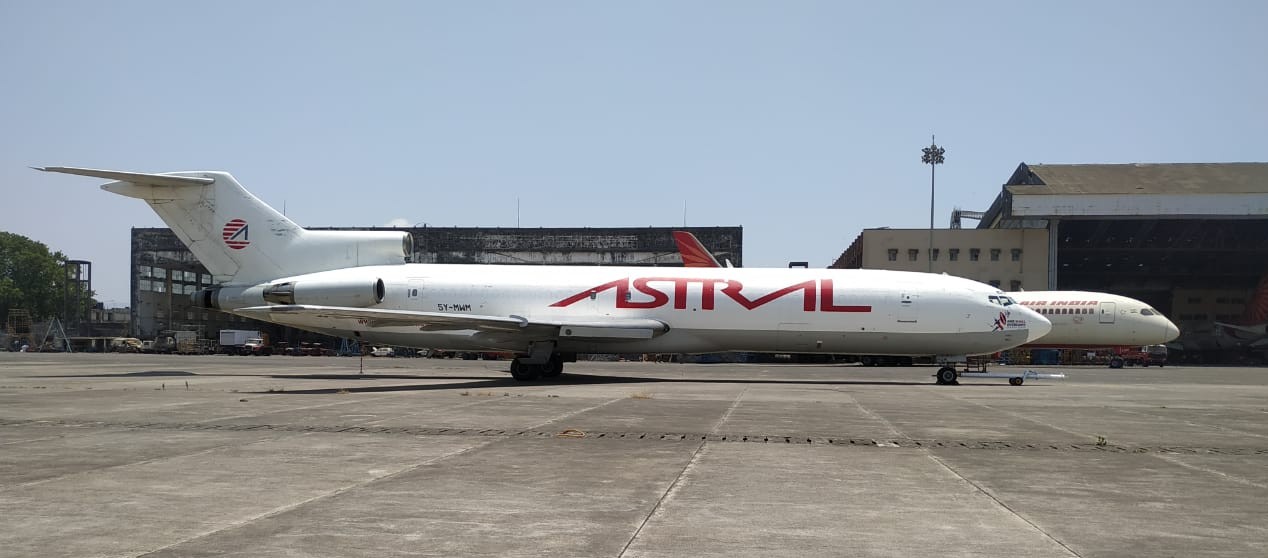 The aircraft arrived in Mumbai on April 18 at 16.00 hrs GMT from Nairobi via Muscat. 
Commenting on the inaugural flight, Sanjeev Gadhia, CEO and founder, Astral Aviation, stated, "Astral has never operated any flights to and from India which has been served via interline partners. During the pandemic, due to lack of direct capacity and connectivity between India and Africa, Astral has received a number of requests for the transportation of Covid-19 vaccines and pharma to and within Africa which are originating from Mumbai, Bangalore and Hyderabad. Today's inaugural flight offers new opportunities for Astral's clients to move freight from India via Astral's Nairobi hub, and we look forward to operate more charters in 2021 due to the high demand for medical cargo."  
The aircraft arrived in Mumbai on April 18 at 16.00 hrs GMT from Nairobi via Muscat. On return, the routing will be from Mumbai - Oman (Salalah International Airport) - Djibouti (Ambouli International Airport) - Sanaa. A technical stop will be made at Oman before proceeding to Dijibouti, where all planes flying humanitarian cargo is expected to make a security stop before flying to Yemen. 
Astral has performed in excess of 300 charters for the humanitarian sector into Aden and Sanaa, using a combination of B727-200F, DC9F, CRJ200PF and Fokker 27.
Recently, Astral has uplifted 500,000 doses of Covid-19 vaccines on behalf of UNICEF for the Covax Facility for South Sudan and Yemen.  While the all-cargo airline has also uplifted 900,000 doses of Covid-19 vaccines on behalf of Africa Medical Supplies Platform (AMSP) into 12 countries in Africa.
Gadhia concluded, "We remain confident that the flights will resume as soon as the exports of Covid-19 vaccines will resume from India."
Astral Aviation has signed the agreement with UNICEF to prioritise the transport of Covid-19 vaccines, essential medicines, medical devices and other critical supplies to help fight the Covid-19 pandemic.