Asia lifts air cargo performance
Latest numbers from Asia's air cargo industry players reveal that the region has recorded good performance in comparison to other regions with the exception of the Middle East. This is despite tough operating conditions. Reji John Asia Pacific airlines operated at close to break-even in 2014, compared to a net profit of $2.2 billion in 2013. […]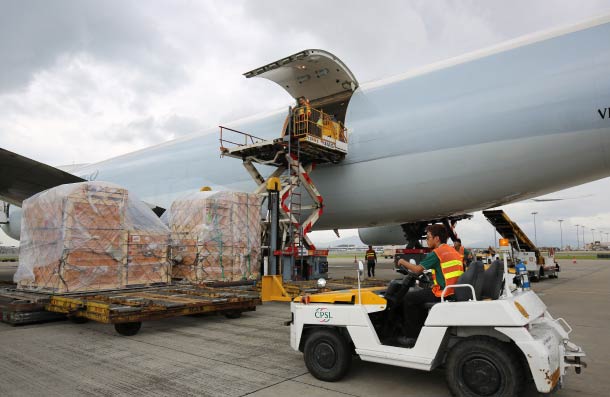 Latest numbers from Asia's air cargo industry players reveal that the region has recorded good performance in comparison to other regions with the exception of the Middle East. This is despite tough operating conditions. Reji John
Asia Pacific airlines operated at close to break-even in 2014, compared to a net profit of $2.2 billion in 2013. Preliminary financial performance figures released by the Association of Asia Pacific Airlines (AAPA) show that stiff competition, excess capacity, high fuel costs and Asian currency volatility were the major drag on results. This was despite further steady growth in both passenger numbers and air cargo traffic volumes during 2014. "Although air cargo markets were also not spared from persistent yield pressure, the upswing in demand helped lift cargo revenue to a combined total of $20.8 billion for the year, a 2.7 percent increase compared to 2013," said an AAPA statement.
Despite the decent numbers, the operating environment remains highly competitive for the air cargo industry. Even though airlines have been carefully reviewing their route networks and closely matching capacity with the expected growth in demand. The benefits of lower oil prices should be reflected in further growth in travel demand, although the financial impact on individual airlines will vary depending on their respective fuel hedging policies.
In fact the Asian air cargo industry has been on a bull run since the last quarter of 2014 and even the first two months of 2015 was positive. However, there was a sharp decline in demand for the month of March.
During April, Cathay Pacific and its sister carrier Dragonair carried 144,579 tonnes of cargo, an increase of 5.2 percent compared to the same month last year. Despite a slight drop in load factors to 62.6 percent and an increase in capacity of 7.3 percent, the carriers still managed to increase revenue from cargo flown by a healthy 6.3 percent. Cathay Pacific has a robust trans-Pacific cargo network of belly hold space and freighters, and the recovering US economy is a significant source of revenue for the Hong Kong-based carrier.
"Trans-Pacific business held up well and we continued to benefit from the logjam of freight in seaports on the West Coast of the US, even after the industrial dispute was resolved," said Cathay Pacific general manager cargo sales and marketing Mark Sutch in a media report.
Fast developing manufacturing centres in cities such as Chongqing, Chengdu and Zhengzhou have become battlegrounds for global air cargo carriers, but stiff competition has eroded yields and diluted tonnage.
However, Cathay Pacific has a strong presence in inland China. For example, the carrier operates six freighters a week between Zhengzhou and Hong Kong that connect into the global network. Two-thirds of the world's iPhones are produced at Foxconn's factories in the Henan Province city, and they are all transported by air freight.
"We are reasonably optimistic about 2015. The first quarter was promising, we are a bit more cautious about the remaining quarters of the year," said Kelvin Ko, CEO, Cathay Pacific Services Limited (CPSL). CPSL handled 1.45 million tones of cargo in 2014 which is the first full year of operations for the company. CPSL is the wholly owned subsidiary of Cathay Pacific Airways, which operates the Cathay Pacific Cargo Terminal at Hong Kong International Airport. Opened in 2013, the terminal is capable of handling an annual throughput of 2.6 million tonnes, increasing the city's annual air cargo capacity by 50 percent to a total of 7.4 million tones.
Air China reported April cargo traffic up strongly – 18.7 percent year on year to 545 million RTKs. This is Air China's ninth consecutive month of double-digit cargo traffic growth, and makes Air China the undisputed leader, in terms of cargo traffic growth, among the big Asian carriers.
For China Eastern Airlines the April cargo traffic was up by 6.2 percent year on year to 406 million RTKs returning to solid growth after posting a 3.4 percent decline in March this year. International traffic was up four percent to 308 million RTKs, while domestic traffic jumped 16.2 percent to 87 million RTKs. For the first four months of 2015, China Eastern's cargo traffic was up 7.7 percent to 1.62 billion RTKs.
While China Southern Airlines reported April cargo traffic up 7.9 percent year on year, to 462 million RTKs, with the overall gain coming on the back of a 12.3 percent increase in international traffic to 321 million RTKs. The April growth was driven by a 24.2 percent increase in international traffic to 408 million RTKs, while domestic traffic rose 5.3 percent to 128 million RTKs. For the year through April, Air China's cargo traffic was up 23.5 percent to 2.04 billion RTKs.
Shanghai Pudong International Airport Cargo Terminal (PACTL) reported a 16 percent year-over-year increase in import volumes during the first three months, handling 155,060 tonnes. The strong growth in imports outpaced PACTL's first quarter export volumes, which grew by 10.43 percent year-over-year to 207,437 tons. This growth in two-way cargo traffic allowed PACTL to handle 362,497 tons of air freight from January through March, a growth of 12.73 percent and the best quarterly result of the company. It comes on the back of a record year for PACTL, during which the terminal handled 1.5 million tonnes.
"Our export business continues to develop strongly. However, within the first quarter of 2015 we particularly registered an increase in our import business, especially in the international sector. This once again shows that imports and exports are developing in a more balanced way," said Lutz Grzegorz, VP, PACTL, in a statement.
Data released by the International Air Transport Association (IATA) for global air freight markets, showed a modest 1.6 percent increase in volumes in March compared to a year ago, measured in Freight Tonne Kilometers (FTK).
According to IATA, Asia-Pacific carriers reported FTK growth of two percent in March compared to March 2014. This appearance of a sharp slowdown from the February rate of 20.5 percent is a reflection of the impact of Lunar New Year and the US West Coast port strike. Capacity expanded 3.9 percent.
"The air cargo industry is on a solid but unspectacular growth trend. And there is little evidence today that would point towards an acceleration as the year goes on," said Tony Tyler, IATA's Director General and CEO.
For Hong Kong International Airport (HKIA) it was a record breaking year in 2014. HKIA handled 4.38 million tones which is a six percent rise in cargo throughput year on year. The growth in cargo throughput in December 2014 was driven by transshipments, which were up seven percent from a year ago. The combined growth of cargo throughput for the first two months was mainly attributed to 12 percent year-on-year growth in exports and 10 percent growth in transshipments. Traffic to/from North America and Southeast Asia increased most significantly compared to other key regions. Taking into consideration the fact that Chinese New Year fell in different calendar months in 2014 and 2015, the combined traffic figures for the first two months of the year provide a more realistic comparison with last year's performance. In February alone, cargo throughput saw sharp growth to 303,000 tonnes, up 22.6 percent compared to the same month last year. However, in April this year cargo volume dropped slightly by 0.7 percent compared to the same month last year to 360,000 tonnes.
Another Asian airport that has registered consistent cargo growth is Singapore's Changi Airport. By adopting innovative and proactive measures, Changi Airport has consistently maintained its position as one of the key hubs for air cargo in the region. Changi Airport handled 1.84 million tonnes of cargo in 2014. For the first quarter of 2015 the airport has already recorded handling of 454,000 tonnes of cargo. Changi Airport is served by more than 100 airlines flying to some 220 cities in about 60 countries and territories worldwide. Among these, 15 airlines operate more than 300 weekly scheduled pure freighter flights linking Singapore to about 17 cities in 7 countries.
All cargo carrier Cargolux benefited from a very strong last quarter in 2014. Combined with a rapidly declining oil price, the airline achieved record levels of block hours and tonnages while enjoying a welcome increase in yields. "Against prevailing economic difficulties, low yields and severe competition, I am proud to say that Cargolux has achieved a solid result in 2014," says Dirk Reich, Cargolux's President & CEO. "During the last quarter especially, we registered record tonnages and revenues and flew an unprecedented number of block hours. We have grown our market share in all areas and achieved a net profit; a strong signal that our strategy bears fruit and we are on the right track," Reich added.
Consequent to the signing of the Commercial Cooperation Agreement between HNCA and Cargolux, the airline focused its efforts on the development of Zhengzhou as a major cargo hub. Flights commenced in June 2014 and Cargolux built up its frequencies to five per week by the end of year. Barely five months after the start-up of flights between Luxembourg and Zhengzhou, Cargolux celebrated the first 10,000 tonnes of freight carried between the two hubs and, by the end of the year, total tonnage carried exceeded 15,000 tons.
In April this year the Luxembourg carrier announced a joint-venture with Oman Air to build a hub in Muscat with one flight a week between Luxembourg, Muscat and Chennai. Under the agreement, the aircraft will come from Luxembourg to Muscat and will then fly to Chennai in India. It will then return to Muscat and then fly back to Europe. Chennai will be followed by operations to other cities in India later this year.
According to analysts, one of the major reasons behind the growth of the air cargo industry in India has been the relaxation of the FDI (foreign direct investment) limit by the government. The total market opportunity in the Indian air cargo sector is expected touch 2.8 million tonnes by 2018, increasing at a compounded annual growth rate of 5.5 percent, a study said. In 2014, the market size was 2.26 million tonnes. Experts said that the industry will maintain the growth path for at least the next five years.
The US West Coast slowdown continued to benefit the air cargo sector through the first quarter, with cargo moving in increasingly diverse routings from Asia to the US as logisticians, airlines, and shippers adapted to a fast-changing market.
"That has to be largely attributable to the US West Coast port slowdown driving more air exports out of Asia for the Transpacific. We saw Asia Pacific freight flow for North America by way of Europe as an alternative routing causing peaking conditions out of the major airports for a short period of time," said Richard Zablocki, vice president, CEVA Logistics Trade Lane Management.
Turning to intra-Asia air freight demand, Zablocki said this increased slightly above average in 2014 at +4.8 percent compared to global market expansion of +4.5 percent, despite the big China export lanes to Japan (+1.1 percent), South Korea (+1.5 percent) and Hong Kong (+0.3 percent) growing below global average. According to him interesting lanes were especially intra-Asia lanes to India, for example from China, which increased by +9.5 percent year-on-year in 2014 or Japan (+15.3 percent) and South Korea (+9.8 percent).