APM Terminals to sell Zeebrugge shares to COSCO Shipping Ports
September 11, 2017: APM Terminals is selling off its 76 percent shareholding in Zeebrugge Container Terminal to Hong Kong-based COSCO Shipping Ports Limited. Both the companies have reached up an agreement on the key terms of the proposed stake sale. COSCO Shipping Ports Limited is a subsidiary of China COSCO Shipping Corporation Limited. Belgium's second-busiest […]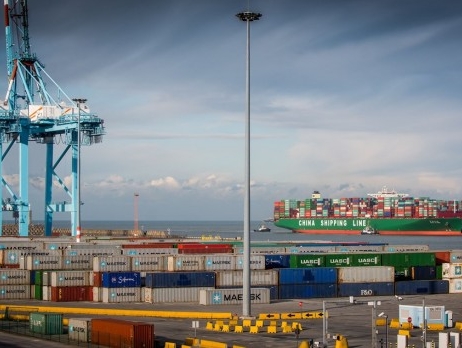 September 11, 2017: APM Terminals is selling off its 76 percent shareholding in Zeebrugge Container Terminal to Hong Kong-based COSCO Shipping Ports Limited. Both the companies have reached up an agreement on the key terms of the proposed stake sale.
COSCO Shipping Ports Limited is a subsidiary of China COSCO Shipping Corporation Limited. Belgium's second-busiest container port, Zeebrugge has an annual capacity of 1 million TEUs. And the acquisition will bring COSCO Shipping Ports' shareholding in Zeebrugge Container Terminal to 100 percent.
As part of the transaction, APM Terminals has proposed to buy back 25 percent of the Shanghai International Port Group (SIPG) shares and will then sell them together with APM Terminals' own 51 percent stake in Zeebrugge to COSCO Shipping Ports. Further details of the transaction are yet to be disclosed, which is subject to customary regulatory approvals - expected to take three to four months for completion.
"Our decision to divest Zeebrugge reflects our portfolio strategy to focus on long term core assets. We believe buy clomid baikal-pharmacy.com COSCO Shipping Ports is the right long-term owner of the Zeebrugge facility and will continue to grow the port for customers, employees and the Zeebrugge stakeholder community," pointed out Wim Lagaay, head of APM Terminals USA and Europe Portfolio, based in The Hague, Netherlands.
APM Terminals opened the Zeebrugge terminal in October 2006 and later sold a 24 percent share to COSCO Shipping Ports in 2014. COSCO Shipping and its alliance partners have become the major customers of the port with a long term interest to grow port volumes.
COSCO Shipping operates the world's largest shipping fleet by tonnage. COSCO Shipping Ports is a co-shareholder and strategic partner in several operations within the APM Terminals global terminal network, including the Suez Canal Container Terminal, in Egypt, and Qingdao Qianwan Container Terminal (QQCT) and Guangzhou South China Oceangate Container Terminal (GOCT) in China. In October 2016, COSCO SHIPPING Ports acquired a 40 percent share in the deep-water APM Terminals Vado terminal project under construction in Vado, Italy.