APEX partners with Asiana Cargo to introduce Rickenbacker freighter services
Aug 27, 2019: Asiana Cargo completed its inaugural scheduled flight between Wuhan, China, and Rickenbacker International Airport on August 24. Hence, the Seoul-based freighter operator commences weekly scheduled flights between Rickenbacker and Incheon Airport. This marks the airline's as well the freight forwarder APEX Logistics entry into Columbus, Ohio. "APEX Logistics has a long-term vision […]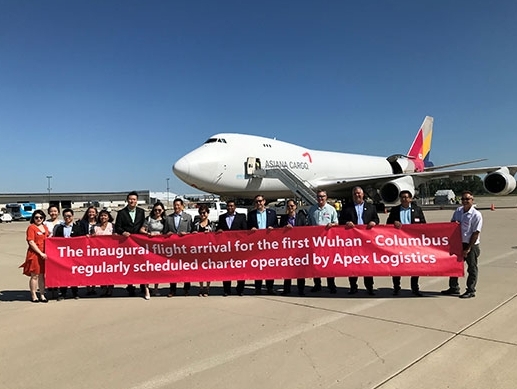 Aug 27, 2019: Asiana Cargo completed its inaugural scheduled flight between Wuhan, China, and Rickenbacker International Airport on August 24.
Hence, the Seoul-based freighter operator commences weekly scheduled flights between Rickenbacker and Incheon Airport.
This marks the airline's as well the freight forwarder APEX Logistics entry into Columbus, Ohio.
"APEX Logistics has a long-term vision to grow and connect Asia directly to the Midwest US market through Rickenbacker and Chicago International Airport," said Elsie Qian, chief executive officer Americas at APEX.
Asiana joins AirBridgeCargo, Cargolux, Cathay Pacific Cargo, China Airlines Cargo, Emirates SkyCargo and Etihad Cargo to operate up to 20 scheduled weekly international flights at Rickenbacker.
"By focusing their growth strategy on Rickenbacker, APEX and Asiana Cargo are able to connect China and key Asian origins directly with nearly half of the US and one-third of the Canadian populations from one convenient, reliable location," said Joseph Nardone, president & CEO of the Columbus Regional Airport Authority, which operates Rickenbacker.