Antonov Ruslan flew two maglev trains from Germany to China
Antonov Airlines has completed a unique cargo delivery of two maglev trains from Munich, Germany to Chengdu, China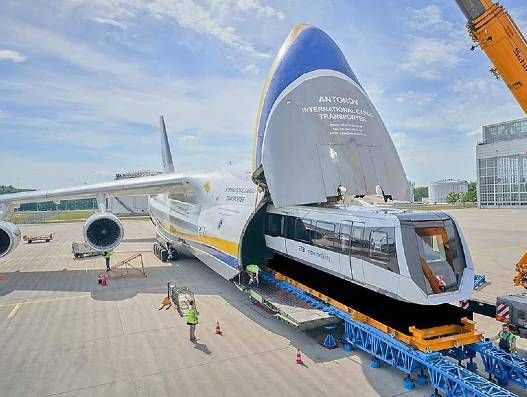 Antonov Airlines has completed a unique cargo delivery of two Max Bögl TSB maglev trains from Munich, Germany to their customer Chengdu Xinzhu Road & Bridge Machinery Co. Ltd., Chengdu, China in cooperation with KN Airlift GmbH company.
Taking into consideration the dimensions of the light weight high tech train sections as 12.6 x 2.8 x 3.7 m per section and total payload of about 36 tons of the two sections such transportation was possible only with AN-124-100 'Ruslan' aircraft.
As the unique cargo requires the unique loading equipment, the special loading/offloading technology and equipment designed by Antonov Airlines was used for loading of the train sections into AN-124-100 aircraft. Also, the special lashing scheme was designed to secure the trains inside of the aircraft and transport them safely during the flight.
On its way to China the aircraft landed at Almaty, Kazakhstan for refueling and crew rest. Timo Kaden, manager sales & operations of KN Airlift GmbH commented: "This exciting project was based on a long term perfect teamwork from all involved parties. We highly appreciate the professional performance from our valued partner Antonov Airlines."
Andriy Blagovisniy, commercial director of Antonov Airlines added: "For Antonov Airlines this project was both challenging and interesting at the same time. Its realization required careful preparation and performance of the flight strictly in accordance with the confirmed schedule. This air shipment became especially unusual during the world Covid-19 pandemic times. We thank our customer KN Airlift for their continued trust and effective cooperation."