Antonov An-124, the jumbo craft delivers the largest cargo to Dube TradePort
Recently Dube Cargo Terminal had the second landing of an Antonov An-124 cargo aircraft to deliver the consignment weighing 80 tonnes of specialised spools for the use in the central furnace at the local oil refinery. The components ranged from 4 to 16 meters in length, 1 to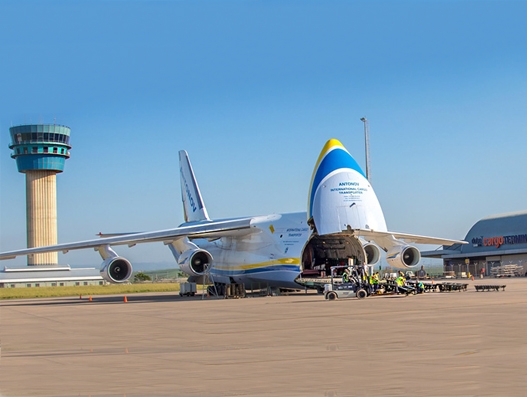 Recently Dube Cargo Terminal had the second landing of an Antonov An-124 cargo aircraft to deliver the consignment weighing 80 tonnes of specialised spools for the use in the central furnace at the local oil refinery.

The components ranged from 4 to 16 meters in length, 1 to 3 meters in width and 2 to 4 meters in height. Sebenza Forwarding and Shipping, the freight forwarding company for the delivery of this essential equipment hired the Antonov An-124 cargo aircraft owing to the nature of the cargo charter, the size, weight and value.

Justin Naidoo, Airfreight Controller, Sebenza Forwarding and Shipping said, "Due to the enormity of this load, not to mention the monetary value of the shipment, extreme care and caution was taken during the loading, transportation and disembarking. The cargo which was loaded onto the specialised low bed trucks was carried out with the utmost precision and precaution. There was a need for specialised cranes, rigging crews and equipment that suited the low bed trucks was required. Well experienced personnel had put in the minutest details during the planning to make the entire process a successful one."

The spools delivered by the aircraft are critical components for the production of fuel at the oil refinery. It was essential that the delivery of these replacement parts, which are of higher grade material, be expedited as efficiently as possible. The landing rights were secured a few weeks before the Antonov's arrival as the cargo was sourced from Germany. The aircraft took two and a half days to reach Durban's King Shaka International Airport, leaving Leipzig Airport on the 27th of March 2017, with two rest and refuelling stops in Cairo and Mombasa.

An Antonov An-124 cargo aircraft has the carrying capacity of 120 to 150 tonnes - the biggest series heavy lifter in the world. It is a military spec aircraft that is built specifically for the transportation of heavy and oversized cargo, that includes other aircraft and industrial equipment. In 2013 Dube Cargo Terminal saw a smaller load on an Antonov An-124 airlift a 54-tonne acid cooler for a mine in New Caledonia. This second landing of the aircraft positioned Dube Cargo Terminal as a facility capable of handling heavy cargos.

"Dube Cargo Terminal has invested in a specialised oversized cargo handling facility which is equipped with hoists, mobile cranes and conveyor systems to handle bulky or outsized shipments such as large pipes, outsized machinery, motor vehicles, large animals and 20-foot ocean containers," said Ricardo Isaac, Manager of Dube Cargo Terminal.

Aubrey Veeran, Director of Sebenza Forwarding and Shipping, added, "We have chartered smaller aircraft in the past but nothing like the Antonov An-124. This is a milestone, and we are very excited to be a part of this project. We believe there is certainly lots of potentials to have charter flights come in (to King Shaka International Airport). It was a fantastic experience being part of a project of this magnitude."