Antonov Airlines transports three racing yachts for 36th America's Cup
The yachts were carried by AN-124-100 Ruslan aircraft for three separate racing teams from Italy, the UK and the USA.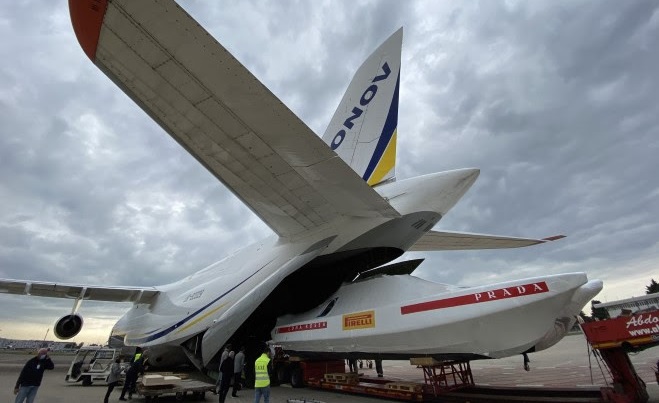 Antonov Airlines has completed the transportation of three high tech racing yachts from Italy, the UK, and the USA, to Auckland, New Zealand in preparation for the 2021 America's Cup race. The airlines' in-house engineering team worked to ensure the safe loading of the 22.8-metre-long, 4.9-metre-wide AC75 class yachts on board its seven AN-124-100 Ruslan fleet. The total weight of each consignment, including the yachts and support equipment, came to 20 tonnes.
"Our engineers worked closely with the teams that organised the air shipment of these unique yachts to develop a safe loading and stowage system for the long journeys to New Zealand," said Andriy Blagovisniy, commercial director of Antonov Airlines. He added, "The AN-124 Ruslan, which has a volume of cargo cabin up to 700 cubic metres, was the ideal aircraft for the job."
The USA American Magic team's AC75 yacht being offloaded after arriving in Auckland, New Zealand.
The first yacht was transported from Providence, Rhode Island, USA for the American Magic team, with the second travelling from London Stansted Airport, for the British INEOS team UK, and the third departing Milan Bergamo Airport, Italy for the Italian Luna Rossa team.
The USA journey from Rhode Island took three days and included two scheduled fuelling stops in Chicago, Illinois, and Honolulu, Hawaii.The air shipment of the cargoes from the UK and Italy both took three days as well with stops in Dubai, UAE, and Surabaya, Indonesia, also for scheduled refuelling.The AC75 yachts, which can reach speeds of up to 50 knots (92.6kph), have been designed to 'fly' by rising out of the water on hydrofoils.The three yachts transported by Antonov will compete against defending champion the Emirates Team New Zealand and Stars and Stripes Team USA in the 36th America's Cup next March.

The UK INEOS team's AC75 yacht being loaded on to the AN-124-100 Ruslan.
Antonov Airlines operates a fleet of seven AN-124-100 aircraft, including two modernised -150M variants, with a payload of up to 150 tonnes, together with the AN-22, with a payload of 60 tonnes, the AN-225, the largest aircraft in the world, which has a payload of 250 tonnes, and smaller AN-26 and AN-74 aircraft.