Antonov Airlines transports mining cargo from Chile to Argentina in 39 minutes
<p style="text-align: justify;">Jun 09, 2017: <a title="ANTONOV Airlines" href="http://www.antonov.com/services/antonov-airlines" target="_blank">ANTONOV Airlines</a> has safely transported two mining filtration units for <a title="Hunt & Palmer Cargo Charters" href="http://www.huntandpalmer.com/cargo-logistics/" target="_blank">Hunt & Palmer Cargo Charters</a> from Santiago, Chile to Mendoza, Argentina in one of its seven AN-124-100 aircraft, <span data-term="goog_2144708477">in 39 minutes</span>.</p> <p style="text-align: justify;">The cargo, which weighed a […]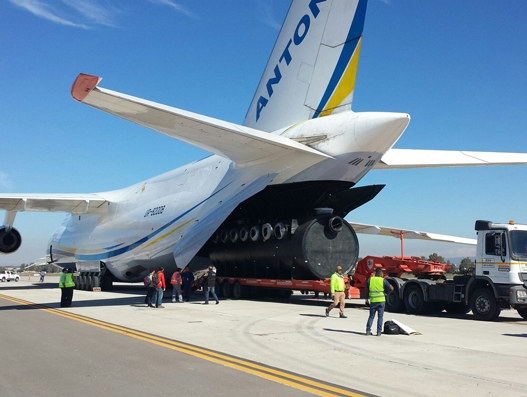 Jun 09, 2017: ANTONOV Airlines has safely transported two mining filtration units for Hunt & Palmer Cargo Charters from Santiago, Chile to Mendoza, Argentina in one of its seven AN-124-100 aircraft, in 39 minutes.
The cargo, which weighed a total of 24 tonnes, was urgently needed after adverse weather in the region closed the roads.
The consignment included two large industrial piping filtration units, measuring 12 metres long, four metres wide, and approximately 3.6 metres high.
"The flight was needed as the road conditions in the region were too hazardous due to adverse weather. The end user could not risk transporting the cargo by road," said Dan Litten, Aircraft Charter Broker, Hunt & Palmer Cargo Charters.
"We worked closely with ANTONOV Airlines to get the permits issued for the aircraft to fly at such short notice. The flight was confirmed late on Wednesday, and operated on Saturday.
"The AN-124-100 was the only aircraft that could accommodate our cargo. It is incredible that the flight took only 39 minutes."
The AN-124-100 on-board crane system, which has a maximum lift capacity of 20 tonnes, allowed for safe loading and unloading of the cargo.
ANTONOV carries an adaptor on-board each of its aircraft, extending the lift capacity of its system by 10 tonnes to a total of 30 tonnes.
"No special adjustment or external equipment was required for what was one of the shortest flights we have operated in a decade," said Martin Banns, commercial executive, ANTONOV Airlines.
"We were able to lift the cargo straight off the trailers with the aircraft's internal cranes.
"Combined with the short live sector flight, we tackled the urgency of the request efficiently and swiftly."
ANTONOV Airlines operates a fleet of seven AN-124-100 aircraft, including two modernised -150M variants, with a payload of up to 150 tonnes, together with the AN-22, with a payload of 60 tonnes, the AN-225, the largest aircraft in the world, which has a payload of 250 tonnes, and smaller AN-26 and AN-74 aircraft.
ANTONOV Company, the design, manufacturer, operation and maintenance authority of ANTONOV Airlines' fleet, recently announced it is working with Ukrainian and Western suppliers for its fleet modernisation programme.