Antonov Airlines sends AN-124-100 aircraft with relief cargo to hurricane-stricken Guadeloupe
September 18, 2017: Antonov Airlines has safely delivered portable generators for EDF Group to Hurricane-stricken Guadeloupe, in the Caribbean, on one of its seven AN-124-100 aircraft.
The emergency consignment of 32 EDF Group generators was recently moved from Châteauroux, France to Pointe-à-Pitre, Guadeloupe, in under 24 hours.
The generators, which weighed a total of 105 tonnes, are needed to provide electricity to France's Overseas Region of Guadeloupe and Overseas Collectivity of Saint Martin, both of which were severely affected by Hurricane Irma.
"The aircraft was in Cairns, Australia at the time the charter was confirmed, which meant we had to respond promptly to move it halfway around the world," said Paul Furlonger, Antonov Airlines.
 "The AN-124-100s' unique onboard crane system, which has a lift capacity of 30 tonnes, allowed for a safe loading and unloading process, without the need for a special ground infrastructure at the airport.
"This is the first in a series of Antonov Airlines flights that will deliver humanitarian and relief cargo to the Caribbean from the governments of France, the Netherlands, and the United Kingdom.
"We remain committed to providing fast and efficient solutions globally for humanitarian aid."
The AN-124-100, with a payload of up to 150 tonnes, is one of the world's largest aircraft. The cargo, which was supplied by EDF Group, included three different sizes of generators: nine generators measuring 4.840m long, 1.200m wide, and 2.200m high, and weighing 4.030 tonnes each; 16 generators measuring 4.470m long, 1.200m wide, and 2.200m high, and weighing 3.200 tonnes each; and seven generators measuring 3.800m long, 1.100m wide, and 2.000m high, and weighing 2.410 tonnes each.
Antonov Airlines recently upgraded two of its AN-124-100 aircraft, allowing them to operate at their designed maximum payload of 150 tonnes.
You may also like:-
---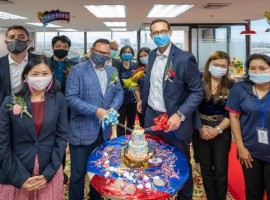 Logistics
Laem Chabang has a range of strategic multi modal capabilities alongside its proximity to the country's major deep sea port, transit cargo terminal and the future Thailand third airport project at U-Tapao.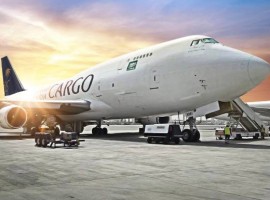 Air Cargo
The company said the new aircraft will boost the cargo and supply operations and help meet the significant surge on the demand for medicine, medical and preventive equipment and other similar goods.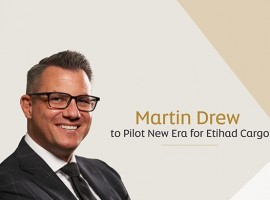 Air Cargo
Etihad Aviation Group has promoted Martin Drew to the role of managing director – Cargo and Logistics. Drew will assume the position on November 1.