Antonov Airlines airlifts helicopters and spare parts on its AN-22 Antei
Nov 8, 2019: Antonov Airlines' AN-22 Antei was recently utilised to transport helicopters and spare parts on the Madrid-Baghdad-Madrid route. With this project for DSV Spain and Cargoplanet Spain, the 'the largest turboprop air freighter' returned to commercial market, after being out of action for more than a year due to scheduled maintenance. For this […]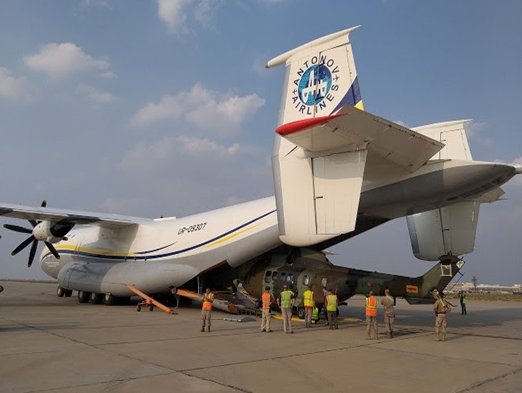 Nov 8, 2019: Antonov Airlines' AN-22 Antei was recently utilised to transport helicopters and spare parts on the Madrid-Baghdad-Madrid route.
With this project for DSV Spain and Cargoplanet Spain, the 'the largest turboprop air freighter' returned to commercial market, after being out of action for more than a year due to scheduled maintenance.
For this operation, two flights were operated between October 27 and 31, 2019. Coordination and supervision of all flights were undertaken by Cargoplanet Spain, the representative of Antonov Airlines for these kind of logistics operations in Spain.
Owing to the height of the Antei's cargo compartment measuring 4.4 metres, the transportation did not require the dismantling of the helicopters' rotors. Hence, the cargo was prepared in a shorter time, allowing the delivered helicopters to enter service faster.
Vitaliy Shost, first deputy director of Antonov Airlines said: "We are pleased to announce that the AN-22 is back in the commercial market of outsized air transportations after scheduled maintenance.
A few decades ago, the appearance of the AN-22 Antei opened the era of the widebody transport aircraft."
The AN-22 Antei can be operated from and to both paved, and unpaved runways, and with transports such as this one, the AN-22 can be more effective than the larger AN-124 Ruslan.
Staff of Cargoplanet and DSV travelled with the cargo on board the AN-22 to and from Baghdad to assure a smooth operation.