ANA group's IT division picks IBS Software as a strategic technology partner
<p style="text-align: justify;">Jun 05, 2017: IT solutions provider IBS Software has entered into a strategic partnership with ANA Systems (ASY), the IT division of <a title="ANA group" href="http://www.ana.co.jp/asw/wws/ind/e/" target="_blank">ANA group</a> (ANA) to enhance its global delivery capabilities for innovative technology solutions for the airline.</p> <p style="text-align: justify;">The five-year partnership agreement between ANA and <a title="IBS […]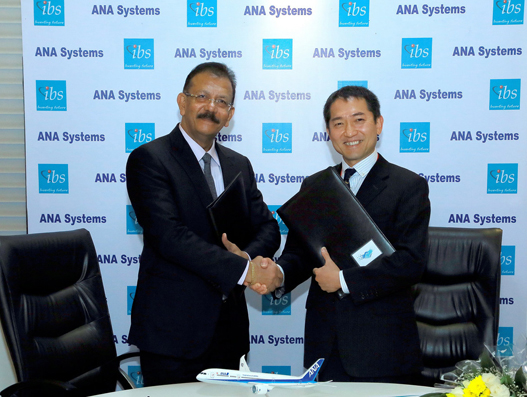 Jun 05, 2017: IT solutions provider IBS Software has entered into a strategic partnership with ANA Systems (ASY), the IT division of ANA group (ANA) to enhance its global delivery capabilities for innovative technology solutions for the airline.
The five-year partnership agreement between ANA and IBS Software (IBS) will provide ASY access to IBS' global talent pool with airline industry knowledge and technology expertise, along with some of the best processes and practices of software development. With a focus on innovation, digitalisation and quality, IBS will participate in ASY's technology transformation initiatives across the different parts of the airline's business.
Under this partnership, IBS team will work as an extension of ASY team and will provide scalability and flexibility to ASY for its technology programmes in a cost effective manner using IBS' proven Extended Software Delivery Facility (ESDF) model. The ESDF activities will include software development, maintenance & enhancements as well as testing of core business systems of ANA. The partnership is a result of a flagship Global Delivery Model (GDM) programme launched by ASY to globalise its business and IT processes to bring the best industry practices in to its current operations, while enhancing its scalability and flexibility. The partnership aims to boost engineering capabilities of ASY, significantly reduce overall cost of operation and optimise the existing technology landscape. It will also focus on technologies such as cloud computing, analytics and mobility to support the digital transformation of the airline.
Masafumi Shingo, president, ANA Systems said, "ASY faces the challenge of changing to the global environment and cost-effective productivity for further growth of ANA group. IBS as ASY's Global Delivery Model partner, we look forward to producing synergy effects by combining IBS' rich talent pool with airline industry know-how and ASY's high quality standards. As a result, ASY will have global competitiveness and lead to further growth."
"IBS and ANA relationship has now completed successful 10 years. This new partnership agreement is a true testimonial to the value that IBS has created for ANA over the years and its potential for the future endeavors of ANA Systems. We are delighted to take our relationship to the next level and are committed to making a tangible difference to the global capabilities of ANA Systems in providing more dynamic and innovative services to its customers in a cost-effective manner," said Akshay Shrivastava, Sr. VP & Global head of IT Services Business, IBS Software.
Photo:Masafumi Shingo, ANA Systems and V K Mathews, Executive Chairman - IBS Software. (PRNewsfoto/IBS Software Services)