Amsterdam Airport Schiphol sees dip in H1 cargo volumes
Sep 3, 2019: Amsterdam Airport Schiphol (AAS), the main international airport of Netherlands, has registered 9.2 percent year-on-year decline in total cargo volume in the first half of 2019. In all, the hub handled 767,519 tonnes of cargo volume, revealed statistics released by the airport. The full freighter cargo volumes were down by 16.4 percent, […]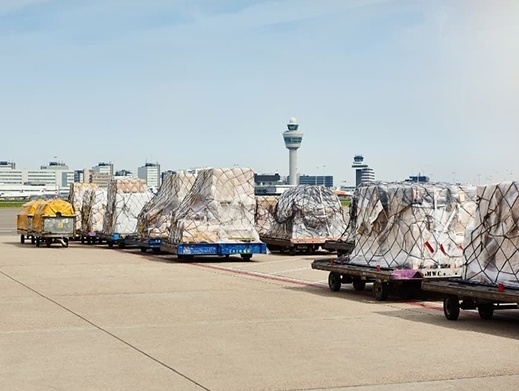 Sep 3, 2019: Amsterdam Airport Schiphol (AAS), the main international airport of Netherlands, has registered 9.2 percent year-on-year decline in total cargo volume in the first half of 2019.
In all, the hub handled 767,519 tonnes of cargo volume, revealed statistics released by the airport.
The full freighter cargo volumes were down by 16.4 percent, and full-freighter air transport movements (ATMs) decreased by 14.4 percent.
A statement from the airport tells us that the decline is mainly because it continues to face slot scarcity, on top of a weakening of the global air cargo market.
Meanwhile, belly cargo volumes increased by 0.9 percent and ATMs increased by 3.3 percent.
Shanghai, city in China, remains the main destination for AAS reaching 88,481 tonnes in the first six months of 2019, despite the ongoing trade tensions with the US, followed by Moscow, Russia, with 38,633 tonnes.
Bart Pouwels, head of Cargo, Amsterdam Airport Schiphol said: "As a mainport for the Netherlands, we are concerned about the negative developments within the air cargo market and the consequences it has for the overall network of our airlines at Schiphol.
"With a decrease of full freighters, we may become less attractive for freight forwarders, as the forwarders need a mix of full freight and belly cargo to operate sustainably.
"This may result in forwarders leaving Schiphol and the airport becoming less attractive for airlines as belly cargo contributes significantly to certain routes.
"We are keen to maintain our network of destinations for which we need to keep our cargo volumes at a sustainable level."
The mid-year figures revealed a decrease in volumes across all markets, apart from small increases in North America outbound and the Middle East inbound.
The Asian inbound market was down by 10 percent to 131,725 tonnes, and outbound decreased by 13 percent to 130,520 tonnes.
European figures show a 15 percent inbound decline to 47,493 tonnes, compared to the same period last year, and outbound was down by 8 percent to 54,756 tonnes.
The North American market saw a 13 percent inbound decrease to 56,314 tonnes, and an increase in outbound cargo of 4 percent to 82,242 tonnes.
The Latin American market showed negative growth with inbound cargo down 10 percent to 58,666 tonnes, and an 8 percent decrease in outbound cargo to 37,184 tonnes.
The African market showed negative outbound results with a 4 per cent decrease in cargo to 25,489 tonnes, while inbound cargo decreased by 20 per cent to 46,518 tonnes.
The Middle Eastern region went up by 5 percent (inbound) but declined 6 percent (outbound) to respectively 44,603 and 52,008 tonnes.
Schiphol airport, Atlanta airport ink MoU to promote cargo trade and investment
In June 2019, the airport signed MoU with Hartsfield-Jackson Atlanta International Airport (ATL) to promote cargo trade and investment between the two gateways.