Amazon's leasing agreement with GECAS for 15 737-800 converted freighters
June 19, 2019: In its recent move to provide faster shipping to customers, Amazon has signed lease agreement with GE Capital Aviation Services (GECAS) for fifteen Boeing 737-800 cargo aircraft. These fifteen aircraft will be in addition to the five Boeing 737-800's already leased from GECAS and announced earlier this year. The aircraft will fly […]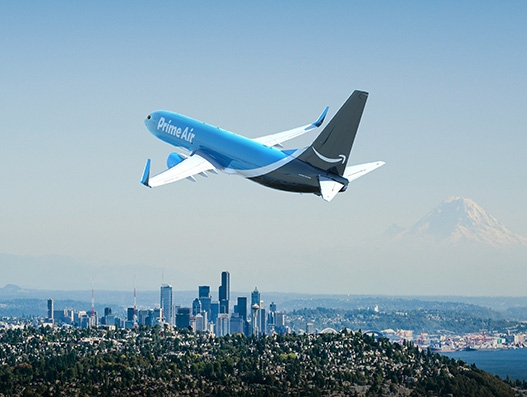 June 19, 2019: In its recent move to provide faster shipping to customers, Amazon has signed lease agreement with GE Capital Aviation Services (GECAS) for fifteen Boeing 737-800 cargo aircraft.
These fifteen aircraft will be in addition to the five Boeing 737-800's already leased from GECAS and announced earlier this year. The aircraft will fly in the United States out of the more than 20 air gateways in the Amazon Air network.
At the ongoing Paris Air Show where this agreement was signed, GECAS signed an agreement with Boeing exercising 10 purchase rights to firm orders and adding 15 more purchase rights for the 737-800 Boeing Converted Freighter (BCF).

"These new aircraft create additional capacity for Amazon Air, building on the investment in our Prime Free One-Day programme," said Dave Clark, senior vice president of Worldwide Operations at Amazon.
"By 2021, Amazon Air will have a portfolio of 70 aircraft flying in our dedicated air network."
The aircraft are equipped with a rigid cargo barrier and have 12 main deck pallet positions. The aircraft have a maximum structural payload of 23,500 kg (51,800lb) and a maximum range of over 2,100 nautical miles.
Amazon launched Amazon Air in 2016 to support package delivery to the rapidly growing number of customers who love fast delivery, affordable prices and vast selection.
Amazon will open new air facilities this year at Fort Worth Alliance Airport, Wilmington Air Park, and Chicago Rockford International Airport. The main Air Hub at the Cincinnati/Northern Kentucky International Airport will open in 2021.
The company has launched several initiatives to ensure fast delivery speeds and supply chain capacity for its customers. One of them is the expanded fleet of cargo aircraft. The others are Delivery Service Partner programme; Amazon Flex, the company's mobile application that allows individuals to sign-up, be vetted and begin delivering for Amazon, a dedicated network of over 10,000 trailers to increase trucking capacity.
Launching the 737-800 passenger-to-freighter conversion programme in 2016 and delivering the inaugural Boeing Converted Freighter (BCF) less than one year ago, GECAS has plans to convert at least 50 of this type, providing the capacity for the growing need for cargo air transport.
GECAS is the largest commercial airline leasing and financing company in the world by the number of aircraft. The Irish-American company is a subsidiary of GE Capital, the finance arm of the conglomerate General Electric.