Amazon's $1.5 billion Kentucky air hub project gets moving
May 15, 2019: More than two years after e-commerce giant Amazon announced that it would construct an air hub at the Cincinnati Northern Kentucky International Airport, it broke ground Tuesday on the $1.5 billion project. "Let's move some earth," said Amazon founder and CEO Jeff Bezos during the groundbreaking ritual as he personally moved a […]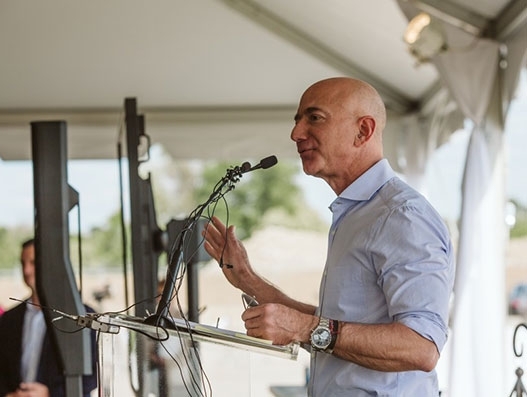 May 15, 2019: More than two years after e-commerce giant Amazon announced that it would construct an air hub at the Cincinnati Northern Kentucky International Airport, it broke ground Tuesday on the $1.5 billion project.
"Let's move some earth," said Amazon founder and CEO Jeff Bezos during the groundbreaking ritual as he personally moved a ceremonial pile of dirt.

Amazon Air groundbreaking event
The 3 million-square-foot air hub, which was announced in 2017, is scheduled to open in 2021. The online giant has a 50-year lease for about 900 acres at the airport where it will handle its own shipping to reduce costs and improve delivery times to its customers. Amazon had announced last month that it was cutting its Prime free-delivery times in half, from two days to one.
"We're investing $1.5 billion in our new air hub to get you your packages faster. Three million square feet, and it's going to create 2,000 jobs. And if you're guessing that driving a front loader was fun, you're right," tweeted Bezos.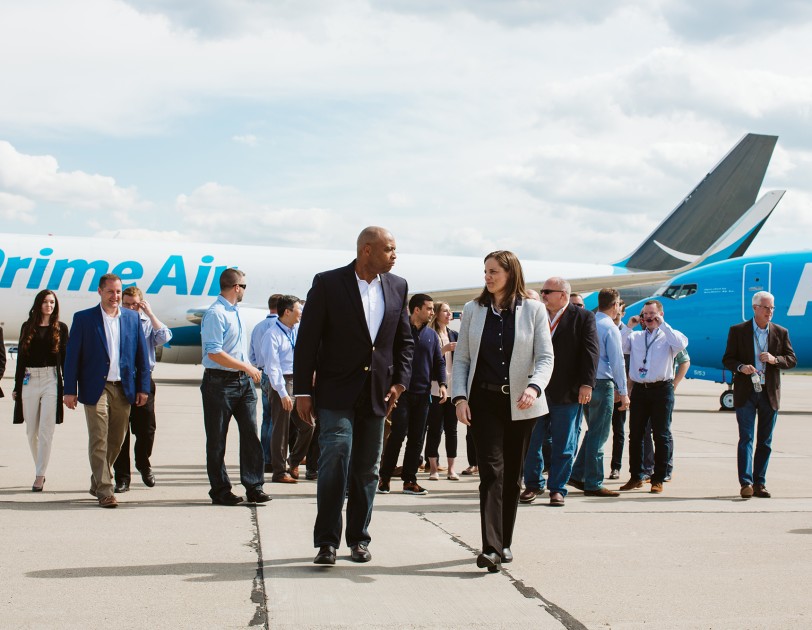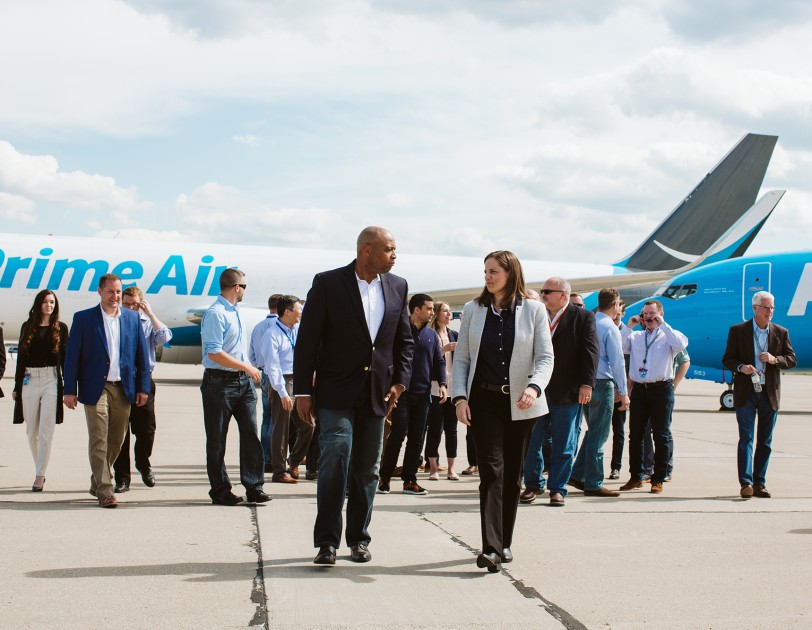 Dave Bozeman, vice president of Amazon transportation services and Sarah Rhoads, director of Amazon Air
The northern Kentucky air hub is part of Amazon's long-term plan to expand its own transportation and delivery network to reduce its reliance on third-party carriers such as UPS, FedEx Corp and US Postal Service.
"This massive project at the Cincinnati/Northern Kentucky International Airport will be revolutionary for the region's workforce and for our state's overall economy," Kentucky Gov. Matt Bevin said in a statement.
Kentucky is currently home to 14 Amazon fulfilment and sortation centres, one customer service centre and two Whole Foods Market stores. Amazon has invested more than $8 billion in the state and created more than 12,500 full-time jobs.
"A vibrant airport with a strong air cargo footprint improves the economic vitality of our region," said Candace McGraw, CEO, Cincinnati/Northern Kentucky International Airport.
Amazon is expected to lease 40 Boeing 767 planes, while the hub has room to accommodate a fleet of more than 100 Prime Air cargo planes.