Amazon takes to the skies this Prime Day
<p style="text-align: justify;">Jul 11, 2017: <a title="Amazon" href="https://www.amazon.com/" target="_blank">Amazon</a>'s annual Prime Day is turning into one of the biggest shopping events in the US shopping calendar. While much of the buzz has been on heavy discounts and limited-time deals, Amazon is making sure that these orders make it to the customer's doorstep on time. And […]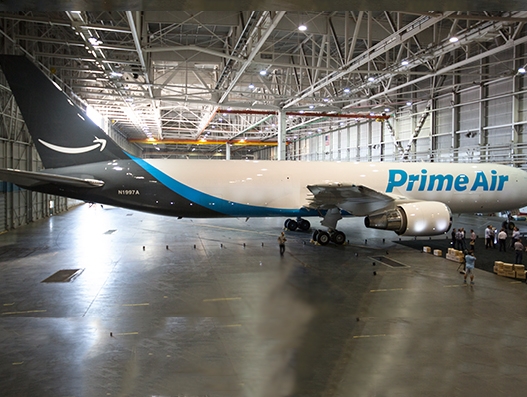 Jul 11, 2017: Amazon's annual Prime Day is turning into one of the biggest shopping events in the US shopping calendar. While much of the buzz has been on heavy discounts and limited-time deals, Amazon is making sure that these orders make it to the customer's doorstep on time. And all for a good reason – after all, Prime Day deals exclusively caters to Prime members where on-time delivery remains critical.

Prime was built on the foundation of unlimited fast, free shipping where members receive unlimited free two-day, one-day and same day shipping on over 50 million items in more than 5,000 cities and towns, and two-hour delivery with Prime Now across 30 major cities.

A day ahead of the Prime Day mega sale, the e-commerce major made a public announcement that it is taking to the skies for the first time. "Prime Air cargo planes are fueled and ready to support Prime Day in the United States for the first time," the statement read.



"Our fulfillment centers are loaded with products, our operations associates are ready and our transportation partners around the world are excitedly waiting for the first Prime Day order," said Greg Greeley, Vice President, Amazon Prime. "This Prime Day, our Prime members will find hundreds of thousands of deals on everything they're into – from beauty fans to bookworms and gamers to gardeners," Greeley added.

Amazon's Prime Air fleet comprises approximately 40 jets leased from Atlas Air (Amazon's air cargo partner since last May), flying to at least 10 US airports, as of 2016-end. Apart from trucking services, the cargo air service complements deliveries made via UPS and FedEx but it is also strategically signaling at handling its logistics in-house.

On the lines of Alibaba's Singles Day in China, Prime Day has proven to be a bonanza for Amazon over the last two years, delivering up to 20 times more than its normal daily sales. Prime Day on July 12, 2016 surpassed Black Friday and Cyber Monday last winter generating the most sales for the company in a single day.