Amazon supply chain: a deep dive
Amazon Air's expansion marks one of the most significant developments in the U.S. air-cargo business in years and gives boost to airports seeking to cultivate freight traffic.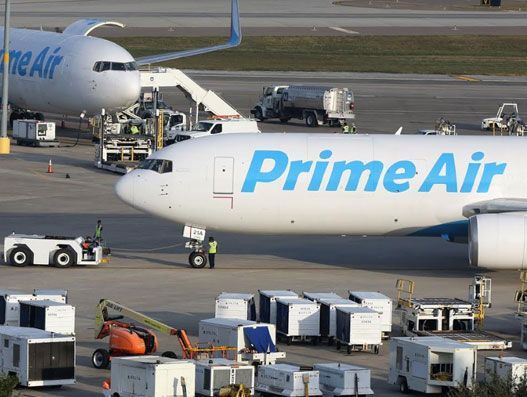 Comprehending the power of today's digital age, supply chains are functioning at a momentum that is astonishingly disruptive and tremendously consumer centric. The evolution of retail, brought about quit unprecedentedly, has altered the imagination of consumers and successfully appealed trust around the new-age trade, popularly known as e-commerce, with its speed of trade, which is largely governed by air logistics.
Today, the e-commerce giant Amazon is more valuable than Walmart Inc., which is the world's largest retailer, and continues to attract more users and businesses by cutting delivery time at every step. Services like Amazon Prime, Prime Now have sprung up institutions like free shipping, two-and one-day shippings, and millions of items even qualifying for two-hour delivery.
Amazon is systematically growing out from just an online retail platform to an ecosystem that thrives to fulfil orders dynamically through an efficient shipping and delivery infrastructure around the world to serve its revolutionary institutions, especially thorough its growing interest in invigorating its air logistics arm — Amazon Air.
Insights into Amazon Air supply chain
In 2019 Amazon's shipping costs amounted to USD 37.9 billion. Amazon's shipping costs grew by 37 percent year-over-year in 2019 compared with revenue growth of 21 percent and 13 percent in North America and Europe respectively. This trend has continued in 2020. This logistics operation, massive in scale and value, running under its business unit named "Global Supply Chain by Amazon", which enables its online sellers to book deliveries directly with Amazon, has taken away most of its delivery action previously shared by logistics players like DHL, UPS, FedEx, USPS etc.
Facilitating ever-growing demands, Amazon Air's fleet as grown to over 80 operational aircraft so far, with plans to grow to more than 90 by 2021. And operates around 100 flights per day with its services exclusive to North American markets.
In addition to its growing fleet, Amazon Air has opened sorting facilities at airpots like Chicago Rockford; airpots in Ontario, Canada; Tampa, Florida; and Wilmington, Ohio, with plans to open new hubs at Lakeland Linder International Airport in Florida, San Bernardino International Airport, and Cincinnati/Northern Kentucky International Airport. These hubs serve Amazon in effectively delivering packages across North America.
Amazon Air's flight network on a typical day
Amazon Air's emerging biggest hub, Cincinnati/Northern Kentucky International Airport, on a typical day sees 24 flights; followed by major hubs for air-freight integrators like Tampa International Airport, with 16 flights; Chicago Rockford International Airport, Wilmington Air Park, Ontario International Airport seeing around 15 and 13 flights respectively. About 20 percent of Amazon Air's domestic flights use Cincinnati/Northern Kentucky hub.
These Amazon Air hubs have been strategically positioned considering its passenger flights operations, which are relatively less, handling fewer than 300,000 passengers per year. DePaul University analysis indicates that Amazon Air's aircraft makes an average of 2.1 flights daily.
Amazon's air cargo network is largely integrated with its trucking routes, and remains distant from dense urban areas. These hubs are pinned to effectively serve its fulfilment centres, creating a hub and spoke model that is capable of picking up goods to and from fulfilment centres from airport in less than 8 hours time, and some pick ups taking even less than an hour.
Amazon Air is operated by 4 contractors
Amazon Air's fleet comprises of aircraft leased and subleased from various contractors — Amazon doesn't directly operate its fleet of cargo planes under its Amazon Air unit. Atlas Air, Air Transport International, Southern Air, and Sun Country Airlines are the four contractors that manage Amazon Air's fleet. With 19 aircraft, Atlas Air contributes the greater to the Amazon's fleet. followed by 16 aircraft being operated by Air Transport International, 5 and 4 aircraft being operated by Southern Air and Sun Country respectively.
Boeing 767s account for about 90 percent of Amazon Air's fleet, with the remainder being Boeing 737s, both of which have less cargo-carrying capacity than the B747s, MD11s, A300s, and other large jets commonly used by other cargo airlines.
Atlas Air and Southern Air, which is wholly owned subsidiary of Atlas Air, provide "dry lease" of their own aircraft to ACMI (Aircraft, Crew, Maintenance, and Insurance) and CMI (Crew, Maintenance, and Insurance) arrangements. Atlas Air operates a fleet of 69 aircraft — leased to various domestic and foreign air carriers and other companies that outsource their air cargo lift requirements. And approximately 27 percent of its fleet is solely dedicated for the Amazon Air's operations. Southern Air operates a total of 18 aircraft out of which 5 are dedicated to Amazon Air and serves Amazon's biggest air hub Cincinnati/Northern Kentucky International Airport.
Air Transport International, another major contributor to the Amazon Air's fleet, is a subsidiary of Air Transport Services Group, Inc., headquartered in Wilmington, Ohio, and operates a total of 28 aircraft. Out of which more than half, approximately 57 percent, of its aircraft are servicing the Amazon's supply chain.
Sun Country is relatively the smallest player of all, and has entered into freighter leasing market through contracting all four of its B737 freighter aircraft to Amazon Air. Sun Country is expected to operate a total of 10 B737 freight aircraft for Amazon Air soon.
Amazon Prime Air to increase its fleet by 200 planes
Amazon Air is rapidly expanding its fleet to meet the growing demands and the company has seen an unprecedented spike in demands during the Covid-19 times when visiting retail stores have been massively curbed.
on June 4, 2020, Amazon announced the lease of 12 Boeing 767-300 converted cargo aircraft from Air Transport Services Group (ATSG). One of the new aircraft joined Amazon's air cargo operations in May 2020, with the remaining 11 to be delivered in 2021.
"Amazon Air is critical to ensuring fast delivery for our customers – both in the current environment we are facing, and beyond," stated Sarah Rhoads, vice president of Amazon Global Air, in a report.
"During a time when so many of our customers rely on us to get what they need without leaving their homes, expanding our dedicated air network ensures we have the capacity to deliver what our customers want: great selection, low prices and fast shipping speeds," said Sarah Rhoads of Amazon Global Air.
Amazon Air's increase in fleet size from 18 aircraft to 39 aircraft from 2017 to 2019 has resulted in a 47.2 percent compound annual growth. In early 2019, Morgan Stanly reported that Amazon is expected to upgrade its fleet to 100 aircraft by 2025. However, considering the growing trust in e-commerce since the pandemic was declared in early March this year, DePaul University reports that Amazon Air's fleet could potentially grow to 200 aircraft in next 7 to 8 years.
Amazon Air plans to operate 100 aircraft at its Cincinnati hub alone. This could involve operations of smaller freighter aircraft and a potential acquisition of a cargo airline. The report also suggests that Amazon Air, to grow its fleet to 200, will need to add, on average, about 1.5 planes per month through 2028.
Amazon Air's transportation juggernaut
Amazon Air has spurred an extensive logistics network in North America, it consolidates retailer's extensive shipping network, which is serviced by around 20,000 trucks. The Covid-19 outbreak has contributed greatly in expanding this network. And continues to do so.
Amazon's distribution network consists of sortation centres, fulfilment centres, Prime Hubs, outbound sortation centres, and delivery stations. Amazon Air feeds around 170 warehouses spread across US in clusters that make an efficient hub and spoke modal. In its ongoing effort to offset shipping cost, Amazon has been working on optimising its delivery operations by investing in new technologies.
From automating warehousing operations to making contactless, autonomous last-mile deliveries, Amazon has adopted cutting-edge technologies. Through its tech-driven unit Amazon Robotics, Amazon has installed autonomous robots and associated systems and control softwares, and enabled dept-sensing, object recognition at its warehouses.
Recently, Bloomberg reported that Amazon is in talks to purchase self-driving technology startup Zoox, an American autonomous vehicle company, for close to $3.2 billion. This acquisition would enable Amazon in making last-mile deliveries using autonomous vehicles.
The Covid-19 pandemic has severely paralysed the global air cargo capacity, and as world trades are trying to make sense of shifting trade demands and tensions, Amazon Air has continued to upscale it operations by increasing its fleet size and severing the rising e-commerce demands. Covid-19 pandemic is brining about a shift in buying pattern among consumers, which is evident as e-commerce is emerging as one of the trades that are helping in restoring some sort of normalcy to the cargo volumes since the pandemic started. And demonstrating the air logistics operations around e-commerce, Amazon Air proves as a juggernaut in serving the rising e-commerce demands.