Amazon, FedEx come to aid of hurricane-hit Bahamas
Sep 10, 2019: Amazon and FedEx have transported medical supplies and other relief aid for those affected by Hurricane Dorian in the Bahamas. Hurricane Dorian hit the Bahamas as a Category 5 hurricane with winds reaching 185mph, which matched the highest ever recorded at landfall. In the country of about 400,000 people, local officials estimate […]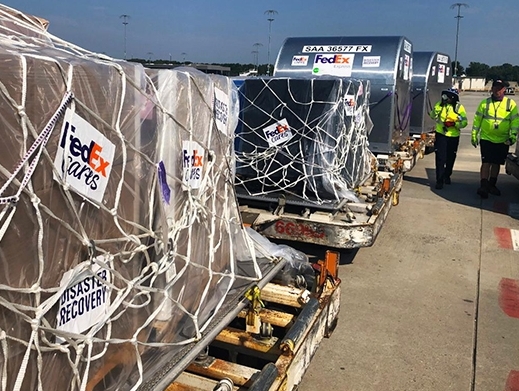 Sep 10, 2019: Amazon and FedEx have transported medical supplies and other relief aid for those affected by Hurricane Dorian in the Bahamas.
Hurricane Dorian hit the Bahamas as a Category 5 hurricane with winds reaching 185mph, which matched the highest ever recorded at landfall.
In the country of about 400,000 people, local officials estimate that more than 70,000 are homeless and in need of food, water and shelter.
In collaboration with the International Federation of Red Cross and Red Crescent Societies, Mercy Corps, and the Grand Bahama Disaster Relief Foundation, the Disaster Relief by Amazon team is mobilizing two Amazon Air flights, full of tens of thousands of relief items such as tarps, buckets and water containers, for upcoming departures.
We are ramping up aid efforts in the Bahamas, to help people affected by #HurricaneDorian get back on their feet.

Our spokesperson @jenelle_eli has an update from Abaco Islands. pic.twitter.com/BtVirvYuLs

— IFRC Intl. Federation #RedCross #RedCrescent (@ifrc) September 9, 2019
In addition, Amazon launched new wish list campaigns, specifically curated by its nonprofit partners, for customers to shop essentials by September 13 to go on the relief planes.
Customers can also make cash donations, donate supplies directly to nonprofits for the Bahamas and Carolinas, or just say, "Alexa, donate to Hurricane Dorian relief at American Red Cross."
Amazon is shipping relief items from fulfillment centers around the country to an Amazon fulfillment center in Tampa where they will be packed, palletized and transported to the Tampa air gateway and loaded onto the Amazon Air planes for Nassau.
Air Charter Service gears up to aid Hurricane Dorian victims
"The Red Cross is proud to count Amazon as a partner to help provide much needed support to the Bahamas," said Lesley Schaffer, International Response and Recovery Director, American Red Cross.
Meanwhile, FedEx also supported these disaster relief efforts through its relationships with humanitarian organisations including Direct Relief, International Medical Corps, Team Rubicon and Water Mission.
The FedEx team transported medicines and medical supplies, hygiene kits, water treatment systems as well as International Medical Corps' Mobile Health Facility, aboard FedEx Express' Boeing 757.
Ryanne, one of our Boeing 757's, ?? is off to the Bahamas filled with lifesaving relief supplies for #HurricaneDorian survivors. @DirectRelief @IMC_Worldwide @water_mission @TeamRubicon #FedExCares ???? pic.twitter.com/KQWuryLS3S

— FedEx (@FedEx) September 9, 2019
The cargo jet also carried employee relief supplies and generators for FedEx team members.
The relief aid was loaded in Memphis, and upon arrival in Nassau, the relief organisations had teams on the ground ready to deliver the critical aid where it's needed most.
"Many of the people in these hard-hit communities have lost everything and are in desperate need of help. On behalf of the more than 450,000 FedEx team members around the world, we are proud to be able to use our global network to provide these lifesaving resources," said Raj Subramaniam, president and COO, FedEx Corporation.