Amazon Air launches daily cargo service at Pittsburgh International Airport
Amazon Air touched down at Pittsburgh International Airport (PIT) for the first time on May 12, adding Pittsburgh to its expanding US cargo network.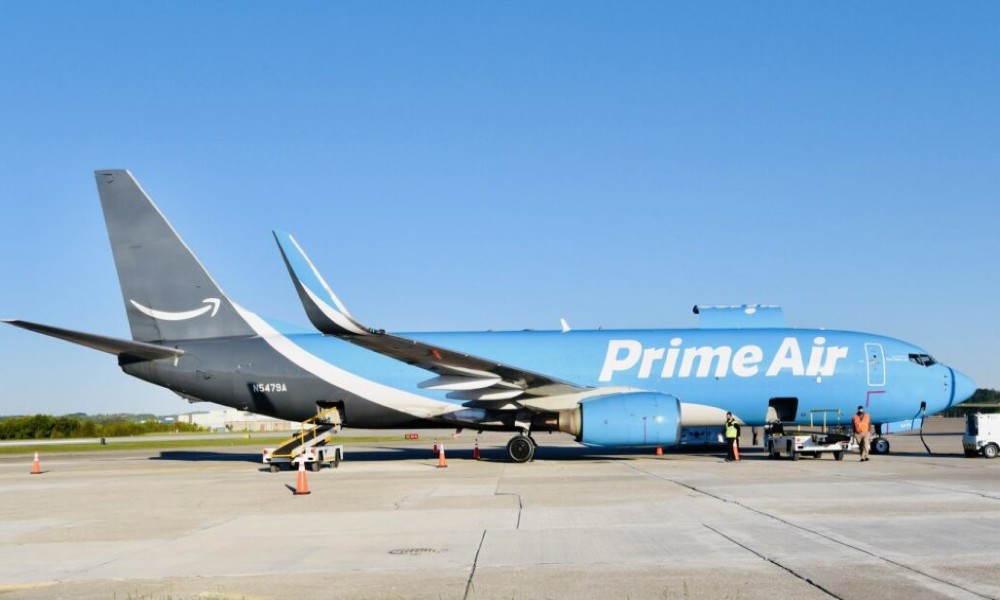 Amazon Air touched down at Pittsburgh International Airport (PIT) for the first time on May 12, adding Pittsburgh to its expanding US cargo network. Amazon Air packages will arrive once daily into Pittsburgh via a Boeing 737-800F freighter. The first departure from PIT, packed with cargo, left in the morning of May 13. It is the latest—and biggest—cargo win for the airport.
"We are excited that Amazon is continuing its investment in the region with the addition of Amazon Air operations at our airport," said Pittsburgh International Airport CEO Christina Cassotis. "We welcome Amazon Air and look forward to building our partnership. This announcement is a major milestone in positioning PIT as an international logistics center."
Amazon Air has grown quickly to increase speed and selection for customers around the country, now flying to more than 40 US airports. Its new operation at PIT will allow the company to serve a growing logistics network in Western Pennsylvania.
"Growing the network of sites where Amazon Air flies is essential to supporting fast, free shipping for our customers," said Chris Preston, director, Amazon Gateway Operations. "Today, with Pittsburgh International Airport as part of our Amazon Air network, we are closer to our customers and can support fast shipping for the items they rely on. We are proud of the investments Amazon has made in the Pittsburgh region and look forward to continued growth."
Through a partner lease agreement, Amazon Air will use 50,000 square feet of space at PIT. The facility will include an onsite area to sort packages bound for their next destination and will be managed by an Amazon logistics partner, Trego-Duncan Aviation. The site is expected to support more than 50 jobs. Local leaders applauded the arrival.
"We are delighted to welcome Amazon Air to PIT. To have a major logistics company like Amazon locate here reflects confidence in our region and the opportunities at the airport," said Allegheny County Executive Rich Fitzgerald. "This development, along with the Finnair announcement, really underscores the fact that PIT is becoming a significant cargo and distribution hub."
Cargo service carries huge economic benefits for regions like Western Pennsylvania because of the downstream economic impact, including handling companies and often trucking.
Cargo has become a bigger part of PIT's business plan as officials look to build the airport into an international logistics center, capitalizing on its abundant space and ideal geographic location. The arrival of Amazon Air comes as PIT continues to see an increase in demand for air freight amid the pandemic.
In March, the most recent month available, the airport saw a 29 percent increase in cargo compared to 2020. Air freight rose by 27 percent while mail increased 37 percent. The spike in air freight is attributed to cargo carriers utilizing larger aircraft and increasing the number of operations at PIT.
Last month, PIT welcomed international cargo carrier Finnair, which operated short-term nonstop cargo flights from Helsinki-Vantaa Airport in Finland. The carrier was transporting automotive parts from Asia to North America.
Supply chain challenges during the pandemic have prompted airlines like Finnair to look beyond their traditional networks. Airline officials compared PIT to their Helsinki hub, saying smaller airports can be faster, agile and flexible.
In December, Qatar Airways resumed its cargo operations at PIT and continues its weekly flight on a converted Boeing 777-300ER. Additionally, Cathay Pacific used a similar aircraft for cargo flights between Pittsburgh and Hong Kong that ran twice weekly from September to November of last year.
FedEx and UPS also have upped their operations at PIT, with the carriers increasing year-over-year flights by 46 percent and 83 percent, respectively, in March.
At congested cargo gateways like New York and Chicago, airlines and freight forwarders often have to wait days to get their products offloaded and on the road. At PIT, that can happen in a matter of hours. Cargo carriers have consistently referenced that speed as a major selling point to utilize PIT.