Amazon Air Hub in CVG Airport open for business
In 2019, Amazon broke ground on the Amazon Air Hub, an 800,000-square-foot facility to support our growing air cargo network. The $1.5 billion business is now open for operations. Sarah Rhoads, Vice President of Amazon Global Air writes a welcome note.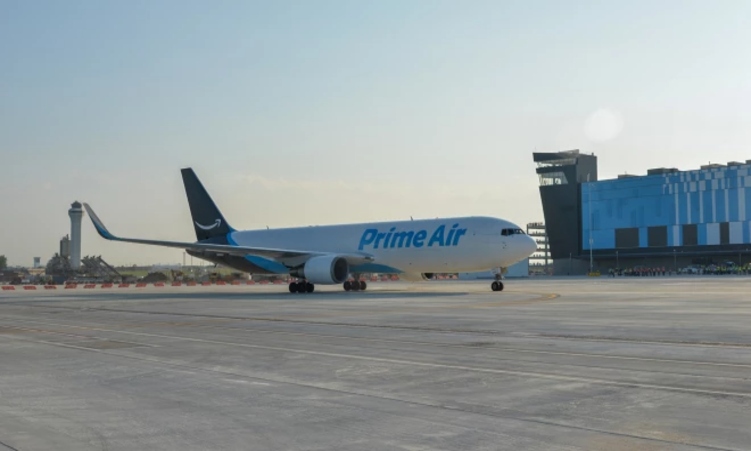 Amazon Air Hub launched 2019 have officially began operations at Cincinnati and Northern Kentucky International Airport (CVG). The 800,000-square-foot facility welcomed the first of over 2,000 dedicated Amazonians who will bring this $1.5 billion investment in the Northern Kentucky region to life.
As operations started, Amazon celebrated the arrival of the first of many of its branded aircraft onto our brand-new ramp. By the end of the year, this facility, which spans over 600 acres, will operate a dozen flights per day and process millions of packages every week.
As a former U.S. Navy F/A-18 E/F pilot, Sarah Rhoads, vice president of Amazon Global Air had the honor of leading many successful operations, and this one is truly special. From the partners who fly our aircraft, to the employees who plan for and manage aircraft loading and unloading, to the system of robotics technology that transports packages across a facility three football stadiums in size—seeing the Amazon Air Hub come alive is like witnessing an operational symphony.
"Ryan Swagler, a ramp area manager for Amazon Air, is one of those people who makes that symphony possible. I caught up with her prior to our first aircraft departure to get her perspective on the day. She told me that watching the first plane take off from the new hub was a huge "high-five" moment for her team. Swagler and her team serve a critical role on the ramp, which is the area where aircraft are loaded and unloaded. They marshal, or signal, the aircraft in, load and unload the planes, and then push the aircraft back in preparation for takeoff. While we are only just getting started, I'm already inspired by what the team is doing to support our customers through this site," says Rhoads.