Alibaba inks deal with Belgium govt to promote Europe-China e-commerce trade
Dec 05, 2018: Today, Alibaba Group Holding Ltd. and the Belgium government have reached upon an agreement to promote inclusive trade under the Electronic World Trade Platform ("eWTP") initiative. Both parties will work closely to co-build a more inclusive and innovative trade platform that will facilitate greater and more equitable access to cross-border trade opportunities, […]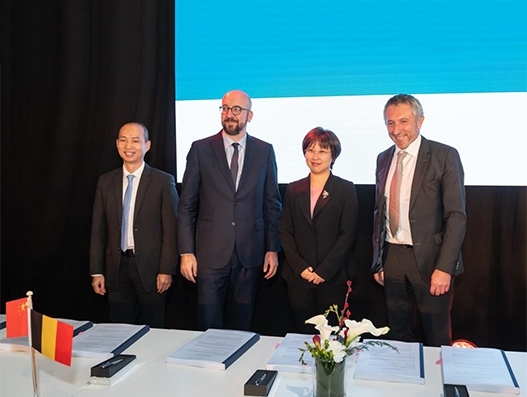 Dec 05, 2018: Today, Alibaba Group Holding Ltd. and the Belgium government have reached upon an agreement to promote inclusive trade under the Electronic World Trade Platform ("eWTP") initiative.
Both parties will work closely to co-build a more inclusive and innovative trade platform that will facilitate greater and more equitable access to cross-border trade opportunities, in particular for small and medium-sized enterprises (SMEs).
The company has entered into similar eWTP partnerships in Asia and Africa over the past two years.
And the major of the eWTP agreement signed in Belgium is the establishment of a logistics infrastructure to support cross-border trade.
Alibaba's logistics arm Cainiao has signed a contract with Liege Airport to lease a total area of 220,000 square metres to build a world-class smart logistics hub at Liege Airport. The initial investment will be 75 million euros, with the first phase of the facility planned to commence operations in early 2021. The Liege smart logistics hub will enhance overall logistics efficiency to help SMEs better manage their exports especially with the surge in global e-commerce.
"Liege Airport is very proud that Alibaba, via Cainiao, has picked Liege Airport as its gateway to Europe. Liege Airport will be the spearhead of Smart Logistics Network. The contract signed today, to lease land for a 50 years period, to build a state of the art first and second line warehouse, is a milestone in the development of Liege Airport, the Walloon Region and Belgium," said Steven Verhasselt, VP Commercial, Liege Airport.
The new smart logistics hub will be the cornerstone of the eWTP infrastructure collaboration, with Alibaba playing a key role in facilitating trade, particularly for accessing the China market, as part of the Group's commitment to serve as the "Gateway to China" and help import $200 billion worth of quality goods from the world to China over the next five years.
"Chinese companies, in particular, those from the tech sector are investing in Belgium. As world trade continues to expand, Wallonia is an ideal logistics hub for global companies given our leading edge in cargo expertise and connectivity for block trains and seaports. This agreement will improve the infrastructure to meet the increasing exports of Belgian products to China," said Pierre-Yves Jeholet, Regional Minister for Economy, Trade & Investment.
Luc Partoune, CEO of Liege Airport explains, "Several Chinese companies are already here. Other companies will be attracted by the presence of Cainiao and the opportunity for e-commerce growth between Europe and China."
In addition, the Government of Belgium and Alibaba will work closely together to introduce new technologies that will promote digitisation of customs procedures and more efficient clearance of goods which will be crucial for global trade in particularly for SMEs.