ALC leases first of six Airbus A350-900 XWB to Malaysia Airlines Berhad
December 1, 2017: The first of six Airbus A350 XWB was recently delivered to the Malaysia Airlines Berhad (MAB) by Air Lease Corporation (ALC), an American aircraft leasing company at the Kuala Lumpur International Airport. According to reports, ALC received its first Airbus A350-900 XWB out of the 29 A350 family aircraft which it had […]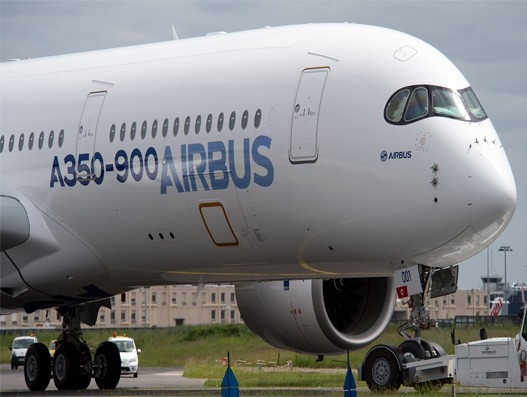 December 1, 2017: The first of six Airbus A350 XWB was recently delivered to the Malaysia Airlines Berhad (MAB) by Air Lease Corporation (ALC), an American aircraft leasing company at the Kuala Lumpur International Airport.
According to reports, ALC received its first Airbus A350-900 XWB out of the 29 A350 family aircraft which it had ordered earlier.
Reports also suggest that Malaysia Airlines Berhad would be operating six A350-900s leased from ALC. It will initially commence its operations within Asia, and from the first quarter of 2018, it will fly between Kuala Lumpur and London as part of its premier long haul service.
On its regional and long haul routes, Malaysia Airlines currently operates 24 Airbus aircraft, including six A380s, 15 A330-300s and three A330-200Fs, said sources.
A350-900 leased by the Malaysia Airlines has a three class cabin layout comprising 286 seats with a First Class cabin. It offers four seats in the First Class, 35 seats in the business class and 247 in the economy class. The seats are convertible to fully flat beds.
Fitted with the most modern aerodynamic design, Airbus A350 XWB has carbon fibre fuselage and wings and new fuel-efficient Rolls Royce engines, thereby offering unrivalled levels of spaciousness, better ambience, superior levels of comfort, operational efficiency along with a 25 percent reduction in fuel burn, emission, and notably lower maintenance costs.
Izham Ismail, CEO of Malaysia Airlines said, "We are quite thrilled to add Airbus A350-900 XWB to our family. It's an important milestone for us as the aircraft will help us boost our competitiveness on our long haul flight routes. Addition of Airbus A350-900 also underscores our commitment to operate a modern fleet."
"Our first Airbus A350-900 symbolises a milestone for ALC and Malaysia Airlines. We are convinced that Airbus A350-900 will deliver its outstanding performance, efficiency and economics for our airline customers" said John Plueger, CEO and President of Air Lease Corporation.
"At Airbus, we are proud to consider Malaysia Airlines as one of the new operators of the world's most modern widebody aircraft,'' said John Leahy, CEO-Customers of Airbus Commercial Aircraft.