Alaska Air Cargo brings the season's first Copper River salmon to Seattle
May 21, 2019: On May 17, about 18,000 pounds of fresh Copper River salmon arrived on a fish-filled Alaska Airlines plane touching down at Seattle-Tacoma International Airport. That day officially marked the start of the salmon season that is anticipated by seafood lovers throughout the Pacific Northwest and beyond. The airline informed us through a […]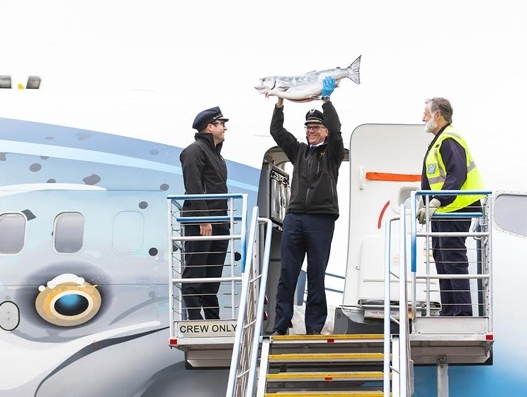 May 21, 2019: On May 17, about 18,000 pounds of fresh Copper River salmon arrived on a fish-filled Alaska Airlines plane touching down at Seattle-Tacoma International Airport.
That day officially marked the start of the salmon season that is anticipated by seafood lovers throughout the Pacific Northwest and beyond.
The airline informed us through a statement that it is expected to deliver a total of 50,000 pounds of Copper River salmon to the US Lower 48 states.
"This year, we are flying in the first catch of coveted Copper River salmon on the largest flying salmon in the world – the Alaska Airlines Salmon-Thirty-Salmon," said Jason Berry, managing director at Alaska Air Cargo.
Copper River salmon shipped on Alaska Air Cargo arrives fresh to grocery stores and restaurants across the nation, due to the airline's cool chain process that includes an annual training programme required of all airline employees who handle perishables. The programme ensures fresh seafood is handled with the utmost care and quality standards.
Seafood processors and Alaska Airlines follow these cold-chain standards to provide a temperature-controlled environment for proper food handling.
"This is a really exciting season in Cordova, Alaska. There is always a sense of optimism as fishermen launch their boats and put on their freshly hung nets. Everyone has a smile on their face and an extra bit of a bounce in their step," said Christa Hoover, executive director of Copper River Marketing Association.
Hoover reports the forecast for Copper River king salmon this year is up from the past seasons, while the sockeye forecast is about average.
"We hope to see 55,000 king salmon and close to 1.5 million sockeye return to the Copper River this season," said Hoover.
Every year Alaska Air Cargo partners with the state of Alaska's three largest seafood processors, Trident Seafoods, Ocean Beauty Seafoods and Copper River Seafoods to bring the coveted fish to Seattle and Anchorage, Alaska, where it will then be delivered to restaurants and grocery stores throughout the Pacific Northwest, and across the country.
The carrier flew nearly 14 million pounds of fresh Alaska seafood to the Lower 48 states and beyond last year, including more than 85,000 pounds of Copper River salmon.
Alaska Air Cargo transports more than 170 million pounds of cargo annually—including seafood, mail and freight.