AISATS launches 'AISATS Cargo' app for real-time cargo tracking at Bangalore Airport
July 25, 2017: Air India SATS Airport Services (AISATS), has launched a mobile app 'AISATS Cargo' to facilitate the cargo tracking process at AISATS Air Freight Terminal and at AISATS COOLPORT, located at Kempegowda International Airport (KIA), Bengaluru. AISATS is the first and the only air cargo operator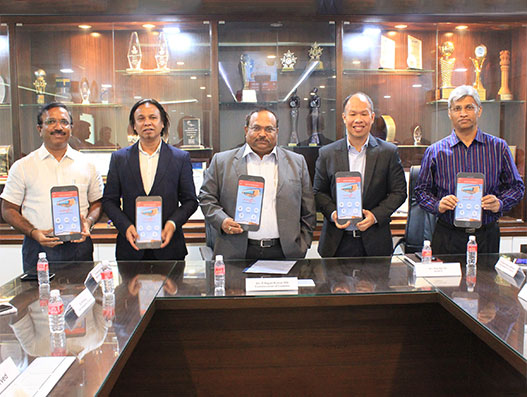 July 25, 2017: Air India SATS Airport Services (AISATS), has launched a mobile app AISATS Cargo to facilitate the cargo tracking process at AISATS Air Freight Terminal and at AISATS COOLPORT, located at Kempegowda International Airport (KIA), Bengaluru.
AISATS is the first and the only air cargo operator at Bengaluru to develop this free on-the-go app to provide its customers with comprehensive cargo-tracking solutions.
The user-friendly app, picks up cargo movement data from COSYS and provides real-time information on flight schedules, Air Way Bill (AWB) shipment tracking and e-Delivery Order (e-DO) status. The user can input the AWB number and obtain the current status of a shipment such as date of uplift/arrival, number of pieces, weight as well as approval status of the delivery order through its e-DO feature. The AISATS Cargo app will increase efficiency of the supply chain by relaying relevant information of the cargo to key stakeholders.
Speaking on the launch of the app, Mike Chew, CEO, AISATS said, "AISATS has always been at the forefront of digitization and is quick to adopt information technology to introduce innovative solutions in the air cargo industry. The AISATS Cargo app will aid in the ease of doing business by enabling seamless availability of data at any given time. This will ensure maximum benefit and convenience to our stakeholders."
P Anjani Kumar, IRS, Commissioner of Customs-Airport & ACC, Bengaluru along with MR Reddy and Bipin Kumar Upadhyaya, joint commissioners of customs Hoa Kai Ee, senior vice president, AISATS Bangalore and Harshvardhan Umre, additional commissioner of customs launched the app at AISATS Airfreight Terminal at BLR.
Stakeholders from Bengaluru International Airport Limited (BIAL), Cargo Trade Associations (CTA) and partner airlines were also present at the occasion.
Photo Caption: (L to R): MR Reddy, Harshvardhan Umre, Anjani Kumar, Hoa Kai Ee, Bipin Kumar Upadhyaya