AISATS COOLPORT launched at Bengaluru's Kempegowda International Airport
Feb 14, 2017: Air India SATS Airport Services (AISATS), India's premier airport services company, launches AISATS COOLPORT, India's first integrated on-airport perishable cargo handling centre, at Kempegowda International Airport, Bengaluru (KIAB). The 11,000 square metre state of the art facility built at a total project cost of INR 48 crores, was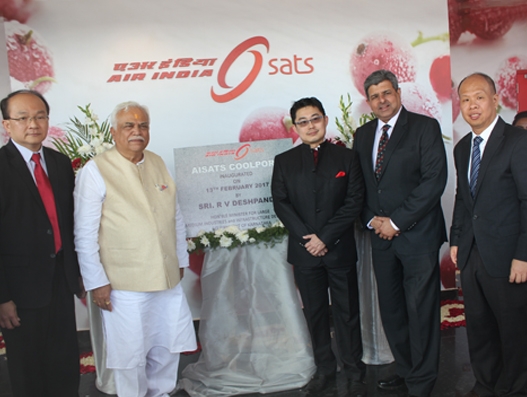 Feb 14, 2017: Air India SATS Airport Services (AISATS), India's premier airport services company, launches AISATS COOLPORT, India's first integrated on-airport perishable cargo handling centre, at Kempegowda International Airport, Bengaluru (KIAB).
The 11,000 square metre state of the art facility built at a total project cost of INR 48 crores, was inaugurated by R V Deshpande, Minister for Large & Medium Industries & Infrastructure Development, Government of Karnataka.
The launch of AISATS COOLPORT will meet the extensive handling requirements of perishable cargo products such as pharmaceuticals, fruits, vegetables, flowers, meat and sea food, through its future ready infrastructure with capability to handle 40,000 tonnes per annum, customised cold storage solutions comprising of 17 dedicated cold rooms with temperature ranging from -25 to 250C, Refrigerated Queue Lanes with a temperature range of 2 to 80C for unitised shipments and end-to-end cold chain solutions including refrigerated trucking service, indigenously developed cool trolley and thermal blanket, as well as temperature controlled container handling.
Mike Chew, CEO, AISATS said, "As India aims to become the world's third largest aviation market by 2020, we believe that the cargo industry will play a crucial role in achieving this objective. India has aptly demonstrated the potential to maintain an upward growth trajectory year on year, despite a global slowdown. However, there is an immediate need to develop adequate infrastructure to boost the growth of the air cargo industry. We at AISATS developed the COOLPORT, with invaluable support from the Government of India's ASIDE (Assistance to States for Infrastructure Development for Exports & Allied Activities) scheme. The COOLPORT addresses the need for specialised infrastructure amenities catering to cold-chain processes, operations and logistics and we at AISATS partner the Government of Karnataka's vision of turning the Kempegowda International Airport into a preferred air cargo hub in Southern India."
"We aim to be the engine of economic growth for the region by connecting Bengaluru to the world and positioning the city as the Gateway to South India not only for passenger traffic but also for cargo. BIAL has a robust plan and strategic intent to grow the cargo business. Our aim is to create an environment that enables our cargo partners to introduce new initiatives and facilities that cater to the burgeoning cargo demand of this region. We firmly believe new logistics that redefine the cargo business will propel us closer to our vision of being the Cargo Hub of South India and the region. This is a validation of our partnership and commitment by both BIAL and our partners to continue to explore new ways for enhancing efficient and seamless cargo operations," said Hari Marar, president, Airport Operations, Bengaluru International Airport.
AISATS COOLPORT recently obtained its Good Distribution Practices (GDP) certification for receiving, handling, storage and dispatch of pharmaceutical and perishable cargo as per WHO standards. AISATS also aims to achieve HACCP and IATA CEIV certifications in the near future, which will promote better trade facilitation and enhance the State of Karnataka's position as pharmaceutical and perishable hub of India.
The trial operations of the AISATS COOLPORT, from October 2016 through January 2017, witnessed a 27 percent growth in the perishable tonnage in comparison to the same period last year. During the tenure of the trial operations, 4,653 tonnes (import and export) of varied temperature sensitive and perishable cargo was effectively handled by the AISATS COOLPORT.
Apart from being a specialised warehousing unit, AISATS COOLPORT is also a one-stop-shop comprising of customs clearances, state-of-the-art Drug Controller lab and Plant Quarantine Inspection & Certification office, to expedite the import and export procedures.
Photo: (L to R) – Roy Kho, Consulate-General of Republic of Singapore, R V Deshpande, Government of Karnataka, Mike Chew, AISATS, Kirti Rao, Regional Finance Manager at Air India and Hoa Kai Ee, Senior Vice President – Bengaluru, AISATS at the AISATS COOLPORT launch ceremony, at Kempegowda International Airport.