Airfreight steps in to grab more perishable logistics share
When Covid-19 struck the entire global supply chain, it was air cargo that stepped in fulfil the demand created by panic buying and lockdowns.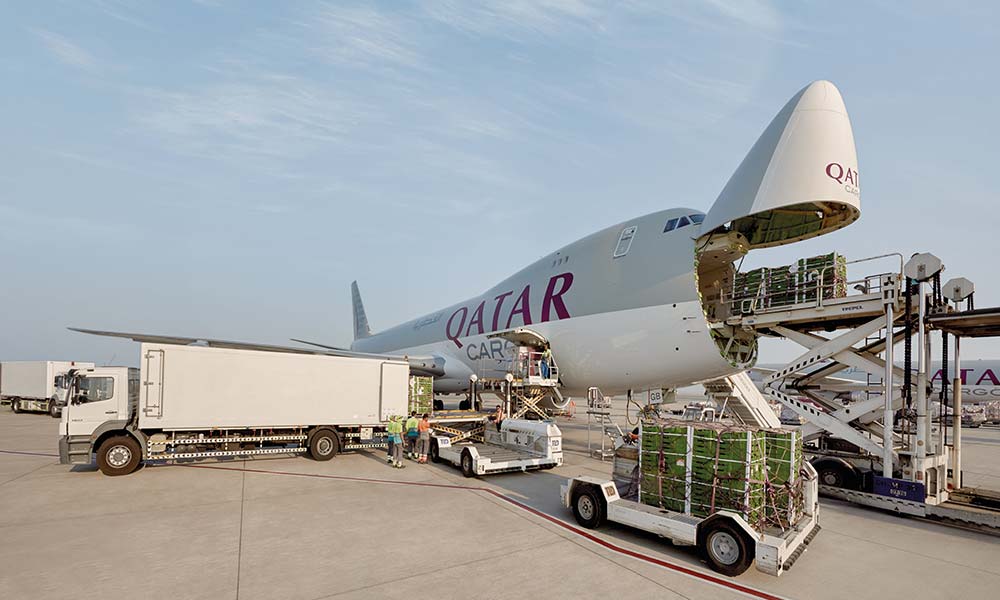 Air cargo accounts for not even 1 percent of the total global food supply chain but these perishable goods along with flowers constitute 17 percent of the total air freight. When Covid-19 struck the entire global supply chain, it was air cargo that stepped in fulfil the demand created by panic buying and lockdowns. Now it seems like air cargo will continue this momentum in the coming months of peak season.
The Nobel Peace Prize of 2020 went to the World Food Programme (WFP) "for its efforts to prevent the use of hunger as a weapon of war and conflict," as it reasoned. In a world where a peace prize goes for the distribution of food, points to the fact that they are not the luxury of the market but the very need for the peaceful coexistence of human beings. Still, according to the Food and Agriculture Organisation (FAO), the global volume of food wastage is estimated at 1.6 billion tonnes, and it lists temperature excursions and bad handling as along top reasons for this.
Perishable logistics market
According to the United States Department of Agriculture (USDA) "perishable foods are those likely to spoil, decay or become unsafe to consume if not kept refrigerated at 40 F° (4.4 °C) or below, or frozen at 0 F° (-17.8 °C) or below."
As per an article published in Science Magazine last year, only 0.16 percent of the total food miles come from air travel while ocean moves 58.97 percent, road carry 30.97 percent and rail carry 9.9 percent. However, the perishable market is an essential vertical in the airfreight industry and accounts for roughly 17 percent of the total global air cargo.
Guillaume Halleux, chief officer cargo, Qatar Airways Cargo, said, "The most common perishables by air are fruits and vegetables, followed by fish, flowers and meat. The main origin region for the perishables transported by air is Central and South America, which alone accounts for 30 percent of the total exports worldwide, followed by Europe and Africa. The main flows are from Central and South America into North America and Europe, Europe into the Middle East and Asia, Africa into Europe and North America into Asia."
"Since we relaunched the QR Fresh product in 2014, we are moving increasing tonnes of perishables each year. Perishables account for 20 percent of the total cargo weight transported on Qatar Airways flights. Fruits and vegetables account for 43 percent, fish and seafood at 27 percent, flowers at 13 percent, meat at 12 percent and foodstuff at 5 percent," he added.
Fabrice Panza, manager global cool chain solutions at Etihad Cargo, said, "We transport fruits, vegetables, dairy, meat, fish, plants, seeds and flowers all across our global network. Our main trade lanes originate from North and South Asia and India, into the Middle East and Europe, while our routes also address demand from Europe and Africa into the Middle East and Asia."
Logistics dilemma
Moving perishable commodities like fruits, vegetables, dairy, frozen, fish, meat, seafood and even flowers is one of the complex riddles in the logistics industry as many of these commodities require temperature-controlled environment, shorter transit time due to tight shelf life and less competitiveness compared to other commodities. On one side the market has to move perishables as fast they can from the origin to the target destination on the other it also has to think about freight rates.
As with any other commodity, perishables also has to choose between air, ocean, road and rail while keeping in mind the unique nature of each commodity, ambient temperature of origin and destination, accessibility to different transport modes. Airfreight stands to gain in the market fight as it could move perishables to its destinations faster than any other mode or mode combination. But the fact that the space inside aircraft is expensive helps ocean freight to systematically steal the seasonal commodities away from air cargo.
For example, In 2019 Indian perishable exporters experimentally sent their mangoes to Europe through ocean instead of air for the first time and emerged successful as it brought down the price of mangoes significantly even though it took a month time.
Even then air freight operates a lifeline for all perishables and it is visible particularly during emergencies like the pandemic.
Halleux, said, "Perishables by nature has a short shelf life. The only transport option to ensure the fastest connection is airfreight and many types of perishables will always require air transport to retain their freshness to the maximum. Unless we are talking about deep-frozen goods, air transport continues to be vital for perishable transport."
Panza said, "While transportation by ocean and rail can be more cost-effective, air cargo remains a preferred choice for temperature and time-sensitive perishables. Transporting perishables by air follows stringent measures to ensure the product arrives at its destination in good condition, over a short period of time. As such, it is considered a more premium option than shipments by rail or sea."
"Etihad Cargo has witnessed significant demand and volume growth during the pandemic, no doubt because other cargo alternatives have been more restricted," he continued.

In Q3 2020, Etihad Cargo witnessed 20% growth in perishables compared to the same period last year
Covid-19 disrupted supply chain
Covid-19 changed the scenario completely by disrupting the global supply chain of all modes. At the same time fears of food shortage and supplies led to panic buying globally which in effect created a demand-supply imbalance. And this is when airlines stepped in with their grounded aircraft to offer cargo-only flights throughout the world by increasing its share of perishable commodities.
As an example, Qatar Airways Cargo transported a large shipment of fresh meat in September (370 tonnes) in several part charters to Doha to ensure food supply for the local population. Another example is where it partnered with International Freight Assistance Mechanism (IFAM) in Australia to restore critical global supply chains for high-value Australian agricultural and fisheries producers who were heavily impacted by the Covid-19 containment measures around the world. Freighter flights were introduced to Melbourne and Perth to inject more capacity for perishable exports from Australia.
Halleux, said, "Since January 2020, we have transported more than 160,500 tonnes of food worldwide. We must remember that the airline industry is resilient and while we faced a lot of challenges initially, we have been innovating to find ways to beat the capacity crunch such as introducing passenger flights for cargo only and more recently adding mini freighters i.e. our B777-300ER flights that have been converted to freighters."
"As fears of food shortage and access to fresh food started surfacing during the pandemic, it also drew attention to the importance of perishables transport and air cargo around the world. As the industry faced a capacity crunch experienced during the Covid-19 pandemic even while demand was surging, certain perishable commodities took preference over others, example: flowers were not much in demand compared to food items. However, overall perishables continued to be transported on a priority basis to ensure the food supply chain is maintained even more during these difficult times of lockdown and uncertainty," he added.
Panza informed, "Having continued to grow over the last decade, the perishable export market has remained robust during the Covid-19 pandemic amid strong segment demand and governments working to ensure the continuous supply of perishable products. Our perishable business has continued to grow over the past few months. In Q3 2020, we witnessed approximately 20 percent growth in perishables compared to the same period last year."
"Amid the grounding of many airlines' passenger operations, Covid-19 has caused capacity challenges across the air cargo industry. This has come at a time when perishables have proven as important as medical supplies. In response, Etihad Cargo has worked with the UAE Government's Food Supplies program to ensure supermarkets are well stocked and resupplied. We continue to work closely with our partners to ensure we have the necessary capacity to carry vital supplies across our global network," he added.
A release published on the occasion of World Food Day on October 16, 2020, Emirates SkyCargo noted that it is uplifting 500 tonnes of food items every day and to 130 destinations across six continents in the world to stabilise the food supply chain during the Covid-19 pandemic.
Standardisation of procedures
The International Air Transport Association (IATA) in March 2019 introduced the Center for Excellence for Perishable Logistics (CEIV Fresh) certification to standardise the transport of perishables by air. In January 2020, IATA reported that there is a growing interest around this certification as perishables is a growing market for the air freight industry.
To get the three-year certification companies has to go through the rigorous process of training, assessment, validation and certification.
IATA has categorised perishables as special cargo along with live animals and pharmaceuticals. In a recent public communication introducing the latest edition of Perishable Cargo Regulations (PCR), Andrea Gruber, head of special cargo at IATA, noted that the regulations not only connect the airlines but also the entire supply chain including shippers, manufacturers, freight forwarders and ground handlers. "This provides the latest requirements and technologies changed due to Covid-19 induced disruptive transport of special cargo. It is important during such times to keep the priority on food safety and food security," she said.
Halleux, noted, "The main challenge is, of course, time and temperature management. Perishables require temperature control and have a very limited shelf life in most cases, therefore high (or low) temperature exposures and flight delays and cancellations can lead to undesired impacts on the product."
Panza said, "There are various elements to be considered when transporting perishables. Most essential is ensuring the integrity of the logistic value chain and the product journey from the shipper to the consignee, inclusive of proper packaging, insulation, and refrigeration. It is also vital to safeguard perishables is adherence to regulations and recommendations, correct labelling, and shared and agreed on service level agreements or standard operating procedures," he continued.

The fact that the farm to table concept and consumption of fresh and superfoods is increasing, it will render the air freight option even more necessary in the coming years
Upcoming season
Though most of the perishables are seasonal the consumer demand, particularly from the developed world, draws a completely different picture. Even before the pandemic and now accelerated by it, people want all kinds of groceries available throughout the years despite their seasonality. The surge in e-commerce volumes is another factor that pushes demand for perishables by making the supply chain even more complex. Combined with the seasonal surge coming in, air freight will continue to play a crucial role in this market.
Halleux pointed, "As more and more operators are slowly resuming flights and we see capacity being introduced gradually, it is anticipated that the upcoming peak season will still be challenging."
"Perishables is a lower rate per kilo commodity; however, density plays a role in ensuring maximum revenue per position is obtained. Food supplies are required globally and the mix of commodities inside the aircraft is what makes the business profitable," he added.
Panza of Etihad Cargo said, "This year, we have witnessed the growth of 6 percent year-on-year, and we expect this positive trend to continue with seasonal peaks beginning in November 2020."
Collaboration
More than ever before, there is a need for air freight stakeholders to sit together and discuss the right way to move perishables through the air. For instance, the Cool Chain Association (CCA) in October 2020 signed a Memorandum of Understanding (MOU) with the International Air Transport Association (IATA) to support the safe, sustainable and quality transport of temperature-controlled perishables and pharmaceuticals by sharing feedback, experiences, knowledge, and best practice.
Future
Consumer trends play a vital role here and in the coming years we are going to see more organic, bio, environment-friendly and fair-trade products being sought. Also, the fact that the farm to table concept and consumption of fresh and superfoods is increasing, it will render the air freight option even more necessary in the coming years.
Halleux, said, "In line with the opportunities that are upcoming in the next decade, we are also making several enhancements to our QR Fresh product. Having said that, if you take the top ten carriers in the world and step back a bit, what is apparent right away is that we all fly similar routes, utilising mostly the same aircraft and even schedules. So, the difference is the people, and when you call Qatar Airways Cargo, you discover that the person who serves you is motivated to do good from the bottom of their heart. We are in the people industry and this is something we always remember and customer-centricity will continue to be one of our focus areas in the coming years."