Airbus showcased A350-1000 test aircraft in the Middle East and Asia Pacific
January 27, 2018: The newest test aircraft of Airbus%u2019 leading widebody family, A350-1000, which recently embarked on its first-leg of a three-week special demonstration tour to 12 destination across the Middle East and Asia-Pacific made its first stop at Qatar. The Airbus A350-1000 test aircraft was hailed by Akbar Al Baker, group CEO of Qatar […]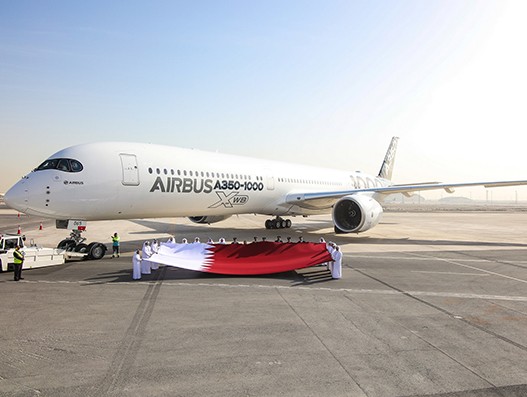 January 27, 2018: The newest test aircraft of Airbus' leading widebody family, A350-1000, which recently embarked on its first-leg of a three-week special demonstration tour to 12 destination across the Middle East and Asia-Pacific made its first stop at Qatar.
The Airbus A350-1000 test aircraft was hailed by Akbar Al Baker, group CEO of Qatar Airways. The arrival of the Airbus A350-1000 test aircraft comes barely a month before Qatar Airways is expected to become the global launch customer of the first A350-1000.
The Airbus A350-1000 test aircraft is slated to travel over 30,000 nautical miles with stops in Doha, Muscat, Hong Kong, Seoul, Taipei, Hanoi, Singapore, Bangkok, Sydney, Auckland, Tokyo and Manila.
The aircraft performed an impressive fly-by over to the iconic Doha corniche, which marked the start of its international tour.
According to Qatar Airways, it has placed orders for 37 of the world's most advanced passenger aircraft. Next month it's expected to take delivery of its first aircraft of the Airbus assembly line in Toulouse. The aircraft has been tailor-made with superior-quality cabins to meet the exact specifications of Qatar Airway for its valued passengers.
Said Al Baker: "We are delighted to welcome the Airbus A350-1000 test aircraft to Doha as part of its special demonstation tour. Its first stop in Doha has special significance for the people of Qatar, as Qatar Airways is the global launch customer for this incredible technologically-advanced aircraft. With this addition to our existing modern fleet, we will continue to set the standard in air travel in the future."
"The delivery of the world's first commercial A350-1000 next month is highly-anticipated by Qatar Airways passengers and employees. Our expert delivery staff have been working in partnership with Airbus to ensure a prompt entry into service so we can deliver outstanding levels of comfort, thanks to the A350-1000's spacious cabins and advanced technology. We look forward to welcoming the A350-1000 into our growing fleet of over 200 aircraft," said Al Baker.
Fabrice Brgier, COO of Airbus said: "We are delighted that one of our A350-1000 test aircraft visited Doha as its first stop on a global demonstration tour to salute Qatar Airways, which is the global launch customer for the aircraft. At Airbus we look forward to delivering the world's first A350-1000 to Qatar Airways in couple of weeks."
The test A350-1000 aircraft undertaking the 30,000 nautical mile tour, is one of three owned by Airbus, and is equipped with fully functional business class and economy Class cabins.
The tour follows a highly successful test flight campaign, which demonstrates the aircraft's exceptional design and performance capabilities. The mid-sized long-haul aircraft is assembled by Airbus at its facility in Toulouse, France.
The A350-1000 is 23 feet, which is longer than its sister aircraft, Airbus A350-900, for which Qatar Airways was also the global launch customer. The A350-1000 offers a substantial increase in capacity with extra seating onboard, powerful Rolls-Royce Trent XWB engine, modified wing trailing edge and a new six-wheel main landing gear.
It also offers enhanced level of passenger comfort, thanks to its advanced light-weight carbon composite design and high-quality interior finish.
Meanwhile, in the belly cargo hold, A350-1000 offers greater cargo capacity compared to the A350-900. While the A350-900 has space for 36 cargo containers%u201420 in the front and 16 behind; in the A350-1000, there's space for an extra four cargo containers up front, and another four in the rear, making them a total of 44 containers.