Airbus approves A350 freighter derivative; to enter service by 2025
The A350F will have 20 percent less fuel burn compared to twin-engine freighters, 30 percent less compared to trijets and 40 percent less compared to quadjets.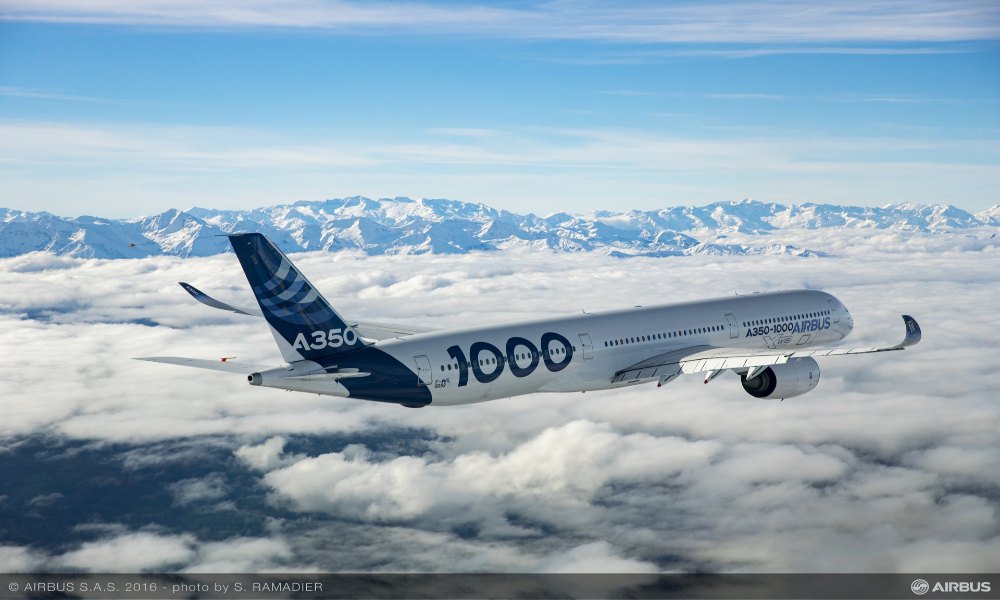 While announcing the half-year (H1) 2021 results, Airbus chief executive officer Guillaume Faury informed that the board of directors of the European multinational aerospace corporation has approved the production of the A350 freighter derivative, following many feedbacks from their carrier customers. He also noted that the freighter is planned to enter into service by the year 2025.
"We thank the board of directors' approval for the freighter derivative of the well-established A350 platform for increased competition and efficiency in this market segment," he said.
He further informed that the freighter version is planned to deliver lower fuel burn compared to freighter models of the same type currently in service and also compared to the A350 passenger aircraft.
"For example," he said, "It will have 20 percent less fuel burn compared to twin-engine freighters, 30 percent less compared to trijets and 40 percent less compared to quadjets. It will also meet ICAO C02 emission standards and it will mark another step on our way to lead the decarbonisation of aviation industry."
Earlier during the earnings call in April 2021, as reported by Bloomberg, Faury had said, "We don't like the idea that we're not active in that segment and it's probably an area where we will be more aggressive and where we will invest. Customers tell us that they believe that our platforms, and the 350 in particular, would be a very strong candidate for a good freight version."
In a recent Cargo Masterminds interview, Michael Steen, chief commercial officer of Atlas Air Worldwide, had discussed the importance of global freighter fleet for the world economy and his hopes for future freighters like B777xF and A350F.
"Boeing's B777-200 production freighter is an extremely capable aircraft. However, the manufacturing of these aircraft will end in 2027 due to emission regulations. Even though they will continue to fly for the next 30 years, by that time we need to have new options in the marketplace. Two of the most spoken about is the B777x and A350 and both look interesting," he said.
Commenting on the market dynamics and demand for freighters, he said, "After the pandemic hit economies, the demand recovered much more quickly than capacity. Still, we are short of the pre-pandemic capacity. That of course points at the incredible importance of the global freighter fleet. Freighters are extremely important not only for our industry but also for the world economy."
He also noted that the production capacity of production freighters is limited for the next several years and there is necessarily no new inflow of converted aircraft.
"We are having active dialogues with both Boeing and Airbus. The discussion on freighters is very important as it will outline how the global air cargo industry will be served. It is important that both OEMs have freighter programmes. Maybe differentiated programme as well of different sizes of aircraft because we need that. There is no one size fits all. I welcome that service offering and competition in the industry," he added.
Meanwhile, it is reported that the aircraft is expected to offer a capacity of more than 90 tonnes, with some reports suggesting it could be able to carry more than 110 tonnes.
Simple Flying reported from MAKS-2021, held in Zhukovsky, Russia from 20-25 July 2021, that Airbus EVP, head of the region and sales Europe Wouter Van Wersch spoke about the pressure from carriers to introduce a new freighter option and that Airbus had been in talks with dozens of airlines about a freighter version of the Airbus A350.
Thus Airbus is planning to put up a real fight in the bigger wide body freighter market where Boeing has always been a dominant player even though Airbus has a lead in the narrow body segment.