AirBridgeCargo Airlines adds Taipei to its Asia Pacific network
<p style="text-align: justify;">Apr 12, 2017: AirBridgeCargo Airlines (ABC) has launched its twelfth destination in Asia Pacific with twice-weekly Boeing 747 freighter services to Taipei.</p> <p style="text-align: justify;">The addition of Taipei means <a title="ABC" href="http://www.airbridgecargo.com/en" target="_blank" rel="noopener noreferrer">ABC</a> has doubled its route network for customers in the region in the last two years. AirBridgeCargo also offers […]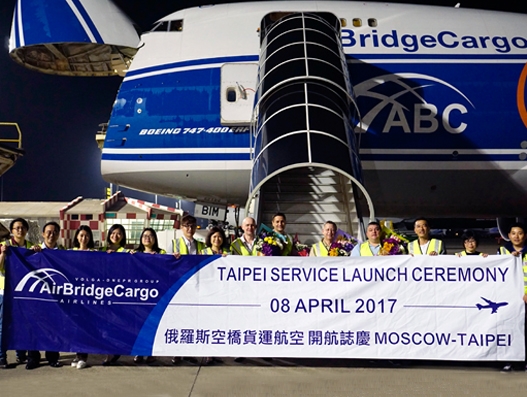 Apr 12, 2017: AirBridgeCargo Airlines (ABC) has launched its twelfth destination in Asia Pacific with twice-weekly Boeing 747 freighter services to Taipei.
The addition of Taipei means ABC has doubled its route network for customers in the region in the last two years. AirBridgeCargo also offers 747F services to and from Tokyo, Seoul, Singapore, Hanoi, Phnom Penh, Hong Kong and the Chinese cities of Shanghai, Beijing, Chengdu, Chongqing and Zhengzhou.
ABC saw its volumes rise 25 percent ex Asia Pacific in 2016 to over 265,000 tonnes and is confident of further growth this year. The airline now operates 79 Boeing 747F departures a week from the region, giving customers fast connections via its Moscow hub to 14 online destinations in Europe and five major gateways in the US.
The new service to Taipei will operate from Moscow Sheremetyevo every Wednesday and Saturday, returning via Hanoi in Vietnam, and enables AirBridgeCargo to link Taipei with its network of destinations in the Middle East, Europe and the US for imports and exports.
Sergey Lazarev, general director, ABC, said, "Taipei is a mature and stable air cargo market generating volumes close to 500,000 tonnes per annum so it is a major origin, destination and transit point for freight. This includes exports of electronic components, machinery, textiles as well as a diverse range of import cargoes. We know from listening to customers in Taipei and those in other countries with traffic to and from Taiwan that there is demand for the quality of service and network opportunities AirBridgeCargo is able to offer. This is why we are supporting our customers once again with our services and additional capacity in a prime market where they want to work with us."