AirBridge Cargo lifts 2 Red Bull Air Race planes from Budapest to Kazan
July 20, 2017: Gearing up for the fifth race of the Red Bull Air Race -2017 World Championship, two units of race craft, each weighing 120 tonnes was transported from Budapest Airport to the Russian City of Kazan. AirBridge Cargo used its Boeing B747-400F cargo […]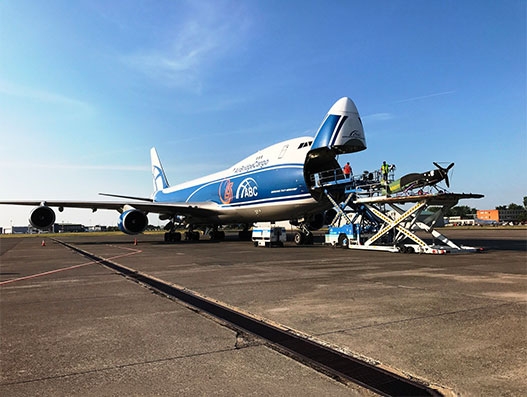 July 20, 2017: Gearing up for the fifth race of the Red Bull Air Race -2017 World Championship, two units of race craft, each weighing 120 tonnes was transported from Budapest Airport to the Russian City of Kazan. AirBridge Cargo used its Boeing B747-400F cargo plane to move Air Race planes along with some other equipment to the said destination.
The wings were dismantled to ensure the smooth movement of the main body part into the cargo aircraft. The wings and the spare engines are delivered separately in pallets using a second aircraft. The Russian leg of the Red Bull Air Race will be held on July 22-23 over the Volga River in Kazan.
The Red Bull Air Race machines alone do not weigh much. However, it is extremely a valuable commodity, and that justifies the decision to transport by air. The distance between Budapest and Kazan was covered in just 4 hours making for faster delivery.
"The issue at the loading phase was quickly solved by the Celebi Ground Handling people that ensured the smooth transit for the race craft. Red Bull Air Race had decided to move the necessary equipment for the Kazan race in just two days time which was a task. We successfully managed the entire operations," said Kossuth József, head of the cargo division, Budapest Airport.