Air India's all-women crew makes history
<p style="text-align: justify;">Mar 08, 2017: Air India has created history once again by flying an all-women crew flight around the world, ahead of International Women's Day on March 8.</p> <p style="text-align: justify;"><a title="AI" href="http://www.airindia.in/" target="_blank" rel="noopener noreferrer">AI</a> 174 touched down Delhi adding yet another feather to Air India's cap in its constant endeavour to encourage […]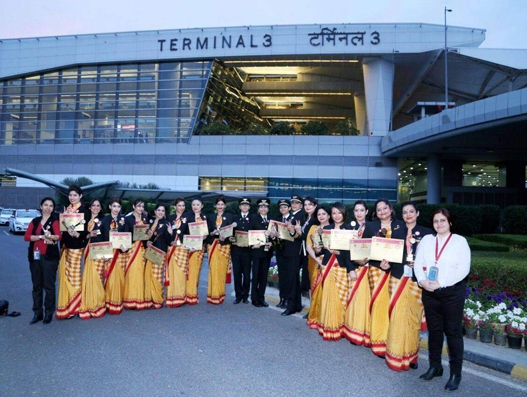 Mar 08, 2017: Air India has created history once again by flying an all-women crew flight around the world, ahead of International Women's Day on March 8.
AI 174 touched down Delhi adding yet another feather to Air India's cap in its constant endeavour to encourage women. The flight AI 173 had earlier taken off from IGI Airport in Delhi on February 27 to San Francisco covering a distance of around 15,300 kilometre in fifteen and a half hours over the Pacific route and on the return journey from San Francisco over the Atlantic.
The flight was in the safe hands of Captain Sunita Narula, Captain Kshamta Bajpai, Captain Indira Singh and Captain Gunjan Aggarwal. The all-women cabin crew was led by Seema Baberwal and Nishrin Bandulwala.
The entire flight was operated by the women staff of eight departments. These departments included Cockpit crew, Cabin crew, Check-In staff, Doctor, Customer Care Staff, ATC and the entire ground handling from operator to technician, Engineer and flight dispatcher and trimmer. Line operation safety audit was done by Harpreet A De Singh, ED Flight Safety, Air India.
This is the first time that this audit was done by a female officer for around the world trip.