Air Charter Service employs 4 Antonov 124S for Niger African power plant cargo
July 12, 2019: Air Charter Service moved almost 400 tonnes of components to add the finishing touches to a new power plant in Niger. Alex Busila, cargo director of ACS's France office said, "Our client needed to get ten 40 foot containers, each weighing 35 tonnes, plus an extra 40 tonnes of cargo, from France […]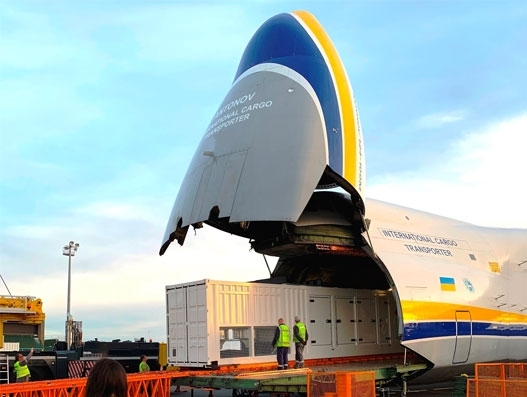 July 12, 2019: Air Charter Service moved almost 400 tonnes of components to add the finishing touches to a new power plant in Niger.
Alex Busila, cargo director of ACS's France office said, "Our client needed to get ten 40 foot containers, each weighing 35 tonnes, plus an extra 40 tonnes of cargo, from France to Niamey, the capital city of Niger. It was being flown in so that a new power plant could be completed in time to help provide power before the African Union summit, held in Niamey."
The natural choice for the project cargo was Antonov-124, the only aircraft capable of carrying three 40 foot containers. The tenth container was accompanied by another 40 tonnes of supplementary outsized cargo necessary for the construction.
"The charters flew out of France and were spaced one week apart, starting in mid-May and finishing in mid-June. I'm delighted to report that the plant was finished on time," said Busila.